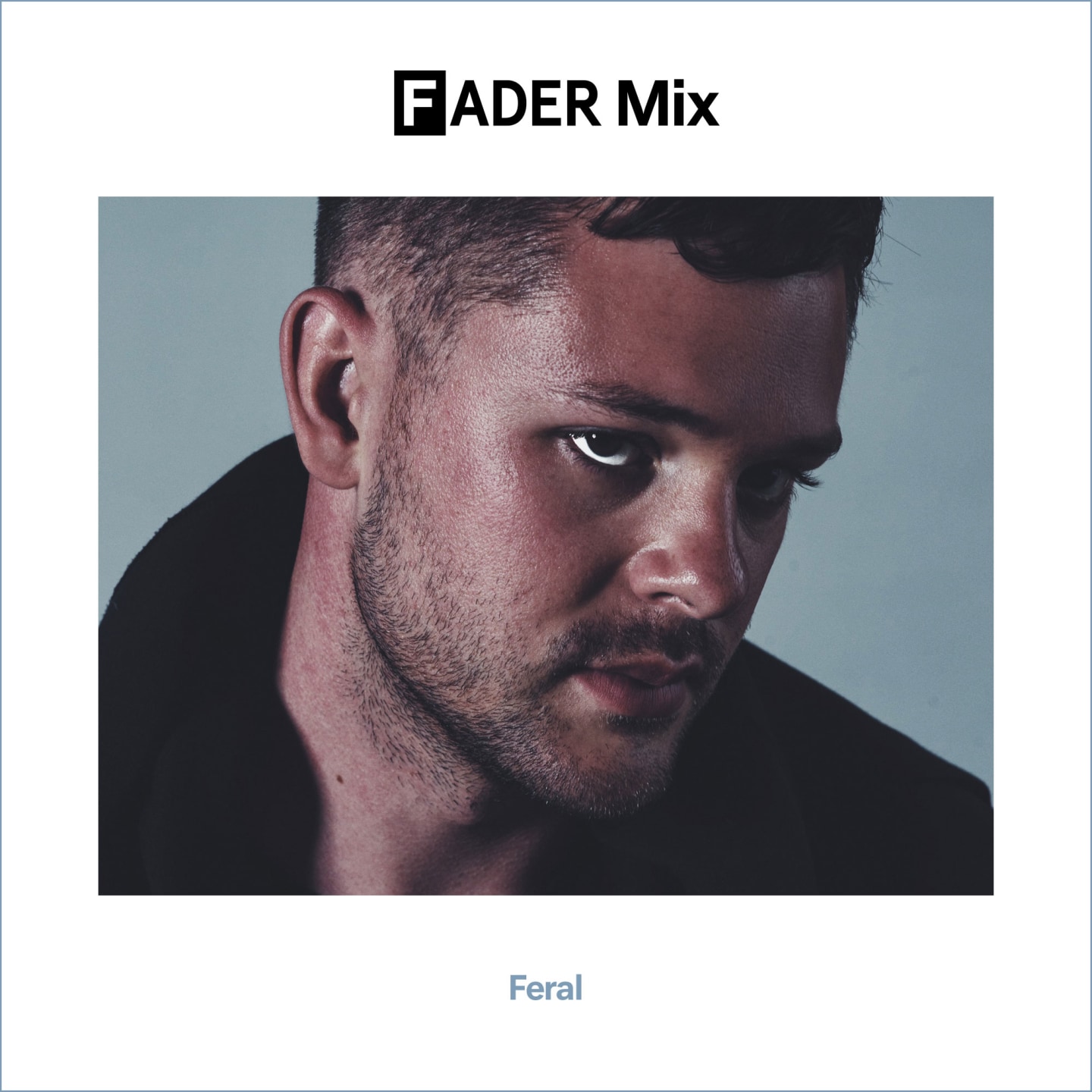 Many musicians are able to blend contrasting sounds together, but it takes an artist like Feral to make it sound like a primal instinct. The UNO NYC producer's remixes of Carly Rae Jepsen and Empress Of show his finesse in milking the sinister out of the saccharine, and his recent Nexus EP balances itself between the bawdiness of dubstep and textures of ambient.
It doesn't come as a shock that Feral's FADER Mix (his "Futility of Life Mix," as he called it) has a similarly disparate split. The first half whizzes through future garage and trap remixes like a fighter jet, before giving way to a mellower, glitchier second act, with countless musical ideas volleying between the two. Try the mix on for size below, and check beneath to read the producer's approach to balancing dance and ambient, a few book recommendations, and an irrefutably perfect dinner choice.
Where are you right now? Please describe your surroundings.
It's 7.21 a.m., I'm at home in Greenpoint. I live in a one-room studio with a lot of windows. My girlfriend, Patricia, is making coffee. I went out last night and I'm in a lot of pain.
Tell us a bit about this mix — what do you imagine people doing while listening to it?
I imagine this mix as a backup plan for an amateur DJ at a Quinceañera. It's dark. Lasers illuminate a smoke filled banquet hall. He panics and puts this on. Her parents start crying.
What's your earliest musical memory?
Seeing the Cincinnati Symphony perform Peter and the Wolf with my parents in 1994.
This year's Nexus EP played with anticipation, yet delightfully shied away from release. What were your intentions with it?
I feel like it's less about edging and more about exploring an idea from more than one angle. Harping on a single thing for too long is how you end up with 90% of what electronic music is today.
Where would you like to take your music next?
Nexus explores an intersection between the nuance of ambient and the euphoria of dance music. I'm interested in getting better at expressing both ends of that spectrum. I feel like a lot of the time music is either fun or it's smart, my position is — why choose?
What's the last book you read that had a big impact on you and why?
If you want to make your life better, I would recommend After Dark by Haruki Murakami. It reads like a screenplay which is really interesting, it's beautiful but unfussy. Like a lot of great music it isn't so much about how it makes you feel while reading it, but the feeling you're left with afterwards.
If you want to ruin your life, read Debt by David Graeber. It's really dense, but it talks about how debt was a thing before money, or trade itself, which makes debt a moral concept. It's great for making people think you are really deep and eclectic.
What's your favorite dish to cook and how do you make it?
The best dinner you could have is a bottle of Sicilian red, the more it tastes like chalk the better.
Tracklist
x/o – cim.luna
Feral – WASP
Kamixlo – Paleta
Justin Kelly – VGF
Feral – Mirror VIP
Rihanna – Pose (Typical Feral Remix)
Boys Noize Featuring TEED – 2 Live
DJ Khaled Featuring Future – I Got The Keys
Danny Brown – When It Rain (Unauthorized Feral Remix)
Carnage and Charlie Heat Featuring Lil Yachty – Mase in '97 (Feral Screw)
Svengali – Outsidee
Clams Casino Featuring Kelly Zutrau – Back To You
Amnesia Scanner – AS SEMBLY
Ariana Grande – Thinking About You (Feral Remix Featuring Young Chop Snare 7)
TV Noise Featuring Bright Sparks – Bring Me Down (Half Time)
SBTRKT – GEMINI
Feral – We Feel You
Martin Garrix – Reddit AMA
Motion Graphics – Brass Mechanics
HEALTH –Stonefist (Acapella)
Oneohtrix Point Never – No Good
Zara Larsson Featuring MNEK – Never Forget You (Feral's Stutter Arps Mix)