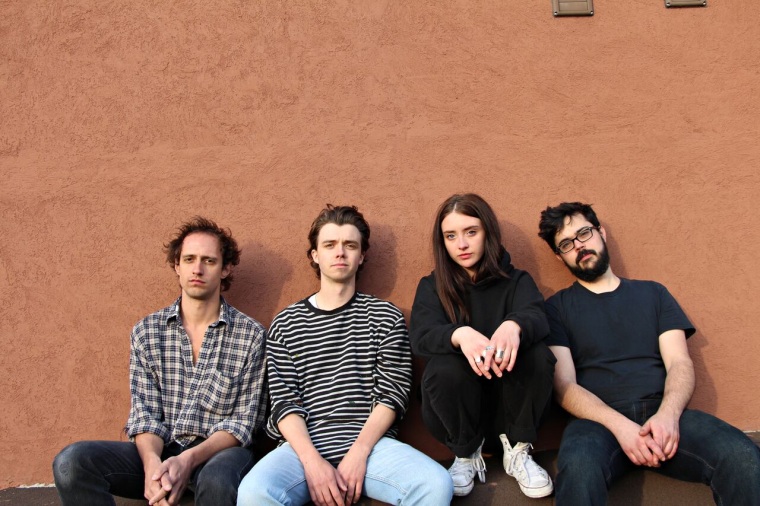 Bri Salmena is the tough voice and thoughtful lyricist you hear over tangled swells of guitars on Frigs's "Chest." The Toronto four-piece — formerly known as Dirty Frigs — is taking a stance with this new track, premiering today on The FADER: It's about the Brock Turner rape case that made international news earlier this year after Buzzfeed published the victim's detailed impact statement, in response to the accused's six-month sentence.
The song's power doesn't just come from it's lyrics — Stay asleep as you spoil me — but the band's focused songwriting. Salmena's vocal emphasis flips between gruff and sweet, and the pace moves from militant, atonal power rock to a woozy, notably powerless standstill, before picking back up again. Here's what Salmena told The FADER about making "Chest" in an email:
"Chest" was written shortly after our UK tour. We felt re-energized as a band and this song felt like a breakthrough, sonically and structurally. At the time I think I was suffering a little bit of post-tour depression and was spending weeks obsessing over the Brock Turner rape case. I was really angry and decided I needed to channel that frustration lyrically into this song. Anger over passive sentencing, victim blaming, and white male privilege. I was just pissed and wanted to ask what it would take for people to start realizing how backwards this whole thing was; releasing a white, privileged, rapist while continuing to incarcerate hundreds of people of color over lesser crimes. Selfishly, this song is me dealing with those things."
Tour Dates
Nov 17 - Montreal QC - Cafe Cleopatra (M for Montreal)
Nov 18 - Montreal QC - Savoy du Metropolis (M for Montreal)
Nov 21 - Boston MA - Zuzu
Nov 22 - Brooklyn NY - Silent Barn
Nov 23 - New York NY - Elvis Guesthouse
Nov 27 - Baltimore MD - The Crown
Nov 28 - Athens OH - House Show
Nov 29 - Cincinnati OH - Northside Yacht Club
Nov 30 - Chicago IL - The Hideout
Dec 2 - Hamilton ON - This Ain't Hollywood
Dec 3 - Guelph ON - Van Gogh's Ear
Dec 7 - Toronto ON - Horseshoe Tavern