FADER Mix: Pional
Vintage synths and a host of unheard material from the Madrid-based producer.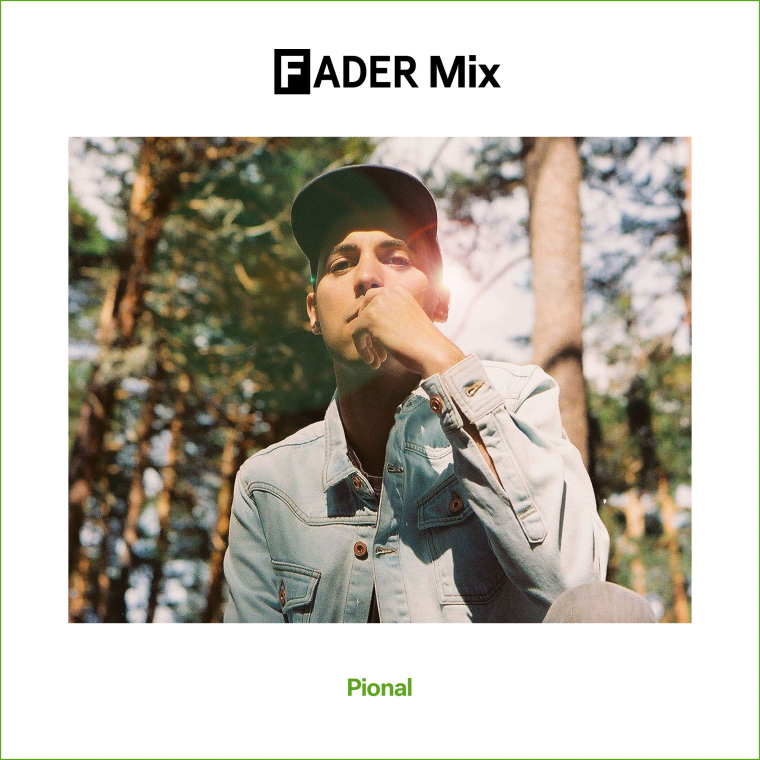 Pional is a multi-talented producer whose own vocals feature heavily in his deep, irresistible productions. The Spanish artist makes music that begs to be looped over and over, making sense both in headphones and playing out on the biggest soundsystems.
Starting out on John Talabot's Hivern Discs label, Pional has gone on to tour and work extensively with his former label boss and the pair have released music together as Lost Scripts. Pional has also remixed The xx, Chairlift, and Empress Of while releasing music on labels including Young Turks and Permanent Vacation. Earlier this year he released the When Love Hurts EP via Ninja Tune imprint, Counter Records.
To celebrate the release of his most personal work to date, Pional has put together a FADER Mix that puts a spotlight on his love of '80s synth records, as well as contemporary producers including Avalon Emerson and Roman Flugel.
Check out the mix in the player below, and read on for his tips on the best Pablo Escobar-related book to read and his plans for 2017.
Where are you right now? Describe your surroundings.
In a taxi heading to my studio. It's a cleaning day today so I'll be watering plants, using the vacuum cleaner and mop while listening Jamie Foxx's "Extravaganza." That's the plan.
Tell us a bit about this mix—what do you imagine people doing while listening to it?
I do not record many mixes so I wanted to use this as a music wardrobe of my all time favorite tunes and some upcoming stuff.
What did you open and close this mix with and why?
I open with an edit that I've made of this amazing song by Tony Hymas called "Pictures of Departure." I started with this tune first of all because I think is an amazing opening track but also because I wanted to explore different music styles and emotions, and "Pictures Of Departure" is pretty much that feeling. The mix is a blend of old synth-80's-downtempo tracks and also music from friends of mine that I'm working on but are not 100% done. For closing I put one of my all times favorite by Caliban "Open Mind."
What are you working on right now?
I'm working on a couple of remixes, also I just finished a track for a compilation, and an edit for also another compilation. We have so much music as Lost Scripts (John Talabot and I) coming out next year and also working on his next album.
What's the most important thing you have learned in 2016?
This year I had two big scary moments, although it all turned out to be just a big fright. I learned how important it is to stay close to your people.
And what are you most excited about in 2017?
So many good things will come out in 2017. Work, work, work, work, work, work. New music, new tour.
What's the last book you read that had a big impact on you, and why?
Pablo Escobar, Mi Padre. ("Pablo Escobar, My Father"). I've been interested in Escobar's life for a while and have read a few books and watched probably every single documentary about him. When the TV show came out I started reading this book, I was very curious to see the point of view of how his son lived back in the days surrounded by his father, sicarios, cocaine, and narcos. The TV show captures only less than half the truth, there are so many wrong things.
What's your favorite dish to cook and how do you make it?
I dont cook. Hate it.
Tracklist
Tony Hymas, "Pictures of Departure" (Pional In Transit edit)
Testpattern, "Souvenir Glacé"
Simon Park, "Pool"
Tolouse Low Trax, "Rushing Into Water"
Maria Rita, "Cantico Brasileiro" (Pional edit)
Roland Bocquet, "Exotique" (interlude vr)
Alain Chamfort, "Geant" (Superpitcher remix) edit
Roman Flugel, "Dust"
Avalon Emerson, "Constantly My Cure" (Vocal Mix)
Inga Mauer, "Regret"
Levon Vincent, "Woman Is The Devil"
Skatebard, "Starwatcher II"
Unknown, "HECDC (chupa)"
AxRx, "RxTxNxE "
GP, "track id?"
Normal Brain, "M-U-S-I-C"
Luke Hess, "Believe & Receive" (Shedsdeepanddubbydub)
Unknown, "Unknown"
Man Power, "Boys Beware" (Pale Blue Drum-A-Pella Remix)
PNL, "State Of Presence"
Albert Schwartz, "Berry Deep"
Unknown, "Unknown"
BoC, "Staircase Whip"
Beck, "Cellphone's Dead" (Villalobos Entlebuch Remix)
Unknown, "Unknown"
Unknown, "Unknown" (outré version)
Caliban, "Open Mind"