Criminal Investigation Launched As Oakland Fire Death Toll Rises To 33
Them Are Us Too's Cash Askew among the confirmed dead in GhostShip tragedy.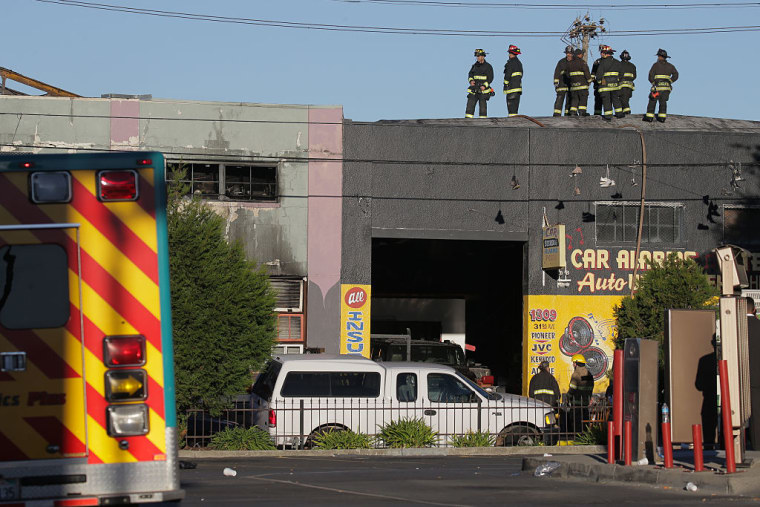 A criminal investigation team are on the scene of the Oakland warehouse fire, which has claimed 33 lives so far. News of the investigation and rising death toll was announced at a press conference held on Sunday, December 4, CNN reports.
Alameda County Sheriff Sgt. Ray Kelly said 30 per cent of the two-story GhostShip warehouse in Oakland has been searched so far. He added that officials were also working with the transgender community to identify some of the victims.
Among the confirmed dead is Cash Askew of Bay Area dream-pop band Them Are Us Too. In a press release obtained by Pitchfork, the label and band's management team said, "Cash Askew was an absolutely loved and treasured member of the Dais Records family. We were in awe of her talent, her gentle kindness, and her creative momentum... her passing is an excruciating loss that we may never fully process or recover from."
Oakland mayor Libby Schaap confirmed that a criminal investigation has begun as a preliminary measure. After the blaze was extinguished on Saturday, the building was still deemed too unsafe for fire services to enter. Officials confirmed to reporters that the roof collapsed onto the second floor which itself collapsed on to the first floor.
The fire was believed to have started around 11:30 p.m. PST on Friday, December 2 during a show for musician Golden Donna's 100% West Coast Tour. According to the event's Facebook page, the party started at 9 p.m. and was supposed to last until 4 a.m. Authorities told KTVU-TV that there were around 50 to 100 people in the building at the time.
A relief fund for victims of the Oakland fire was set up over the weekend and has already raised over $200,000.