Taylor Crenshaw shared her entire life online. And like the celebrities she adored, she was mourned publicly after her death.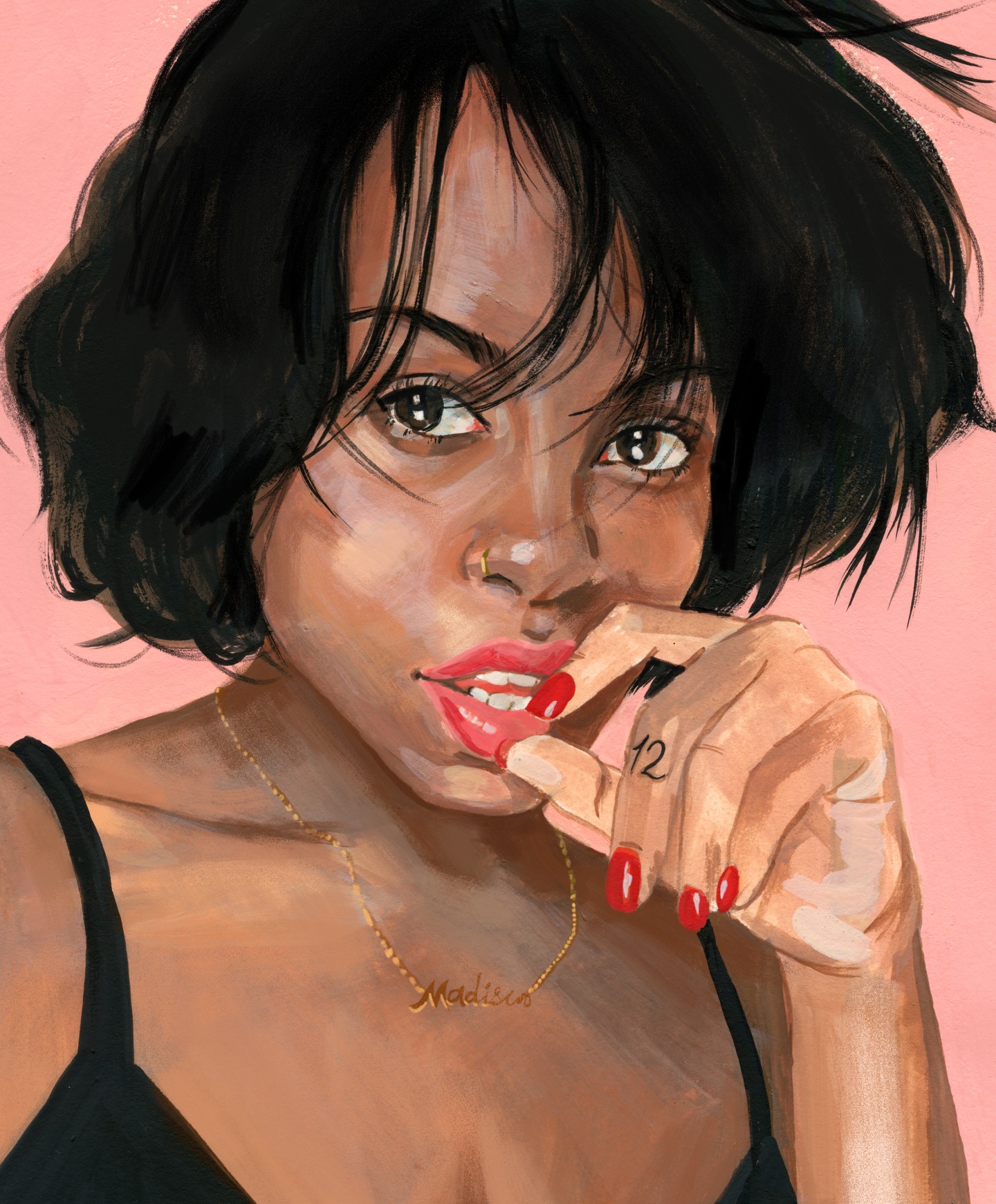 When Taylor Crenshaw graduated from kindergarten, her teacher asked her what she was going to be when she grew up. The little girl walked across the stage and, to the delight of the Virginia crowd, declared that she would like to become a preacher.
Taylor's vision of work in the church did not come to pass. But if the role of a preacher is to broadcast a set of chosen truths, and to serve as a source of support and encouragement for friends and outsiders, then you might say she did become one.
From an early age, she was good at asking questions and connecting with people. Using the alter-ego Nicole Milfie online in her twenties, Taylor spoke openly and often to a loyal community of fans. She was a self-taught scholar of internet celebrity, fascinated by the need of others to feel recognized. She perhaps also viewed the internet as a place where she could recognize herself, and by making public almost everything in her brain there, she attracted a cult following that looked to her for entertainment, insight, and a never-ending supply of compassionate guidance.
This August, when she was 21 years old, Taylor died suddenly. She was mourned almost immediately by believers and friends around the world — people she had never actually met, but who felt nevertheless that they had known her. And maybe they had. According to Taylor's mother, Felicia Crenshaw, "she never met a stranger."
Taylor was born in 1995 in Richmond, Virginia. She grew up with her mom, dad, and older sister in the historic district downtown, in the shadow of Virginia Commonwealth University. As a child, she was talkative and had a radical streak. "She just did what she wanted to do in school and she got punished along the way," said Felicia. Taylor kept a small circle of friends, and found it easier to connect with boys than girls. But she was deeply empathetic to all; her mother remembered that Taylor wouldn't allow anyone to step on the sidewalk if there were ants crawling across it.
As a preteen, Taylor would spend entire days in front of an iMac her mom had given her, browsing the internet. She read everything — reports about the wars overseas, national scandals, listings for art shows in New York — and saved thousands of images she liked or wanted to remember. "She was on there 24/7. You had to make her go to bed," her grandmother, LaVerne Hamlin, said.
After her parents divorced in 2008, Taylor lived with her mom. A wiz in the kitchen, she considered culinary school when she graduated high school in 2013, but didn't ultimately pursue it. In a 2015 Tumblr post considering whether she'd ever go to college, she wrote: "nothing is off limits for me."
"I would tease her like, 'Is your goal to stay in my house until I retire?'" Felicia remembered. "And she would laugh and say, 'No, I'm gonna move out.' It was an interesting relationship as she became an adult. Especially when she became a mom." Taylor gave birth to her daughter, Madison, when she was 19. She was not in a relationship with the baby's father, and he did not become a part of their lives. In the delivery room, Felicia cut the umbilical cord.
Taylor had joined Twitter the summer after graduation and was absurdly honest on it from the jump. "I know a family whose dog will shit on the floor, & instead of just picking it up promptly, they'll let that shit sit there for days…DAYS," went one characteristically lucid early dispatch, written under the name @bruhfallback. Through her pregnancy, she tweeted about porn, food, and her changing body, and checked in on her growing army of fans, which eventually counted more than 33,000 followers among its ranks. In 2015, she changed her handle to Nicole Milfie, a play on Nicole Richie, Paris Hilton's onetime sidekick. In a tweet that year, she offered this pithy praise of Richie's life: "Raged hard then became a mom, and still raged."
"The industry is waiting on us. The talent is right there."—Taylor Crenshaw
Nicole Milfie used the cherries emoji as a personal stamp. She spoke openly about her body and encouraged others to do the same. On a Tumblr account called Ask Milfie, she fielded questions about sex and self-love. Replying to one woman who asked if she should leave a cheating boyfriend, she said: "Yes, you can. You're settling and that's not cute!! Stand your fucking ground girl." In one of her most popular tweets, she shared a picture of a framed pair of underwear with the caption, "TELL ME WHY HE HAS MY PANTIES FRAMED ON HIS NIGHTSTAND. IS MY PUSSY BOMB OR WHAT." In another popular post, a series of photos showed Taylor sitting on her porch, breastfeeding her daughter while flipping her middle finger, with the hashtag #NormalizeBreastFeeding.
"You and I are the rough girls of the family. The most radical but we are strong girls," Taylor wrote to her grandmother in a text message last year. A 68-year-old retired physics teacher and basketball coach, LaVerne risked her Norfolk State University scholarship in the '70s by joining civil rights protests on campus. She called Taylor an old soul, with whom she felt close enough to trade dating advice. LaVerne respected Taylor's fearlessness, even if she didn't understand her interest in online nudity: "As far as show-and-tell? I was not the one." Taylor's life online was perhaps more puzzling to her father. "He was more of a conservative person," Felicia said. "I think he wanted her to be more structured. They had a loving relationship, but I don't think he wanted to accept how free-spirited she was."
As Nicole Milfie, Taylor's voice was outsized and unburdened. "She was on top of, for lack of a better word, ho Twitter," said another web personality, @dances. "And she was big in the feminist and empowerment scene. She was on the intersection of those things. She didn't have mad verified people riding for her. She was just a young girl in the middle of Virginia. Her network was really underground, but she payed attention to the culture." Before they were covered by traditional outlets, Nicole Milfie championed glamorous pariahs like Blac Chyna, Cardi B, and Amber Rose. Once, she meticulously chronicled the rise and fall of early-'00s television personality Tila Tequila in an 80-minute documentary she posted to Vimeo, stitching together ripped footage from interviews, red carpet appearances, and webcam videos. Where other accounts of Tequila might have felt pointless, or mean, Taylor's was hypnotizing in its care.
Taylor seems to have seen herself in the triumphs and failings of marginal celebrities. And in multi-tweet stories, she narrated tragicomic scenes from her own life. One Twitter thread recounted the way she wobbled over to a neighbor's car and slashed his tires because he wouldn't call her back. In another, she crafted a vivid portrait of her friend "Joe," a failed drug dealer who just wouldn't leave her alone. To read and enjoy Nicole Milfie's stories was to understand and sympathize with a young person who had gone through a lot in life already. She acknowledged her own struggles with her mental health, and attracted people who could relate. "MAJORITY OF ARTISTS HAVE MENTAL DISORDERS, BEING AN ARTIST IS NOT ALWAYS THIS FUN RIDE, IT'S A GOD DAMN STRUGGLE EVERYDAY," she tweeted in 2015.
As her audience multiplied, some followers found ways to champion her. "When you think of Perez Hilton, Wendy Williams, she was like on her road to being one of those people," said Kreayshawn, the sometime-rapper who went viral in the early 2010s. "I wanted to reach out to her and I wanted to help it grow." As a recurring guest on Kreayshawn's online radio show, Taylor hosted a freewheeling segment called "Tea Time." Outlining rumored beef between Metro Boomin and Young Thug on one episode, she looked past their comments to analyze how fast the cycle of mixtape releases had become since the rise of Gucci Mane. In another episode, she peeled back the layers of how former reality stars Spencer and Heidi Pratt were managing to hold on to their celebrity years after its peak.
And while her own name grew, Taylor became just as hyper-aware of her own cult status. In one of her best Twitter threads, she explained simply how to achieve fame: "Act like an icon and people will start thinking you're an icon." In another appearance on Kreayshawn's radio show, she fleshed out her vision of a more accessible stardom: "The industry is waiting on us. The talent is right there. Personalities online are transferring to TV. The mainstream is changing before our eyes." Indeed, before her death, she was caught up in a bizarre mini-scandal: Karen Huger, one of the stars of Bravo's Real Housewives of Potomac, inexplicably re-posted an Instagram of Taylor's daughter Madison, insinuating she was part of Huger's family. The #MilfieHive swarmed Huger's comments asking for an explanation. A couple minor blogs picked up the story, and for a moment, Taylor entered as a character in the world she spent her days looking after.
"She never met a stranger"
The cause of Taylor's death is unclear. Taylor struggled with addiction throughout her life, and went to rehab three times. Just days before she died, she started a sobriety count on her Twitter, using GIFs of Lindsay Lohan to illustrate her mood. In the weeks after her death, there were rumors on Twitter that Taylor died from a heroin overdose. In response to those, her mother Felicia went quiet. "I can swear on my grave and my father's grave that that was not the case," she said. "I could say that with certainty. You can rule that one out. No way."
Taylor used to tease her mother, telling her that she didn't understand how famous she was, or would one day become. But now her family is adjusting to a world without Taylor in it, as are her admirers. At her funeral, they met people who'd traveled from New York and Atlanta. In September, Madi, a 20-year-old fan from New Jersey who tweets as @amadijuana, got a cherries emoji tattooed on his right arm in her honor.
"I'm pretty much starting all over again," said Felicia, who has become her granddaughter Madison's guardian. While she expected to live child-free after raising three daughters of her own, she has embraced her new role. "Madison is doing well. She's transitioning and I'm trying to get her into a routine," she said, explaining that the 2-year-old waves and talks to a picture of Taylor that hangs in her room. "I always want her to know who her mother was and that Taylor loved her immensely without question."
Felicia has become penpals with fans of Taylor's from around the world, and Taylor's grandmother has begun corresponding with David Graham, a 24-year-old from Brooklyn who was one of Taylor's closest online friends. "I could never replace her, but I can maybe put my little twist on things, just to be there," LaVerne said. When she herself longs for Taylor's company, she uses a modern trick, calling her phone to hear her voicemail greeting: "If you have any good news leave it after the beep. And it you have any bad news, leave it before the beep."
Over the past few months, Felicia says she has been reminded of her daughter at every turn, but especially in the presence of butterflies, which seem to keep popping up. When she sits out on her deck, there are butterflies all around her. On a recent walk in the neighborhood, a huge one almost smacked her right in the face. And when she visited Taylor's grave in September, there were butterflies everywhere, a big kaleidoscope of them fluttering around her windshield as she exited the cemetery. For what it's worth, Taylor only tweeted about butterflies once, in 2014. "I wish I could have a pet butterfly and train it to do cool shit to impress people I meet," she wrote. "Maybe then they'll never leave???"