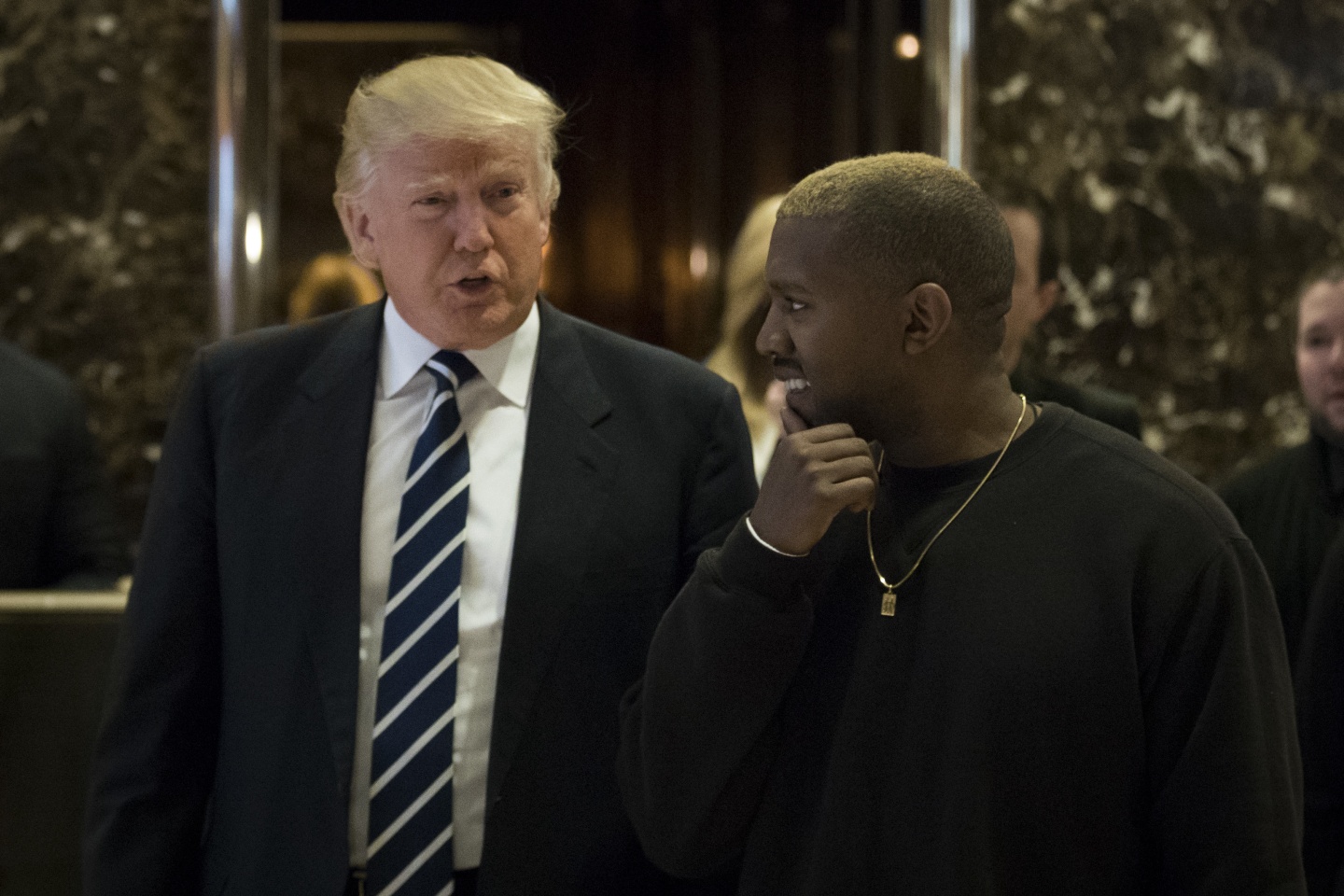 In September 2012, Kanye West tweeted that "Feelings are the only facts." Six months later, I saw him repeat the statement at a one-off London show, where he tried out the falling snow and embellished face masks that would go on to form the aesthetic basis of his Yeezus tour.
That night, Kanye interrupted his performance to give a vaguely anti-establishment, confusingly nonlinear sermon. He told the Grammys to "suck his dick," railed against unnamed corporations who wanted to use his image to sell shampoo, and dissed "Suit & Tie," Justin Timberlake's collaboration with Jay Z. Kanye had begun 2012 with an extemporaneous thread of tweets about his fashion and design ambitions; by the end of the year, he had built a speaking segment into every stop of the Yeezus tour.
"Visionary streams of consciousness" became Kanye's whole thing. His speeches galvanized fans and antagonized detractors. While music industry revenue streams have shifted from CDs to streaming, talking has guaranteed Kanye coverage, and a consistent place in conversation. Statements like 2005's "George Bush doesn't care about black people!" and 2013's "You ain't got the answers, Sway!" now sit in his catalog, alongside albums and sneakers and television performances.
Today, Kanye has a wife, two kids, and an Adidas line. And for all the attempts to clear his name in the court of public opinion made over the past decade, he now appears disinterested in the simple idea of a clean slate. Maybe he believes that some people will never fully forgive him for interrupting Taylor Swift in 2009, or that lots of people may just never value him at all. "The world is racist, okay? It's just a fucking fact," he said on November 17, during a tour stop in San Jose.
That night Kanye also told the crowd that had he voted in the 2016 presidential election, he would have voted for Donald Trump. For those who have been marginalized or targeted by Trump's politics, and who have seen Kanye as their champion, this came as a disappointment.
But for anyone who has watched Kanye closely, it should not have come as a surprise. Both men employ an oratorical style based more on showmanship than substance. They delight in remaining relevant, sometimes via hyperbole and scandal, or at least Kanye seemed to hint as much in 2012, via a Blades of Glory soundbite sampled on Watch the Throne: "No one knows what it means, but it's provocative. It gets the people going."
During his run of Yeezus-era speeches, Kanye rallied his supporters. He provided bold and vague statements, for fans and opponents alike to bend into shapes they liked. And with every public appearance, the rift between fans and haters seemed to become less bridge-able. This is what Trump has done too — with his campaign rallies, and his victory tour, and his tweets — and Kanye seems to recognize the similarity in style. "I'm on my Trump shit," he repeated at the Sacramento show.
There are differences between the men, of course. If Kanye's fanbase has its hypebeasts, Trump was voted into power by racists and bigots thrilled by his promises to deport Mexicans and ban Muslims. At his San Jose show in November, Kanye tempered his support of Trump with this caveat: Because he would've voted for Trump, he said, "Don't mean that I don't think that Black Lives Matter. That don't mean I don't think that I'm a believer in women's rights. That don't mean I don't believe in gay marriage." He was booed by the crowd in response, because it does mean that.
This morning, a newly blonde Kanye met with Trump at Trump Tower, his base of operation in New York. The two reportedly discussed "life," and Trump described Kanye as a friend and a "good man." He's also been visited by Bill Gates, Leonardo DiCaprio, and pro skater Billy Rohan. But like many others, I'm left wondering what would motivate the man who publicly decried Bush into cozying up to Trump. Maybe it's his compulsion for subversiveness. Or maybe Kanye finds validation in being welcomed by the power the President-elect represents, in the same way that he's spent years fighting for acceptance in the fashion industry. The co-sign from Trump is a stark departure from Kanye's relationship with President Obama, who wholeheartedly embraced Jay Z and Beyoncé but once called Kanye a "jackass" and has several times been perceived as condescending to both Kanye and his wife. For his part, when asked by reporters about the nature of his meeting with Trump, Kanye said he "just wanted to take a picture." He later tweeted that they discussed "bullying, supporting teachers, modernizing curriculums, and violence in Chicago."
Last spring, during a lecture at Oxford's Guild Society, Kanye said he'd been thinking about the way we communicate. "What weapons have prospered [against me]? The smoke and mirrors of other opinions," he said. "The Matrix is the bible of the post-information age… When the hundred guys come at Neo, those are opinions, that's perception, that's tradition attacking people from every which angle possible. If you have a wide focus and master senseis like Laurence Fishburne and you have a squad behind you, you can put the world in slow motion."
Kanye was comparing himself to the film's protagonist (who is the "one" destined to bring about peace in society), and seems to see himself as having a similar savior-like fate. But whereas, in the movie, Neo must fight agents of a deceptive world order, Kanye believes he's up against a media and business landscape where false perceptions and abidance to tradition define his existence. So, in a world where language is just as effective as weapons, shaping the way he's spoken about is what might allow him to achieve Neo-like status. He's determined to "slow" the world down. And it's that ability to control public narratives that he seems to praise Trump for having.
Like Trump, Kanye might ultimately fare well in this "post-truth" age, where fake news is widely considered real and feelings are as valid as facts. "It's a new world, Hillary Clinton, it's a new world. Feelings matter," he said on stage in Sacramento, on November 19. "If you keep following old models, your ass is going to get Hillary Clinton'd." In Trump's America, he might be right. That's terrifying. Just as terrifying? The implication that Kanye's okay with that happening.