The winsome voice on Cameroon-born singer Vagabon, a.k.a. Lætitia Tamko, is imbued with a soft power. "The Embers," the second single from her debut, Infinite Worlds, burns deep with that power, and more than just a hint of heart-tugging. In its accompanying video, Tamko shows she's at ease in any situation, even when she's frustrated as hell. From bus to pet store to shark aquarium, she revels in being "small." "Run and tell everybody/ that Lætitia is a small fish," she busts out fervently.
"I wanted to have fun with the visuals of this video especially because the song is about resisting the Type A archetype of beauty, success and superiority," Tamko wrote in a note to The FADER. "My decision to be in my own video came not from comfortability but rather from my need to debunk that archetype, and that felt much bigger than me. Zadie, the director, came to me with concepts he had and we worked to fully actualize them and along with the cinematographer, Kenny Suleimanagich, who does such beautiful work shooting on film — we made something I'm very happy with."
Infinite Worlds is out February 24 on Father/Daughter Records. Watch the video above, and peep tour dates below.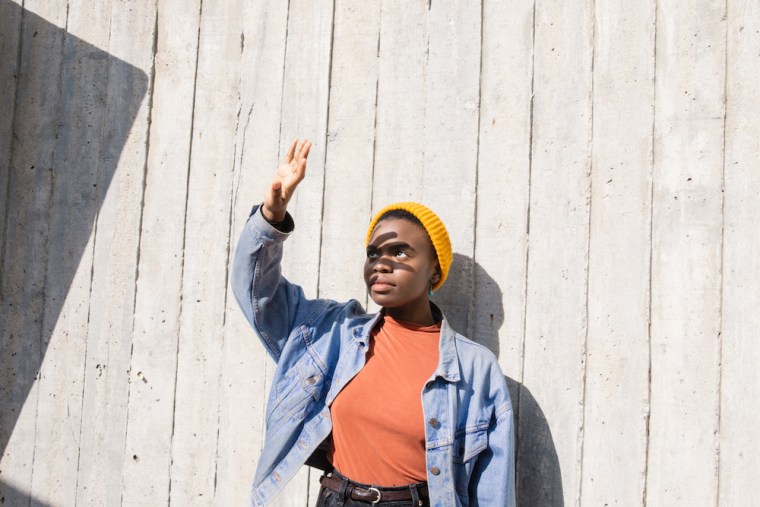 Vagabon Tour Dates:
2/24 Brooklyn, NY @ Baby's All Right ^
2/25 Philadelphia, PA @ PhilaMOCA ^
3/2 Baltimore, MD @ Ottobar *
3/3 Harrisonburg, VA @ The Golden Pony *
3/4 Asheville, NC @ The Mothlight *
3/6 Atlanta, GA @ The Earl *
3/7 Gainesville, FL @ The Atlantic *
3/8 Tampa, FL @ New World Brewery *
3/9 Orlando, FL @ Will's Pub *
3/10 Savannah, GA @ Savannah Stopover *
3/11 Birmingham, AL @ Syndicate Lounge *
3/14 New Orleans, LA @ Gasa Gasa *
3/20 Phoenix, AZ @ The Underground *
3/22 Los Angeles, CA @ The Echo *
3/23 San Francisco, CA @ Rickshaw Stop *
3/25 Arcata, CA @ All Ages Arcata Project *
3/26 Portland, OR @ Mississippi Studios *
3/27 Seattle, WA @ Vera Project *
3/31 Chicago, IL @ Schubas *
4/1 Columbus, OH @ Spacebar *
4/2 Cleveland, OH @ Beachland Tavern *
4/3 Grand Rapids, MI @ The Pyramid Scheme *
4/4 Detroit, MI @ Marble Bar *
4/5 Toronto, ON @ Silver Dollar *
4/6 Montreal, QC @ Vitrola *
4/7 Winooski, VT @ The Monkey House *
4/8 Portsmouth, NH @ 3S *
^ Infinite Worlds Record Release Show
* w/ Allison Crutchfield & The Fizz