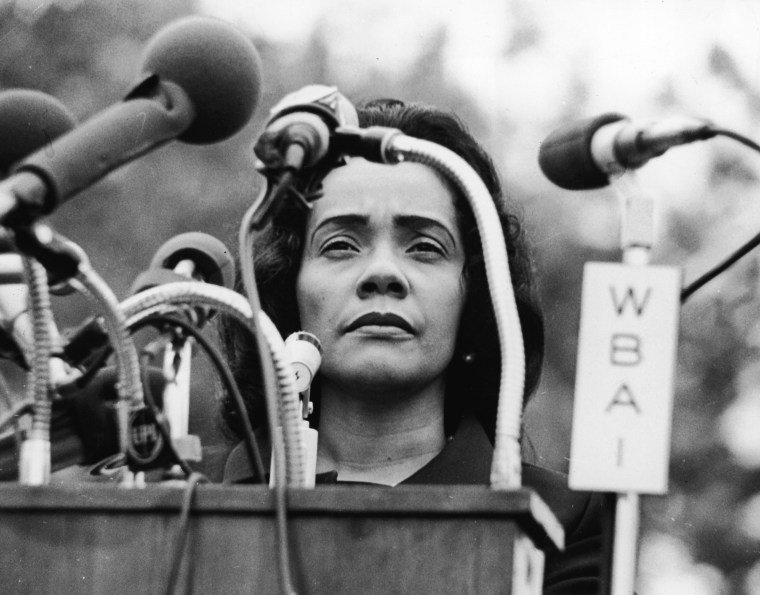 The Senate Judiciary Committee held a confirmation hearing today for president-elect Trump's pick for Attorney General, Jeff Sessions. The nomination has been met with staunch opposition from civil rights organizations and activists, including public demonstrations today, and a testimony from New Jersey state Senator Corey Booker, who opposes Sessions' nomination based on his civil rights record.
Back in 1986, Sessions was nominated by President Reagan to a federal judgeship, a nomination that was ultimately blocked on similar grounds. One key voice of opposition at the time was Coretta Scott King, activist and widow of Martin, Luther King, Jr., who penned a letter urging Congress to block Sessions' appointment.
The letter, which you can read in its entirety here, warns that Sessions' appointment to the federal bench would "irreparably damage the work of my husband," and that he "lacks the temperament, fairness and judgment to be a federal judge."
Specifically, King's letter focuses on his record as U.S. attorney, and on his choice to prosecute civil rights leaders for alleged voter fraud in the famous "Marion Three" case, a choice King asserts was politically motivated.
Utlimately, King concluded in the letter, "I believe confirmation would have a devastating effect on not only the judicial system in Alabama, but also on the progress we have made toward fulfilling my husband's dream."
Ms. King's letter was unearthed today and published in full by The Washington Post, after previous reports that it had not been entered into the congressional record. You can read it here.