The Complete History Of "Bling Bling"
The true story of one of rap's most defining moments, from the projects of New Orleans to the pages of Merriam-Webster.
Compiled by Rawiya Kameir, Lakin Starling, Nazuk Kochhar, and Amos Barshad


Illustrated by Alberto Porto
In the early 2000s, an animated MTV spot cheekily illustrated the strange life of "bling bling." First we see some anonymous rappers on stage, chanting the infamous, irreplaceable phrase; then we see the term wind its way through pro locker rooms and TV interviews and high school hallways until, finally, it shows up at the tea-time table of a white suburban woman and her matronly mother. Pointing at her new earrings, the woman chirps: "Bling bling!"
Indeed, we long ago murdered "bling bling." But since its death, our fondness for its source material — the 1999 radio hit of the same name — has only grown. Officially credited to B.G., but widely associated with the entire illustrious Cash Money crew, it both defines an era, and represents its possible high-water mark. On both the track and the indelible video, we got a massive, preposterous, joyous chunk of stunting — a level of stunting we may never see again.
Thanks to his manifold latter-day successes, "Bling Bling" can at times feel like a footnote in Lil Wayne's career. But the truth is, "Bling Bling" — and what was, for a time, its all-pervading presence — is elemental to a proper understanding of Wayne. Which is to say: a once-in-a-generation megastar whose very words shape our cultures and our lives.
As part of FADER's Lil Wayne Week, we present: the oral history of "Bling Bling."
In 1991, the brothers and entrepreneurs Bryan "Birdman" and Ronald "Slim" Williams formed the New Orleans-based Cash Money Records. After enjoying regional success in the mid-90s, the label broke through nationally on the strength of its star, the charismatic Juvenile, and his fellow Hot Boys: B.G., Turk, and the fresh-faced Lil Wayne. By the end of the decade, Cash Money was churning out material at a rapid pace.
TURK (Cash Money artist): Back then, we were recording like it was a job. We'd get these titles and concepts from Baby — we called him Baby 'cause back then he wasn't Birdman yet. He'd come with a list of songs or something. Me and Wayne used to always be together, and he'd just give us songs and tell us to write and we used to just write every day. He always was in the studio, like every day. He'd be like, "Y'all, come to the studio." Man, we'd drink, we'd eat chicken, we'd shoot dice, and we'd gamble. That's what we did every day.
LIL WAYNE (Cash Money artist): "Bling bling, I know/ And did you know I'm the creator of the term?" — "Hollywood Divorce," Outkast feat. Lil Wayne
MANNIE FRESH (Cash Money producer): Wayne had already used the word "bling" in a song prior to that but the word had already stuck to me. I don't know exactly which song, but I know his line was, "Tell me what kinda nigga/ Got diamonds that'll bling, bling ya." That was like, damn, that bling word could be something.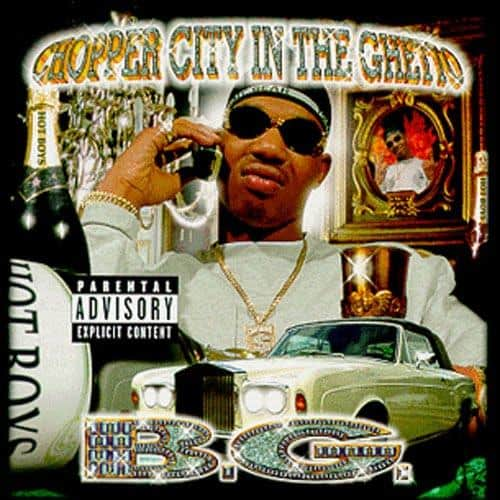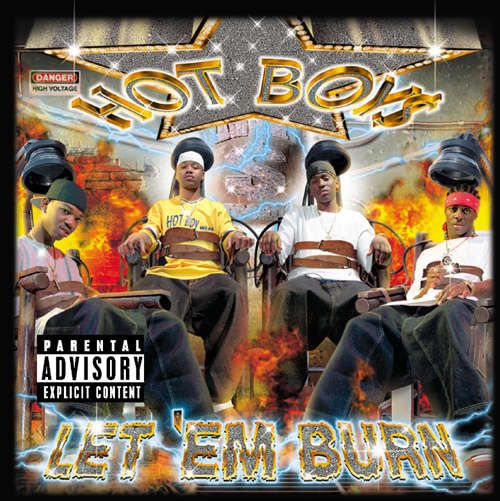 DINO DELVAILLE (Universal A&R): It was either Wayne or Juvie or one of the Hot Boys who [first said "bling bling"]. It was on a Hot Boys album. Every time they talked about their jewelry, their ad libs would be "bling! bling!" in the background. It was just a funny ad lib. It was cute.
UPTOWN ANGELA (New Orleans Q93 personality and programmer): The first time I heard "bling bling" being said as a phrase was from Bryan Williams. I met him in maybe '96 at the radio station and he would always just say it in his every day terminology. Everytime he would talk about jewelry, he would just say "bling bling."
TURK: I don't remember how the word "bling bling" came up. We used to always be playing around in conversations. And we always used to be in the studio so somebody might say something and somebody else might be like, "Aw man, that's a song!" I believe B.G. ended up saying "bling bling" and we were like, "Man, that's a song." That's why it's known 'til this day that B.G. is really the originator. But it really was our lifestyle and how we lived. We was always stuntin' — throwing money, the jewelry, the cars.
We used to always record in a studio on St. Charles Street in New Orleans. Either that one or we'd be on Canal. We had like three studios we recorded at. And I believe that song came from St. Charles Street. We didn't think it was gonna be a hit or nothing. We just was recording music.
RONALD "SLIM" WILLIAMS Ronald (Cash Money co-founder): We was in the studio [starting] from the evening time, 'cause Wayne was going to school. So we'd go from four o'clock to as long as we could go. If we was in rhythm, we would do three, four songs a night. If I'm not mistaken, Wayne said the word "bling" first. And we just went from there. We just heard that and it created what it did from there.
MANNIE FRESH: So I'm sitting around listening to old school hip-hop shit one day and this song comes on and it's got these little "bling, bling" sounds and I'm like, "Oh shit, that's it." I said, "We need to record that shit tonight." I did the beat and had everything done by the time we get to the studio. That was one of the songs that was probably a 10-minute song. No more than an hour.
The word bling was something that Wayne had already said. But "Bling, bling everytime I come around your city bling, bling" — I wrote the hook. The whole entire hook. I wrote it to the music. It had to be two words because I put these two stabs in the beat while I was doing it. I wanted to match the kick. That was the reason why I didn't just say "bling."
Shit, it was a lot of liquor involved in that song. It was just a party atmosphere because once I did the hook and Wayne put the lil' fill-ins, everybody was like, "This shit is genius." In certain cases, Juvenile would have a verse ready. He wrote some incredibly cool shit where he was just waiting for that right song and I think "Bling Bling" was one of those songs. You didn't have to pull out your tablet or nothing — you really was ready. So he does his verse, they do their verses. Baby did what he normally does, his lil' rambling thing, but it works.
TURK: Every song that we ever did, I didn't think nothing was gonna happen to it. When you love something and you do something, you weren't working for a hit record. I never just set up in my mind like, Aw man, I'm gonna try to create a hit. Hits don't get made like that. The people determine if it's a hit or not. So, we just do what we do. We work and that's it.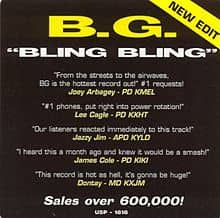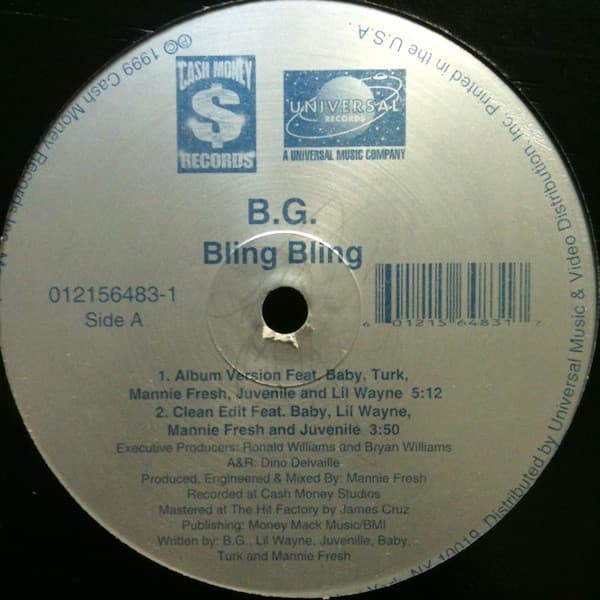 UPTOWN ANGELA: Next thing you know, B.G. put the song together. I wanna say the first time I heard it, we were traveling from one of the concerts they were doing. Sometimes Bryan would play new music, so he played the song and I listened to the whole album before it dropped. And I was like, "Wow, that's gonna catch on." B.G.'s sound was just so organic of New Orleans, and his tracks with Mannie, when you put them together … I wasn't totally caught off guard that it took off like it did. It was in the very beginning stages of Cash Money growing and becoming who they are. For me, when I heard it, it just stood out.
SLIM: We felt it was special [right away]. Fresh, and my brother, they really was messing with the bling bling. Wayne started to bling. The word was special. It was coming together. You know the concept — when it's on you, you bling. You got it going on, you bling.
DINO DELVAILLE: Maybe a year or so after [their historic $30 million deal with Universal] was done, they came with this record. They had just played on the ad libs that they were using on previous records, just using the slang. When I first heard the record, I knew that that was gonna be a monster. It was the hook, and also some of the synth sounds that Mannie Fresh was using. You know which sound I'm talking about, before the drums come in, it's like, plink, plink, plink! Hearing that sound and the hook and the energy of the record, I knew it was gonna go.
MANNIE FRESH: The crazy thing is Wayne came in so energetic. I said, "Dude, wait, it's not your song." Originally the song was a Big Tymers song but B.G. was so street that we decided to give the song to him because it was like, "How do we get the masses to like this album?" It was gonna be a family song on the Big Tymers album. But after I listened to B.G.'s album, I was like, "This shit is so heavy and dark you need at least two songs that's completely different from any of that."
TURK: There was different versions of the song. My verse was on the first "Bling Bling," the street version. And when Universal wanted us to do a radio edit of it, I wound up missing the studio session. Birdman was calling me and everybody had done did their radio edit, the clean version. I was in Magnolia Projects. It was a rainy day, I'm chillin', me and my homeboys. Then I get the phone call, "We waiting on you at the studio." The truth of the matter is I was high, and I ain't used to want Baby and them to know. I mean, they knew I was getting high but I ain't used to wanna go around them and I was real high that day. I ain't even wanna go in front of them because I'm having fun, I'm getting loaded. And I missed it. They had to put somebody on there, so they winded up putting Wayne on there and replacing me.
DINO DELVAILLE: It was like that sometimes in those days. He was the one who really had the [addiction] issue. There was times when we couldn't find him for days. We'd have video shoots and studio sessions set up, and we'd have no idea where he was.
"That song blew up. I mean they named the whole era off that: the Bling Era." —Big Tigger
BIG TIGGER (host, BET's Rap City, 1999-2005): I remember the first time hearing it and thinking, This is kinda cool. But I never thought it'd be the phenomenon that it was. It was cool, energetic, very braggadocio. There's a bunch of songs that you thought were gonna be really big that never got big, and there's a bunch of songs that you think are cool and then they blow up. That song blew up. I mean they named the whole era off that: the Bling Era.
MANNIE FRESH: We were just trying to find our making in hip-hop. What I'm saying is you had Slick Rick who was the storyteller, Public Enemy who was educating on whatever was going on in the black neighborhood, and you had the gangsta rap which was NWA. You had west coast sound, east coast sound, and then you had Cash Money. We had categories. It wasn't a bad thing that the category was like, "OK, they're kinda flamboyant." It was just something that fit in hip-hop. We had no choice but to think that way, you know? How do you get out of something like, Goddamn, this shit is crazy? Sometimes it's a fantasy of, like, Shit, I want this so bad. That's why everything is big.
UPTOWN ANGELA: "Bling Bling" was one of the biggest records that we were playing at the time. It had saying power. Normally when we put a song in rotation, we develop the song, let it grow a little for maybe four to six weeks. But this one jumped out out of the gate. People from the streets of New Orleans were already huge B.G. fans. So when we put it on, and it stayed in our power category for at least six months. And then it was still a strong recurrent song after that. Even 'til this day it's one of our top records.
A song as big as "Bling Bling" needed visuals to match. When the clip hit BET and MTV, the full legend of the track took flight.
TURK: I was mad at myself once I realized that Damn, this is a hit record. That song, I think, affected my career as a solo artist. My solo album came out a little later than everybody but it didn't reach gold. It just showed my lack of responsibility, it set me back, and I learned from that. I learned how to be more responsible, hold myself more accountable because you never know when your big break coming. You could miss it. I regret not being on the commercial side of it 'cause, that woulda crossed me over. It still ain't hit me [how big it was] 'til a lot of people just started requesting it on the radio and I started seeing it on MTV. I had slipped, but I was in the video, though.
MANNIE FRESH: We were thinking that the average hip-hop show is just some dudes with mics and they just run around. So I said, "We gotta do it bigger than everybody." The whole props, the helicopter, and all of that, was us saying you gon' get a better show when you come see Cash Money. We not just gon' talk about it, we gon' really be it. It was like, "Who else could do that?" When we did the "Get Your Roll On" video we were doing donuts in Lamborghinis. It was that whole shock value of, "They did that? They actually did that shit." The helicopter was another They Did That moment.
RON MOHRHOFF (producer, "Bling Bling" video): We shot three videos as one big package. We shot "Bling Bling" as the first video and then on Saturday and Sunday we shot Juvenile, "Back That Azz Up," which is another seminal video for the time, and then we shot Hot Boys, "We On Fire," on Tuesday and Wednesday the following week.
We went to New Orleans and shot all in around the area. ["Bling Bling"] was shot near a harbor in Slidell, Rigolet's Marina. There's a house out on the point, at that point it was called the Smith Mansion. It was situated right on that point, right on the harbor, and it was pretty bling bling.
UPTOWN ANGELA: The beauty about what Cash Money did and an artist like B.G. is that in the videos, it was the same formula pretty much as everyone else: everybody having a good time, you'd have the cars, you'd have the girls, you'd be in the club popping bottles. But to me it didn't feel as cliché as the ones of today do. It was just how they lived.
RON MOHRHOFF: All the Cash Money Millionaires, they were just coming into fame and fortune at that time, they all had brand new Jaguars. I remember, they had a fleet of brand new Jaguars. I remember them having these big rolls of money. They really did walk around like Cash Money Millionaires.
DINO DELVAILLE: Then they nailed the video. It was ostentatious — the houses, the helicopter, the line of cars going across that bridge over one of the canals in New Orleans. It was the perfect setup for that record. People from New York, people from L.A. were always asking me, "These guys really got that amount of money? Are those houses theirs? Are those cars theirs? Is that all theirs?" And I was honest with them. I'd say, "Yes, that really is theirs." They really did have these huge mansions. There was one house that they had called "the White House." And it was basically just a Cash Money house for the artists to hang out. It had a rec room, maybe 10 bedrooms, 10 baths. They'd park a certain fleet of cars there. As they said, they really were neighborhood superstars. Driving around New Orleans with them, we'd have police escorts. And Baby would have his birthday party at the Superdome, just ridiculous things like that.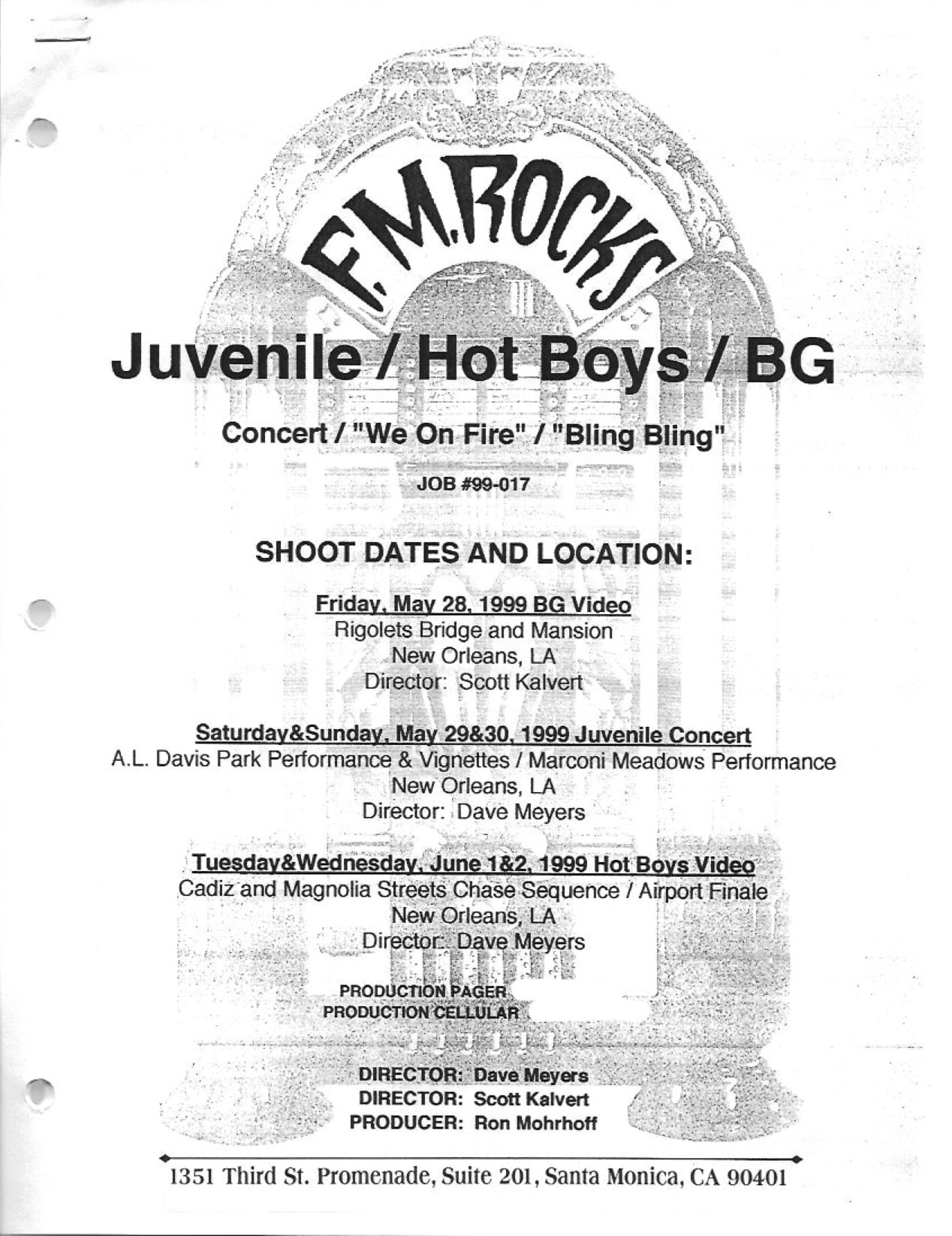 MANNIE FRESH: We shot the video in Slidell. That's probably 30 minutes outside of New Orleans. That's just a lil country ass town, and because of permits we had to do it there. Nobody was trippin' at the time. It wasn't even like black people stayed there so we just snuck around and did it.
We always had a director and we would move them out the way. We'd say, "Hey bro, we already got the vision. You gon' get paid, thank you for making sure the camera is working right." I remember people saying, "Well, where did you get the props from? How did y'all make it look so realistic?" And they would ask, "Well, the houses and the dog eating bologna?" And we were like, "Dude that's really New Orleans. This is really where we're from."
RON MOHRHOFF: As a producer, I would take a good chunk of my budget in cash. Just to pay for whatever little things came up. I would have like $30,000. They used to call it a knot. So I had that knot, that cash in rubber bands, and I had credibility with those guys.
I remember them taking me around, showing me places in the city, going to lunch with us. They showed us the neighborhoods, showed us their lifestyles. We would roll around with them and their Jaguars. They were very instrumental in a lot of the props and a lot of the locations.
We did all three of those videos for less money than the average video is done today. While we were doing the boat stuff, we set up that big opulent table with the candelabras and stuff on it. I don't think we had permission to shoot inside the house, so everything was done in the yard. Then after we shot on the boat the helicopter came over. And our deal with him was that he was gonna land and hang out for a few minutes — we couldn't have any of the Cash Money Millionaires in the helicopter, our insurance couldn't cover that liability. So you see Mannie coming out of the helicopter and the door is swinging and he's already walking toward us. But it ends up looking pretty rich anyway. We managed on site to talk the helicopter pilot into letting us shoot some performance takes with the helicopter on the background, turned on. That was not pre-arranged. We talked him into it. He was just a cool guy, and we got some decent production values out of it. Got Mannie coming out with the briefcase full of cash.
Our budget was limited, those guys might have just brought their friends with cars. They were really proactive in bringing budget value. They were my partners, they helped make that video what it was.
TURK: Man, to be real, I didn't even really wanna be in the video because my verse wasn't in it. But I had to be a team player. In my mind I'm like, Well, at least I'm in the video. We had fun shooting it. The only thing I didn't like is they were teasing me [about not being on the song anymore]. The whole day of the video shoot, every time it got to Wayne's part, they'd tease me again.
RON MOHRHOFF: While Juvenile was performing on the boat, he was gesticulating and really giving a performance and because it was a wide shot on a boat he had to move around a lot. He had a brand-new diamond pinky ring on and it literally flung off while he was performing and it went in the bay. Kerplunk! And, gone. There was this look on his face like, "Oh my God, my $30,000 ring just flew off my hand." And we were sure it was lost. But one thing about New Orleans back then is that the police were so helpful. If you look at the "We On Fire" video, we had car chases and shit going on at the airport and it was all because the cops were so cool and helpful. It was like, the community was really getting behind their home heroes.
So this one cop is like, "We'll find that ring." And we're like, "You're crazy!" A couple days later, this big white heavy-set sheriff shows up and he walks up to Juvenile and he's got this pinky ring on his pinky. They must have scoured that bay for days. He literally found the frickin' diamond ring! We just couldn't believe it. And he was just so proud to present it to Juvenile.
We were so blown away by all those Cash Money Millionaires, especially Lil Wayne at the time: he was really young but he blew all of our minds. He had so much charisma and so much magic and so much presence in his delivery. My AD was like, "Fuck. This guy is a star."
DINO DELVAILLE: That song was the one that opened Lil Wayne up. People knew he was hot but everyone was really focused on Juvenile at the time. Juvenile was the one, with "Ha" and "Back That Azz Up." But that song, that's the record that broke Wayne.
"Juvenile was the one, with 'Ha' and 'Back That Azz Up.' But that song, that's the record that broke Wayne." —Dino Delvaille
UPTOWN ANGELA: Wayne was always the quiet one. B.G., he was laidback, just being in the chill zone. When "Bling Bling" came out, in my opinion, it gave Wayne the confidence to open up and score from there. Me knowing him before the song came out, it's like one minute he's sitting on my sofa not saying anything and then the song comes out and you see him hit the stage and do it. You're like, "Where did this person come from?" To me it kinda gave him that boost to propel himself to what was coming next.
BIG TIGGER: It took me a moment to appreciate Cash Money. Then when I actually went down there to New Orleans, and I got to know them — Baby, Juvenile, Wayne — I saw everything in a different light. We went to Magnolia, I watched them move around. Then I got to host the Cash Money/Ruff Ryders tour. I remember Wayne used to come out of the floor. It was [singing "The Block Is Hot"] "Boooom boooooom boooom, straight off the black gold." Wayne's entrance used to set every arena on fire. Way before it was quote unquote "Wayne." And it's fun because even in our conversations along the years, me and Stunna, we like, "Wow, who the hell thought…?" It was interesting to be a fly on the wall and watch his growth, the way he took off and became a household name.
DINO DELVAILLE: They went on tour and they opened up for the Ruff Ryders and the song would come on and people would go crazy. I remember a specific set we had at Metlife Stadium in Jersey. They came out doing "Bling Bling" in a prop helicopter that flew over the crowd and landed on stage. And I just remember that moment being indescribable, special. It almost brought a tear to my eye because I was like, I remember these guys when we were in the Ninth Ward Projects in New Orleans and now look at this shit. We are in the Tri-state, and this place is packed and these people love this record. Just a few months earlier, no one knew who these guys were. No one outside of Louisiana and some key states down south, then all of a sudden here we are and they're living out their dreams.
BIG TIGGER: It took a long time for New York to warm up to it. It took a looooong time. And me, being from the Bronx, and Rap City — the entire emphasis in my life was lyrics, the bars, the booth. And some of their songs, weren't the most lyrical. But it wasn't like they weren't saying nothing. The cadence was different, the delivery was different. And they were veeeery catchy. You can argue about what you wanna argue about, but if you got hit records and you selling out arenas all over the country, what else is there really to say?
Its virality was undeniable: the phrase became a cultural touchstone, one still referenced, used, and abused to this very day.
SLIM: Everybody started saying "Bling Bling." It was everywhere. It had been blew up. But you know in New Orleans, we talk with slang. It fit right in with everything that we did. We might take a word and re-create something to make it have a meaning.
B.G. (As told to Rap Reviews): Yeah, it's in the dictionary, man that shit is crazy. For a nigga like me who comes from nothing, from the hood, and I be going through the airports and shit sometimes… as a matter of fact, a flight attendant the other day said, "I like your bling bling" and I just started laughin' because shit be funny, she ain't know who I was and I wasn't gonna tell her who I was, I don't even wanna be trippin' like that, but shit is crazy.
TURK: Man, lil bitty ol' us to have that effect that we have had on people and just to get a word in the dictionary? That is big within itself, just to be a part of that word and to be on that song. I don't care how old or how young you are, you know what "bling bling" is. The jewelry we was wearing ain't nothing compared to what they wear today. But, to be a part of history, of changing the culture when we did, that's something my kids will be able to sit back and be like, "My daddy was a part of that." Even though I wasn't on the radio version of it. Still, when they play it in the clubs, they heard my verse.
UPTOWN ANGELA: When it made it to the dictionary, I was like, "Wow, OK!" I felt like it was giving the culture some flavor and nothing's wrong with that.
DINO DELVAILLE: I thought it was funny [that "bling bling" made it into the dictionary]. My mom was the one who told me about it. She sent me a message like, "Do you know bling bling is in the dictionary?" I'm like, "What? No!" She goes, "Wow, you shoulda trademarked that. One of those guys should have." It's like, it was an ad lib. An ad lib! A straight-up ad lib that they turned into a record that turned into a phenomenon and now it's in the dictionary? It's crazy. They missed that opportunity. We all did, because we didn't see it. How could we? Who woulda thunk that?
B.G. (As told to TV.com): Sometimes I get tired of hearing it, I ain't gonna lie, but then, then it make me feel good about myself, they lettin' me know, like, damn. I ain't gonna say I did that, but we did that. You know what I'm saying, 'cause I mean, it was my song, it was on my album, I had everybody featured on it. Even though the situation is how it is right now, I give all the credit to Mannie Fresh, you know what I'm sayin', me and Mannie Fresh.
BRYAN "BABY/BIRDMAN" WILLIAMS (As told to Big Boy's Neighborhood): "Bling bling"'for sure [slipped past us]. We was young, and ain't really know. If so, we woulda been richer. "Bling bling" is definitely something that I wish we [had trademarked]. But I guess, keep goin' in life and we'll get where we tryin' to go.