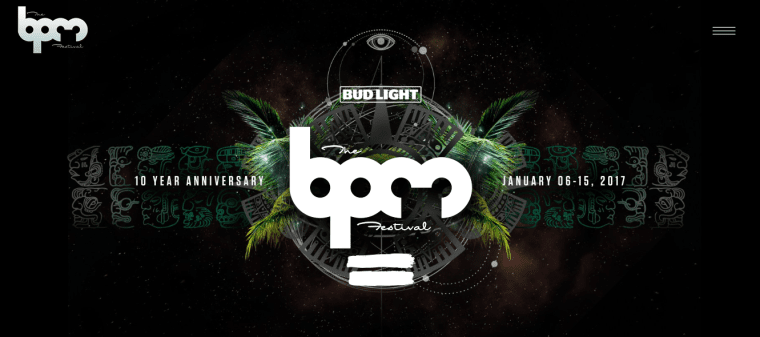 A shooting at an electronic music festival in Mexico has claimed the lives of at least four people. Organizers of The BPM Festival in Playa Del Carmen tweeted this morning (January 16) to warn those at the festival to stay indoors.
The now-deleted tweets from the festival's main account read, "After alleged reports of shots fired this morning at Blue Parrot, all BPM parties are shut down while police investigations are underway," and "We advise you to remain indoors and check with your companions to make sure everybody is safe."
Mixmag reporter Valerie Lee, who was in attendance at London promoter Elrow's closing party at the Blue Parrot venue, was the first to report news of the shooting.
Shots were fired at Blue Parrot while we were in the building. We got out okay and are finding out more details

— ✌alerie (@valerie___lee) January 16, 2017
Jackmaster, who was also at the club, tweeted, "Someone has come into the club in Playa Del Carmen and opened fire. 4-5 dead and many wounded." His is one of many tweets from those at the festival.
Someone has come into the club in Playa Del Carmen and opened fire. 4-5 dead and many wounded. Stay in ur fuckin hotel if you're here at BPM

— JACKMASTER (@jackmaster) January 16, 2017
I was on the decks while shootings happened at blue parrot...me and my friends are safe. What a tragedy...

— Sidney Charles Music (@SidneyCharlesM) January 16, 2017
i was at the shooting at #blueparrot at #bpmfestival i heard 5 rounds of a .22 semi auto then a pause then 3 more rounds

— donslens (@DonsLens) January 16, 2017
Shooting at Blue Parrot during elrow. Mother fuckers shot through the back where it's all open. I'm afraid it doesn't look good

— BPM prtymnstr (@Party_Mnstr) January 16, 2017
Shooting at Blue Parrot during BPM. We were all there but we got out and are now safe.

— Carré Orenstein (@CarreMixmag) January 16, 2017
Update: January 16, 09:03 a.m. BPM Festival has confirmed that a "lone shooter" killed four people.
Via the following Facebook statement. "It is with great sadness to share that police have confirmed reports of a lone shooter outside the Blue Parrot nightclub in Playa Del Carmen earlier today, which resulted in four fatalities and twelve injured. The violence began on 12th street in front of the club and three members of the BPM security team were among those whose lives were lost while trying to protect patrons inside the venue.
"The BPM Festival has been working closely with the local authorities (Seguridad Publica / Policia Turistica) throughout the festival to ensure public safety and security for all visitors. We are overcome with grief over this senseless act of violence and we are cooperating fully with local law enforcement and government officials as they continue their investigation.
"Our thoughts and prayers are with all the victims and their families and all those affected by these tragic events."
Update: January 16, 12:34 p.m. Associated Press reports that 5 people have been killed and 15 were injured in the shooting.
The death toll in the shooting at the BPM electronic musical festival in Mexico has risen to five, the Associated Press reports. 15 people were injured. Three of the dead were part of the security detail at the 10-day BPM electronic music festival, according to the attorney general of Quintana Roo state Miguel Angel Pech. Two Canadians, an Italian and a Colombian were killed in the shooting, authorities confirmed.