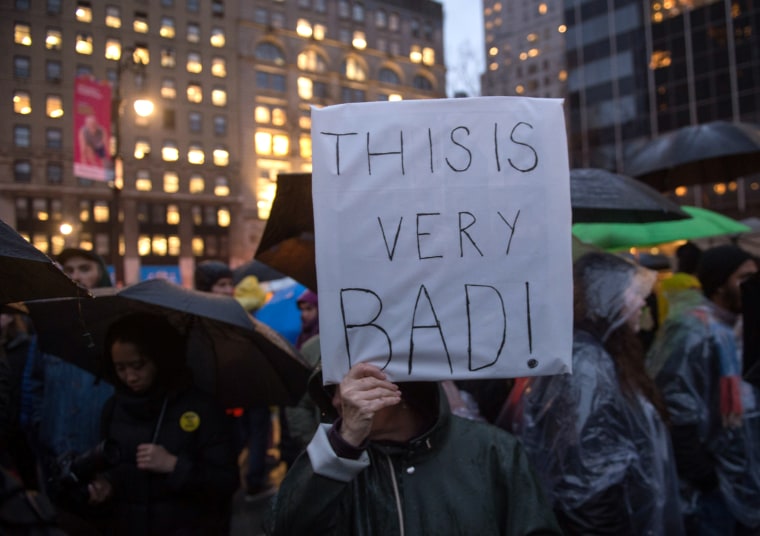 Removed a significant number of mentions of LGBT rights from government websites.
Replaced the White House page on climate change with an "America First," pro-fossil fuels energy plan.
Also removed the webpage on civil rights and replaced it with "standing up for Law Enforcement."
Declared Black Lives Matter "on notice."
Trump's administration wrote, "President Trump will honor our men and women in uniform and will support their mission of protecting the public. The dangerous anti-police atmosphere in America is wrong. The Trump Administration will end it."
Chose a North Carolinian anti-trans legislation advocate to head up the Department of Justice's Civil Rights Division.
Trump just picked John Gore, lawyer who defended NC's anti-trans #HB2 in court, to run DOJ's Civil Rights Division. That didn't take long.

— Sejal Singh (@Sej_Singh) January 20, 2017
Did not submit the paperwork to relinquish control of his companies, like he publicly pledged to do last week.
Stopped the reduction of annual mortgage premiums, which is what most people get when they can't afford a downpayment.
JUST IN: In one of first Trump admin. orders, Dept of Housing & Urban Dev. suspends reduction of FHA annual mortgage insurance premium rates

— CNBC Now (@CNBCnow) January 20, 2017
According to The Huffington Post, "The reversal of the reduction will mean that homebuyers who borrow $200,000 under the program will see their mortgage insurance fees go up by $500 a year relative to what the Obama administration had ordered"
Announced plans to defund Violence Against Women programs.
Signed an executive order allowing General Mattis to be defense secretary, which breaks with decades of precedent by making a recently retired general the Pentagon's top civilian leader.
BREAKING: President Donald Trump signs legislation allowing retired Gen. James Mattis to serve as defense secretary.

— AP Politics (@AP_Politics) January 20, 2017
Chief of Staff Priebus sent a memo requiring federal agencies to be deregulated.
MORE: White House chief of staff to send out memo to departments requiring a regulatory freeze

— Reuters Top News (@Reuters) January 21, 2017
Right after Trump signed another executive order that directs agencies to "ease the burden of ObamaCare."
Tried to fool us into believing his inauguration was lit when it definitely wasn't.