In a definitive conversation, Migos explain how they came to be a voice for people everywhere.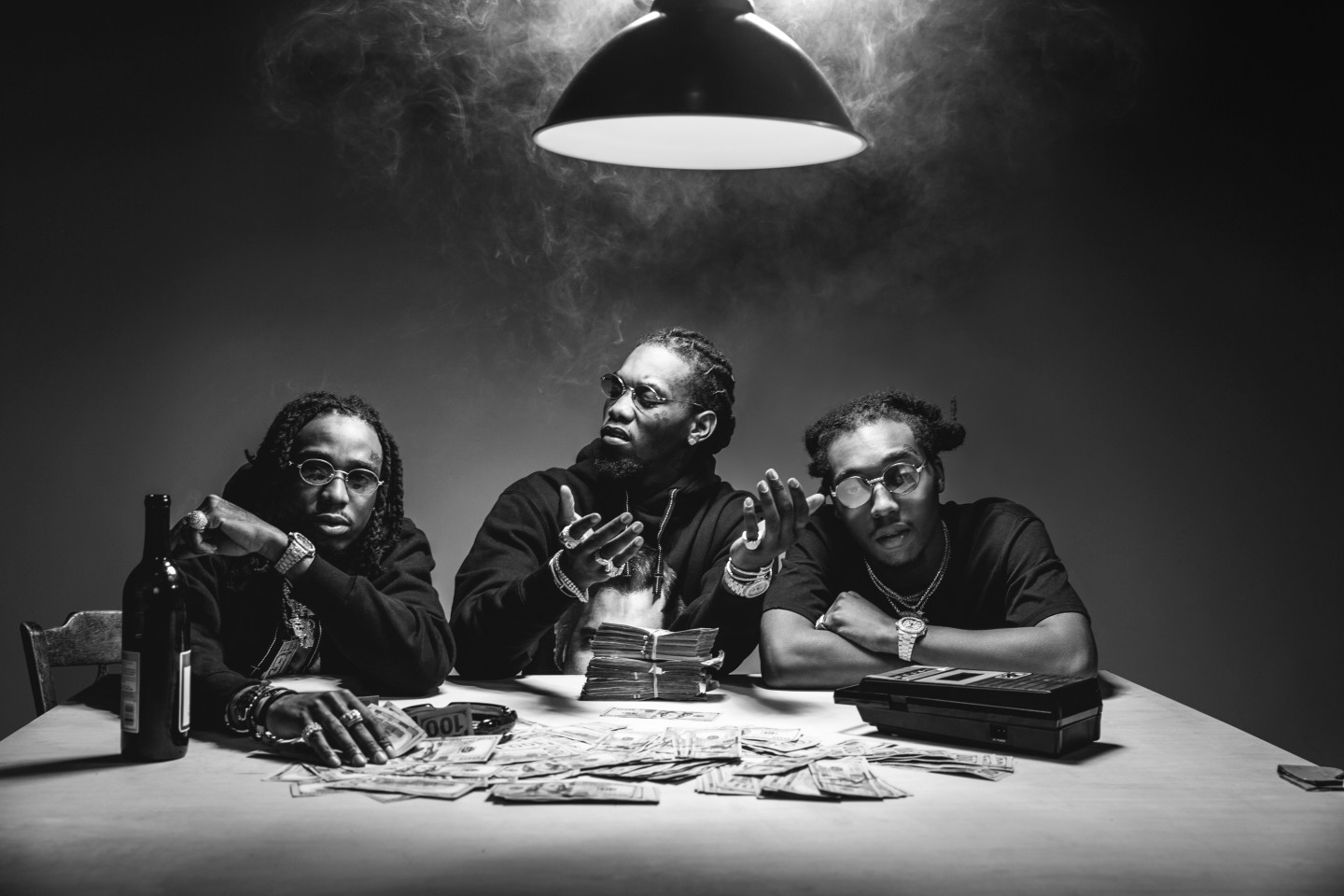 The first time he was interviewed for this magazine, Quavo said: "I notice the buzz, but you try not to pay attention to it. Makes you lazy." He was 22 then, in the summer of 2013. Migos had pushed their triplet flows against the soft walls of recent Atlanta tradition, and Drake had just remixed their breakout single, "Versace."
That was three years ago, but it feels like more. In the time that's passed, Migos have released a lifetime's worth of music across a dozen projects. They have a couple gold certified singles, another that reached No. 1, and a catalog of people's-certified hits that make clubs worth going to. They sparked a dance move, the dab, which has been performed by damn near every American child. Offset was freed from jail in Dekalb County, Georgia, then later incarcerated in Bulloch County, Georgia, and freed again. They've been copied and written off, and celebrated. Golden boy Donald Glover thanked them when he won a Golden Globe.
If Migos's genius has been acknowledged, guys like Glover are still "respected at a higher level," Quavo said when we spoke in January. Migos named their new album C U L T U R E to explicitly underscore that their gifts on its behalf have been substantial. "We got some type of pride situation," Quavo said. "We're trying to show people that the young generation can do it." And in this, the Migos have never doubted themselves. They're confident in their ability to turn deaf ears to friendly ones. They believe that what they do matters, and put in hard work behind those beliefs. That's the opposite of lazy.
Over the phone from Los Angeles, Quavo, Offset, and Takeoff spoke about teaching themselves to record, their hunger for recognition, and who their music represents.

OFFSET: A lot of groups, they get put together. But we don't even think of each other as a group. I don't think I'm in a group with two other guys, where I don't know their moms and their grandmas, their aunties, and I don't know where they came from. This is my immediate family. These are the only people I know. That's why we be around each other so much. I don't know nobody else.
TAKEOFF: Growing up, I was trying to make it in music. I was grinding, which is just what I loved doing. I didn't have nothing else to do. In my spare time, I'd record myself. Find a beat, pulling em up. Just making something and creating for me. Just listening to the songs I made for myself, so I could rap to em, even if I didn't put them out. I was getting my own pleasure out of it, because it's what I liked doing. I'd wait for Quavo to get back from football practice and I'd play my songs for him.
OFFSET: We learned at a young age. Two years before "Versace," we got some equipment somehow, and we downloaded software on Yahoo, it was free. We didn't know nothing. Quavo was always more advanced with recording at first, honestly. He taught me. And we learned how to rap. Quavo and Takeoff were always having songs, in sixth and seventh grade. I'd record Quavo, Quavo would record me, we'd record Takeoff — like that. We didn't have no money.
QUAVO: We've all been brothers ever since middle school. The Nawf, that's the Northside. It's outskirts, it's secluded. If we came out of there, we wanted to make sure we screamed that to the fullest and put it on the map. It's not like a part of Atlanta, but we made it a part of Atlanta.
TAKEOFF: People think that you're gonna come out, be a one hit wonder, and finished. You gotta prove em wrong.
QUAVO: When we first came out with "Versace," people got it, but they didn't get it all the way. They just thought: fashion.. But if you listen to it, we're still talking about some stuff. The young generation know who we are. They already understood our lingo. The other crowd, they had to grow with us.
TAKEOFF: We built so much in North Carolina, South Carolina. I think we've been to the Carolinas the most. We hit those a lot, when we were first coming in. It doesn't matter the venue. Wherever it's at, as long as there's people there that came there for us, who came to support us and really like our music, we go in there. You might go to a club to host, but we might do a couple songs cause we love what we do.
QUAVO: We took it one step at a time. We had the buzz from our hood and Atlanta, then the state of Georgia and the states around us. We was trying to take over our state, and trying to take over the United States. New York started fucking with us real heavy. It got to the fact that research said New York was on us more than Georgia and more than the South even. But we never got discouraged about any of the projects we put out because it was all a warm up. It was all leading to this.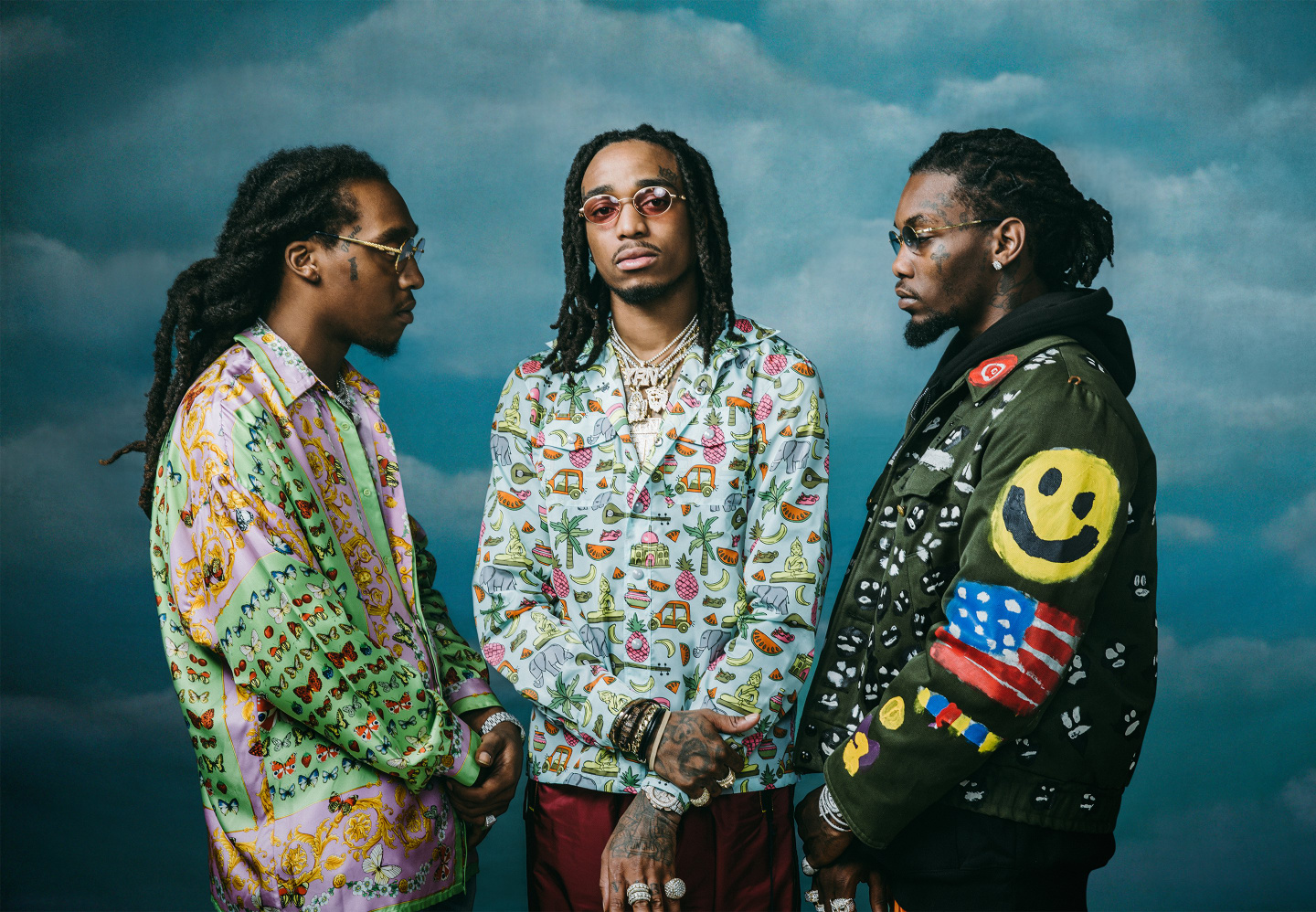 OFFSET: I've always believed all our songs are number one. We have a catalogue. I could do a show for two hours and they'd know my songs. But sometimes, you gotta work your ass off and get known. This is our job. We take our time to entertain, and that's how we get more people to entertain. That don't never stop.
TAKEOFF: It's three of us, so everything we make goes through a process. We all come up with stuff. Whatever I might think about, I bring it to the boys. Our game plan is always well thought out, because we all offer our opinion to make it to what it is. We'll all throw something out there, and we'll work together so everybody get their opinion in. We got three different styles. It's way better than having one.
OFFSET: I bring that pain and that rough side that some people are scared to go on.
TAKEOFF: I switch it up. I can go slow, I can go medium, I can go fast. They love the fast, the triplet, the stuttering flow. We all have different voices and ways that we come in and out of the song. I can go deeper. I may sound like I'm the oldest, but I'm the youngest. By now, the fans know each personality. But I feel like they don't know my personality all the way. I am the laid-back one. I don't say too much. Quavo and Offset — I don't talk as much as they talk. I observe the scene. I'm not gonna say something unless I really feel comfortable around you. Unless I feel like I know you, I'm not gonna really open up. We all make each other laugh, and I'm funny too. But I won't open up unless I feel comfortable around you.
OFFSET: We're always in the studio, all the time. One of us might be recording and the other two might be playing a game or something. Quavo might be making something and I'll come in like, "What is this?" And he'll play it and I'll get right up on it. We don't like big studio engineers because they can't even do what we do, or they don't be getting what we're trying to do.
QUAVO: The rap game is only as long as you want to make it. You can't get too excited about the accomplishments that's coming. I played quarterback when I was young and my coach alway told me: "Take it one day at a time. Take it one play at a time." Whenever you achieve something — like if you make a touchdown — you still gotta score, you still gotta drive. Still gotta keep going. Still gonna play another season. So the season is everlasting for me. We can't keep getting satisfied. Once we get the ring, we turn up and then it's back to work for another one. There's always more rewards to come.
TAKEOFF: All the groundwork we put in added up to people finally putting their eyes on us. We've been putting out hits. It's been like "Bad and Boujee." But the attention wasn't focused on us how it is now. Now, they actually opening up their ears. The girls, they was on fleek. But now the girls feel like they're bad and boujee.
OFFSET: "Bad and Boujee" connects with everybody. It struck so fast. And it meant so much to me, because I recorded that song myself at home, in my basement. I was home alone and I recorded it myself.
QUAVO: When you piped up, you boujee, you don't like to touch things. Shit might be dirty, you don't touch it. You a clean player. It's when you can't touch me, you can't get too close to me. You gotta feel like you the President.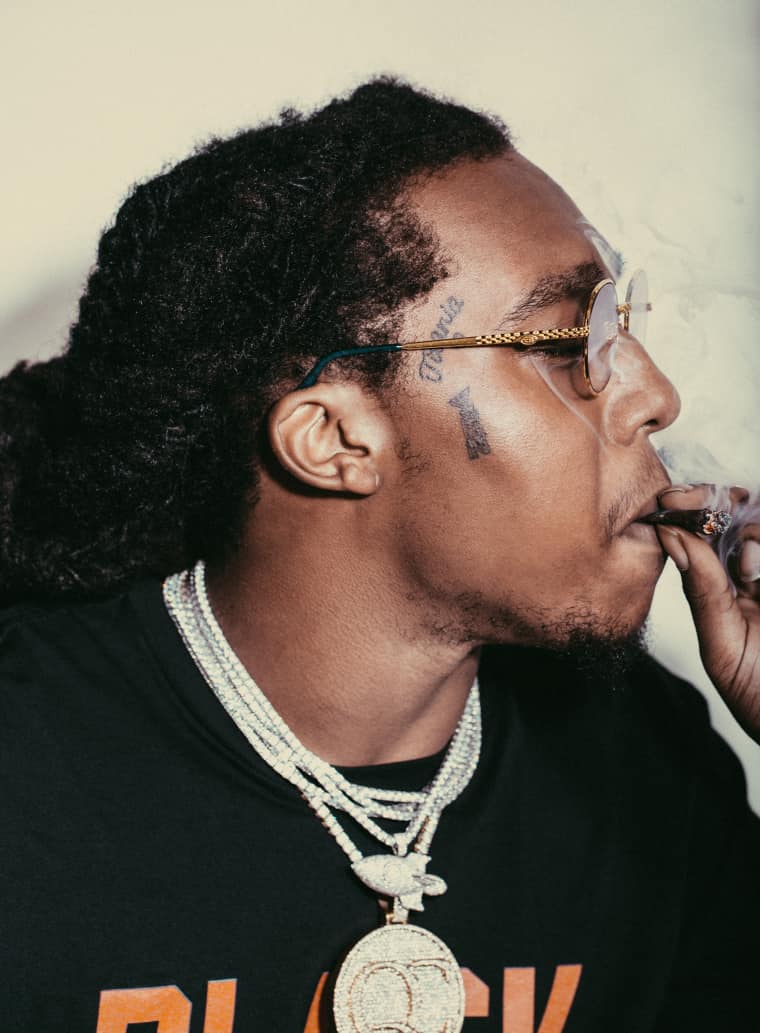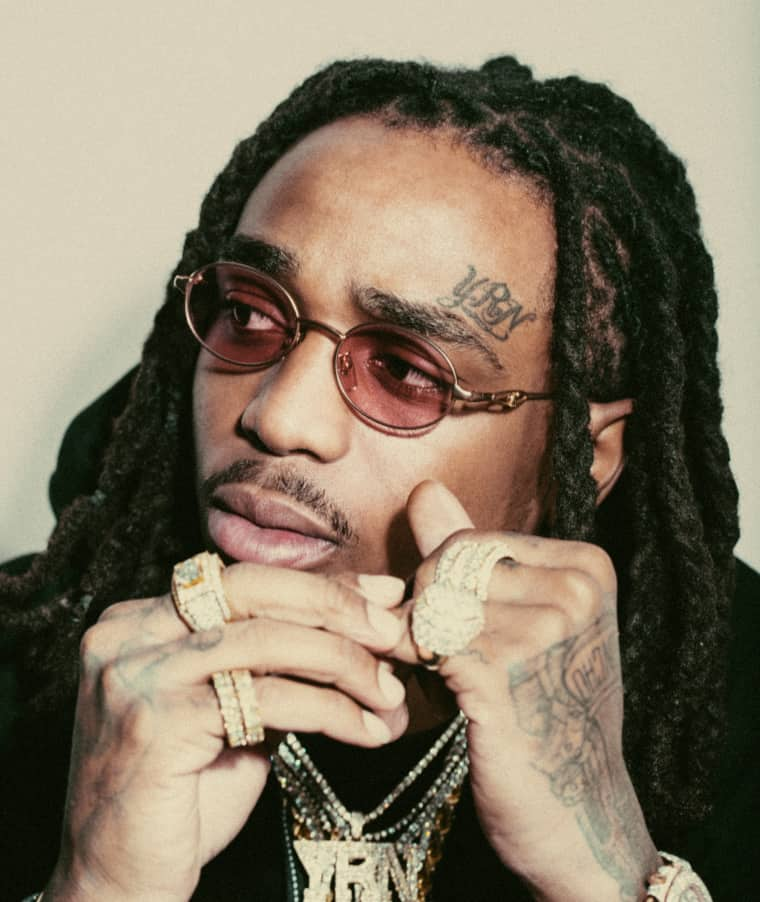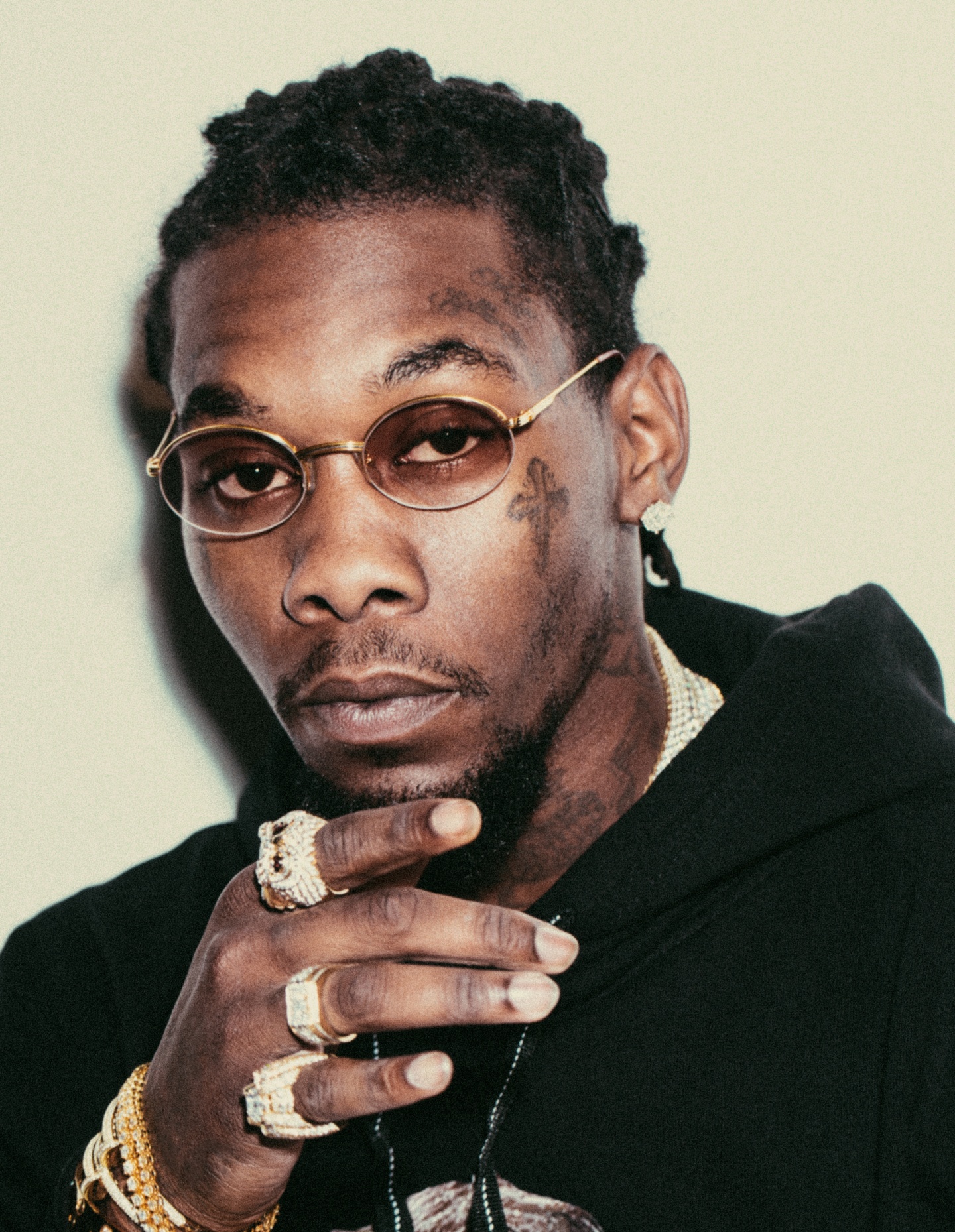 QUAVO: That show where we played "Bad and Boujee" in Nigeria was amazing. That was our first time ever being in Africa. The red carpet they laid out for us while we was out there — they showed us so much love, it felt like we were still in the States. They know music, they know our songs, and they're hip to what's going on. It's not like they behind or anything.
TAKEOFF: It was so loud onstage it almost blew my eardrums out.
OFFSET: I'll never forget that show ever in life. That show, it ran through my body. So much energy.
QUAVO: We got a worldwide style. It's not local. It's not just stationed in one place. It's universal. That's why the people feel like they can relate to us, and that's why we feel like we can relate to them. Because it's around the world. We represent for the people. Not just people in one spot.
OFFSET: Our music is a get-up music. Get you up music, uplift your spirit. That's what I'm trying to give you. I believe in God. Spirit, I'm big time on that. I just love making you feel better as a person, on the inside. A song could change your whole situation. We're just trying to give life. Trump being President — it's what we living in. I look at life as like, reality. Whether it's better for me, or worse for me, it's reality, and we gotta make it work. I don't wanna take sides, I don't be all into politics like that. When it comes to the President, if this is what it is right now, we gotta help the people that ask for help and keep going. This is life.
QUAVO: I feel our music is like, dark. Dark grime but more hype and energetic. It brings happiness along with attitude. I wouldn't consider it as punk. We gotta call it something else. Trap funk.
OFFSET: The new album title is about the culture of hip-hop music. It's time to let the culture be known. It's time to claim it. And it's time to claim that we are the Migos, and for people to understand that this is what we did. We did a lot for music. Migos is the culture. Seriously. There are artists that are way bigger than us that get recognition off our flow.
QUAVO: Where all this culture is coming from — all this freestyle, all this triplet flow, all these repetitive hooks — we have to station that. We had to put an address on it. I wanna put our name on the forefront of it, cause we put our time and hard work and dedication into being the head of the young generation.
The crazy thing about the dab is like — dance moves, once you create them, they last forever. People have been doing the cabbage patch and the tootsie roll and all that since we been born. So it's a blessing to have a dance move, and I thank the kids for doing it. People know who started it.
We're trying to show people that the young generation can do it. We can set trends and come in with our own lane, and then join in with the OGs to get that respect. We got some type of pride situation. Like, these older guys been out already, so we gotta prove something to them. We got so much hunger. Everybody's real hungry to prove that we can really spit, to these older guys. And all the people that's coming up right now, we're all happy for each other. There's enough money for everybody, and enough work for everybody to to. The young generation, we all relate to each other. Donald Glover and Chance The Rapper, they're in that same young generation category, but they're just respected at a higher level.
OFFSET: Your opinion matters. What you think matters. When Donald Glover says something nice about us — that's how he feels. We love him for that, for being genuine.
QUAVO: I want people to know that we great artists and that we're funny guys. We're multi-talented. We're very creative. We got long vision. We can make all types of music, all genres. We can dress. We record ourselves. We engineer ourselves. We mixed and mastered the whole C U L T U R E album ourselves.
OFFSET: We were born blessed with it. You can't make this up. We always had flavor. Off rip, we felt like: You just not better than us. This music come out my heart, my soul. It's oozing out. There will never be a group like us, ever. God is giving us the blessings now. And you know, we work hard and we deserve it.
QUAVO: Whatever come after January 27, y'all just wait on that. We always made y'all wait on it. I wanna keep working and just see what happens next. I don't really ask for too much. I just wanna be comfy. I just wanna sit back, work hard, and live comfy.