Young M.A Still Isn't Compromising
Women and queer-identifying rappers are often defined by their gender and orientation first. How did Young M.A get to be "regular"?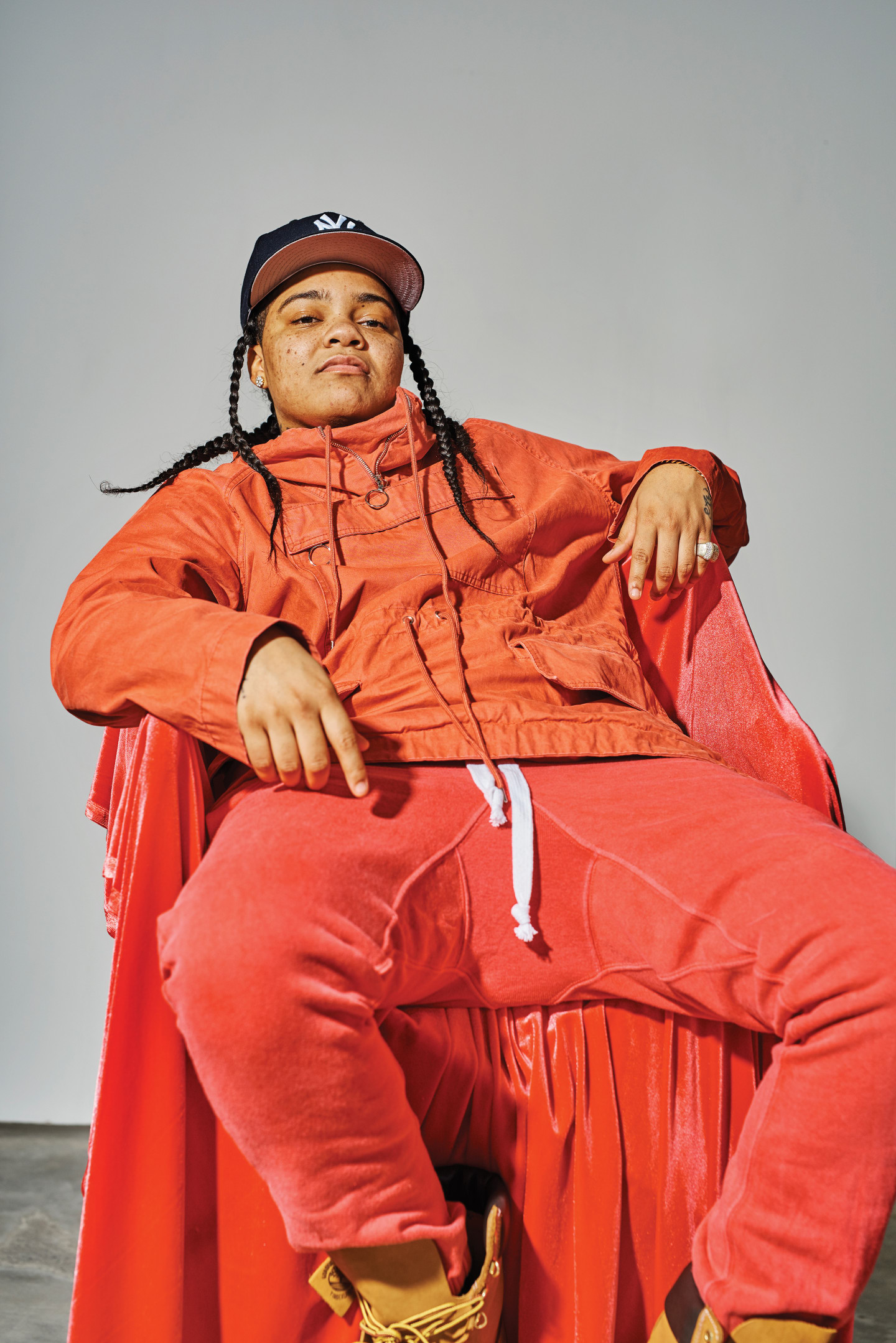 The Hyundai Sonata is a flex. A midsize economy sedan in a gleaming, recently washed hue the manufacturer calls "Quartz White Pearl," it's the kind of car you could easily lose in the parking lot of a shopping mall. Unfancy. Foreign, yes, but not even close to the litany of bespoke Italian whips that populate the lyrics and videos of so many rappers on the radio. It's the day after Christmas, and this is how Young M.A pulls up to her grandma's house, on a tree-lined block in Crown Heights, Brooklyn: in a vehicle that embodies, as M.A is prone to emphasizing in both conversation and her lyrics, that she really is just "regular."
Riding shotgun is Tori Brixx, the model/DJ, makeup-free and serene. The energy all comes from the young rapper, who bounds out of the driver's side in a denim jacket and Jordans, grinning, with confidence emanating from her gait. They file into her grandma's white-slatted row house, where a wreath decorated with a little wooden snowman hangs from the door. M.A's mom, Latasha, heads downstairs, earrings jangling, offering greetings and a booming laugh. A friendly taupe pitbull named Mula and matching cat called Sapphire amble out for ear scratches. M.A asks her mother to fix her a plate of leftovers. As "regular" goes, it's as average as family holiday time can be: good feelings, hugs, morning-after craving for mac and cheese. Everyone's dressed down, except for M.A's beautiful grandma, Cynthia, who has on a royal purple kaftan with beads at the neckline.
M.A plops on the end of a brown loveseat in a foyer just off the kitchen. The beige walls are mostly bare, but matching couches are set up for conversation. Here, M.A is relaxed, the youngest in a fierce trio of women whose strong, genial spirits match her own. They supplement each other's memories, mom and grandmom deeply proud of the young prodigy before them. "She made me love hip-hop again," says Latasha, beaming. "Bar for bar!" Young M.A is a quiet kind of star at home, but beyond these doors, she's become too famous to go to the bodega unbothered. At 24, she is the toughest, smartest, most charismatic rapper New York has seen in years.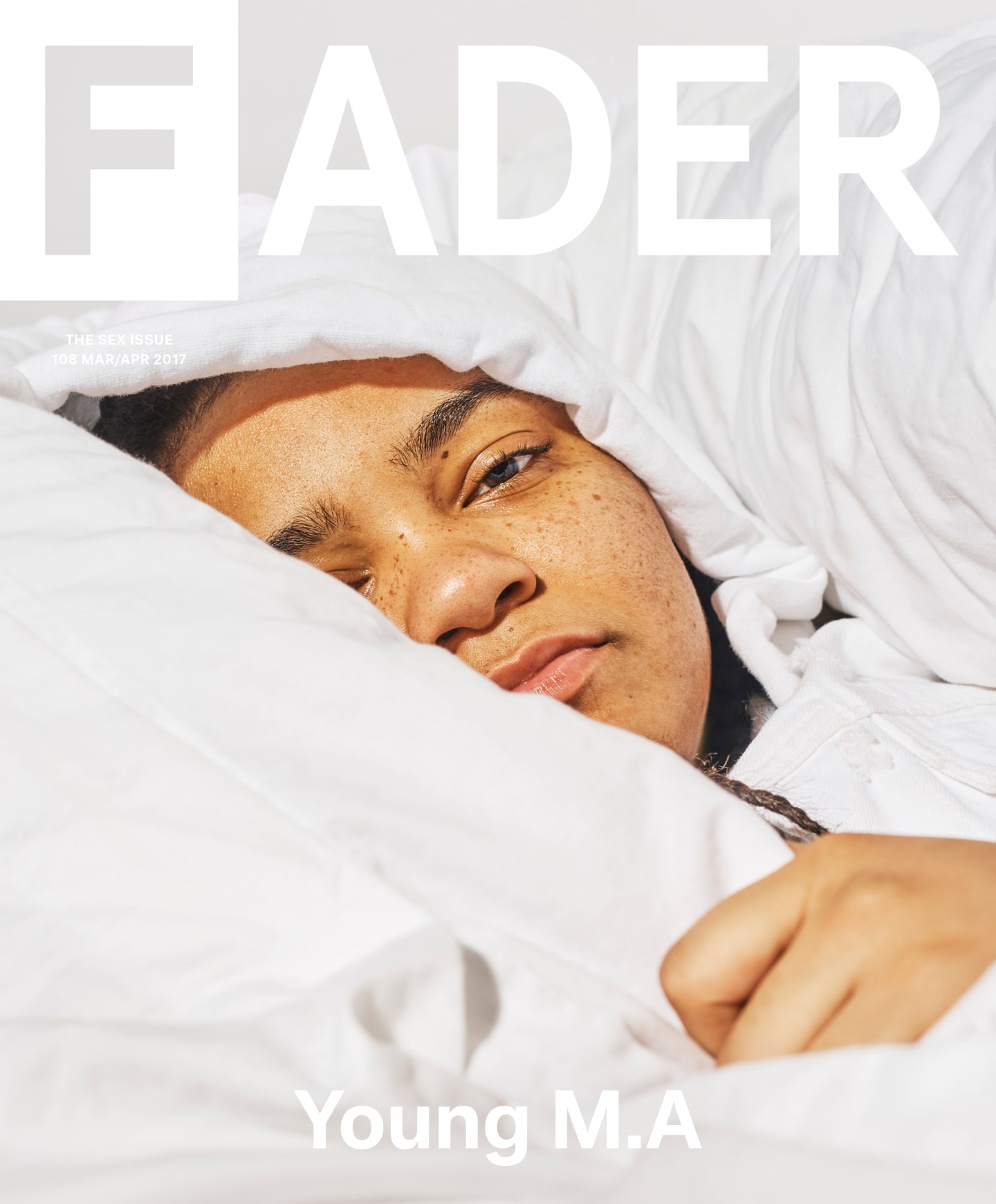 Funkmaster Flex broke "OOOUUU," M.A's vital, cheeky, punchline-laden single, not long after she self-released the song and its mobbed-up music video in May 2016, a worthy followup to 2015's excellent Sleep Walkin mixtape. Flex's influence in New York led to national radio, which led to Beyoncé Instagramming the track on her birthday, which led to Young M.A opening up for the iconic singer at New Jersey's 82,000-seat MetLife Stadium, where the New York Giants play. It was Young M.A's first show outside a club; now her video has passed 160 million views. Labels called, and Empire tried to cast her; she rebuffed them all, trusting her instincts. In October, the same month as the Beyoncé show, "OOOUUU" broke into the Billboard Hot Rap Songs charts and peaked at No. 3. M.A was the first woman solo artist to land on the chart all year, and has since reached 19 on the Hot 100, for all genres.
"Baby gave me head, that's a low blow," Young M.A snickers early on in the song. "And she make me weak when she deep throat." Her rise was infinitely more remarkable because she was, without clear precedent, the first openly gay rapper to have not only cut through the mainstream of rap, but to do so while describing herself in an outright sex act.
Rap radio's doors, long closed to rappers who are gay and out — despite constant and decades-long rumors about who may or may not be in the closet — opened at long last, for an aggressive, appealing, masc-presenting lesbian whose sexual identity is just one dimension to her skills as a musician and showperson. It is to Young M.A's credit, and to the credit of an ever-progressive generation, that she is nonchalant about her sexuality. Hip-hop media has often otherized queer-identifying rappers, defining them by their queerness first, from late-'90s Bay Area trans pioneer Katastrophe to more recent stars like Le1f and Cakes da Killa. But for once, the mainstream has made room for someone to just be. The "M.A," she tells me, stands for "Me, Always."
"I'm definitely grateful for the attention, but it is weird," M.A says, in the low, raspy accent that denotes her as a ride-or-die denizen of Brooklyn. "I still feel normal. Like, I don't feel like I'm a superstar. I still put myself in a position to be humble, to be normal. I don't live in a big house, I'm not real extravagant or anything. I just like to be regular. I don't want to lose myself." M.A doesn't think about her place in history much, she says, "but I hear from all different people, not just people like me, or lesbians. It be straight people, it be grown men, it be grown women, people that have been sick or depressed that say, 'Oh, you made me want to go do what I want to do for myself and chase my dreams.' That's my purpose."

Young M.A was born Katorah Marrero in East New York, and she's a second-generation Brooklyn rapper. Latasha came up on Roxanne Shante and, sitting across from her daughter, demonstrates that she's retained her skills with a slick battle 16: "Keep hopin/ I don't get open/ I sizzle the stage and leave a motherfuckin' mic smokin/ Female serial killer from the dark side/ Shootin shit up like Bonnie, fuck Clyde."
M.A started rapping in 2001 at the age of 9, writing her rhymes in her schoolbooks. Latasha, recognizing her daughter's talent, bought her a karaoke machine, which M.A promptly used to set up a makeshift studio in her closet. She would "pretend like that was the booth," she says, and cut songs direct to an old cassette player, using masking tape to keep the record button down. "Everything had to be perfect," Latasha remembers. "I mean, she had paper everywhere. She wrote a rhyme that ain't fit? She'd ball it up and throw it away."
Theirs is a family of matriarchs — Young M.A's father was incarcerated until she was 11 and remains a distant figure in her life. "My mom never played no games," M.A says. "She always had a job, she worked her ass off to make sure we was good. She was a single parent, she had three kids, and she made it happen. I learned a lot from that." For part of M.A's childhood, the family relocated to Chesterfield, Virginia, attracted by better schools and to avoid the violence of East New York, historically one of New York's poorest neighborhoods. In Virginia, she achieved high grades and, at 10, became the first girl to join the football team — her mom lobbied for her "fast on her feet" young tackler to play with the boys, and M.A is still proud enough of her time with the Harrowgate Eagles that she now sells a jersey based on the one she wore in her school photo.
M.A liked Virginia — it was there she first became the leader of a rap group called Moneymakers, for which she enlisted three guy friends from the neighborhood — but she spent every summer in New York, and she never stopped thinking of it as her home. In 2009, when M.A was 17, her mother returned her daughters to Brooklyn. But just a few months later, the relatively happy structure of their family life was upended when her older brother Kenneth, then just 20, was murdered in a gang-related incident in Pennsylvania.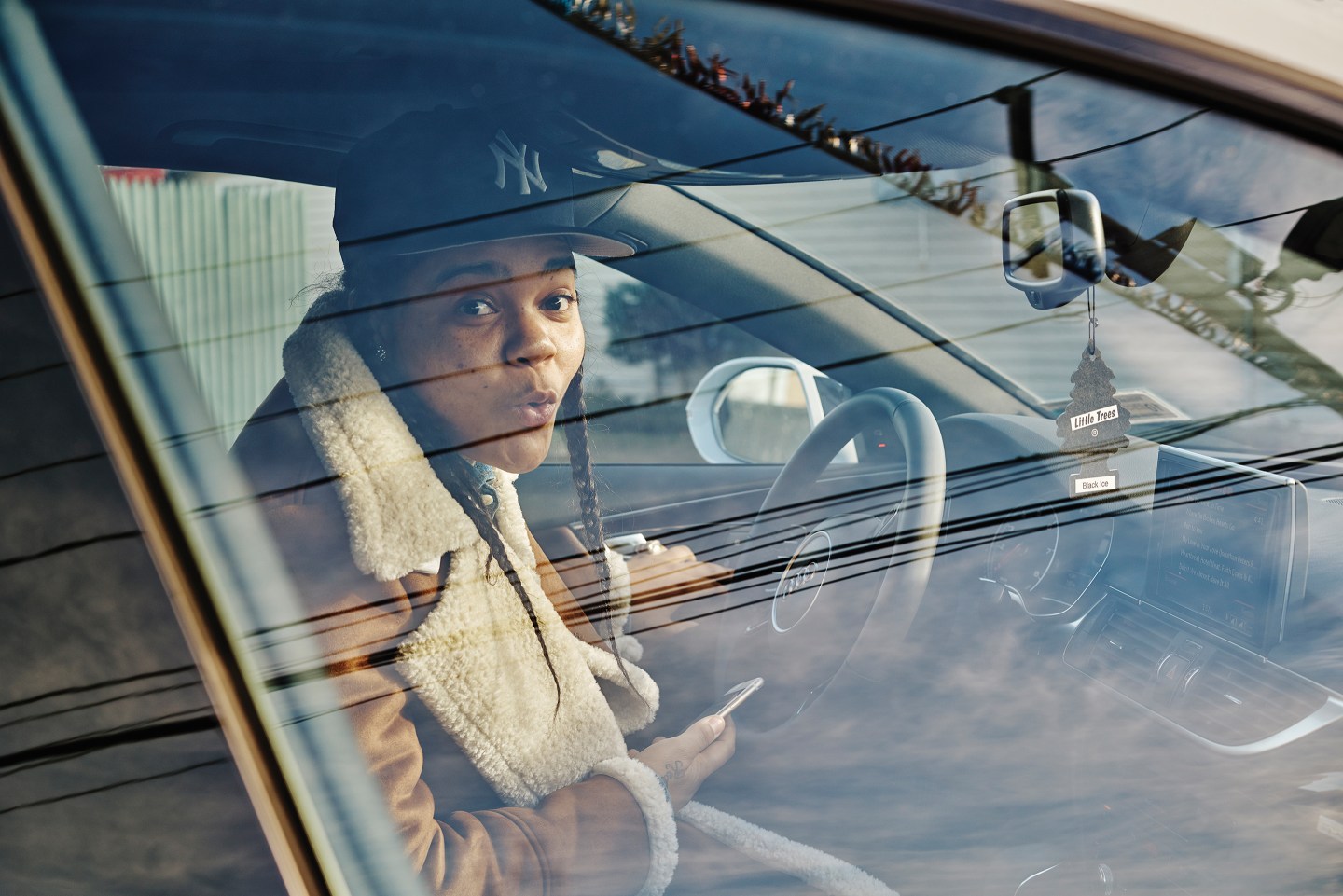 "If I change people's lives, that's all that matters to me. I don't want to be the first 'dyke rapper,' 'aggressive rapper.' I don't care for that."
"It just made me transform into, life is just fucked up," says M.A, her voice deepening. "I didn't understand it, I didn't know why it happened." Kenneth, whose name is now inked on her arm, was M.A's mentor and a father figure to her, even though he was just a few years older; it's he who told her "get that money, sis," as she recounts on "OOOUUU," and encouraged her to keep at her music and develop her talent. "To lose him put me in a real lonely position, because this is somebody I always knew, who was right there with me, walking me to school," she said. "He raised me. I didn't know how to handle things without my brother, but music just kept coming back to me. I used to write about it a lot, just so I could cope with it. I think that's why I love music so much; I think if I didn't have music, I would be in a bad position." The day he died, she wrote out her despair in a poem that ran in the obituary pamphlet at his service.
M.A fell into a deep depression. She made few friends her senior year of high school, and began seeing a counselor but dropped it after a few weeks. Complicating things, her mourning period overlapped with her coming to terms with her sexuality. As young as 7, she recalls secretly using her mother's eyeliner pencils to draw mustaches on her face, and taking out the high ponytails Latasha would tie in her hair before school. "I was always a tomboy, I always wanted to be around the boys, always wanted to play sports — basketball, football, kickball, whatever it was. I was real aggressive. I wanted to be around the bros!" she says, as her mother and grandmother chuckle at the memory. "But it wasn't just me being a tomboy, it was me having a genuine attraction for girls, and I didn't understand that."
Her main fear in coming out, she says, was that her family wouldn't accept her, but that turned out to be for naught. "I used to throw little clues for her to just say it," says Latasha, "because I knew once she would have said it to me, she would feel comfortable and she would be able to live her life the way she wanted to."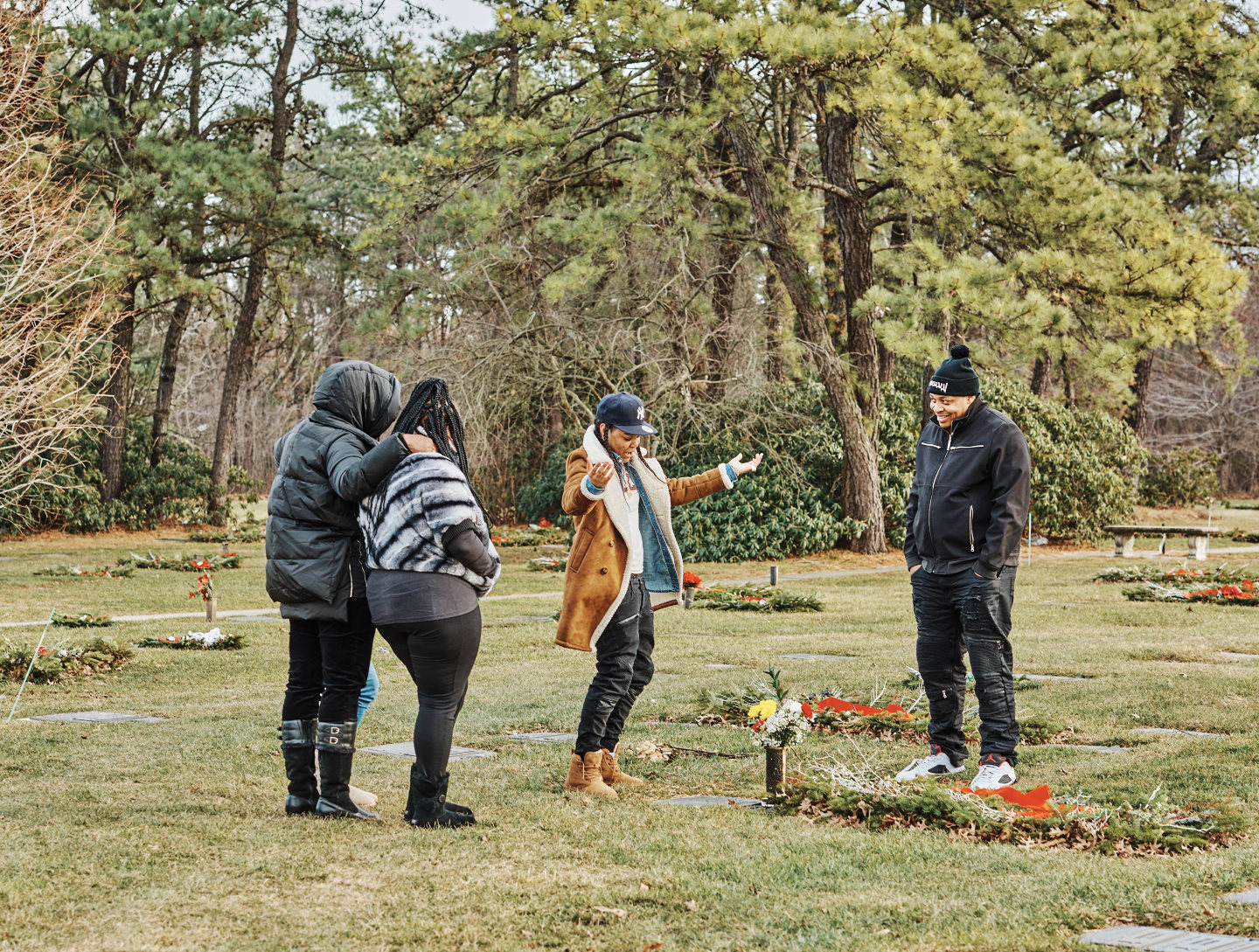 One Monday this winter, Young M.A and some friends meet up at a slightly rickety wood-paneled studio in the warehouse district of Greenpoint. Keyz, her reserved hype-lady, slinks on a leather couch, while a lanky fellow named Blu stands and cracks jokes. Together, the crew is part of M.A's RedLyfe — the "red" stands for "Repent Every Day" — and she has known them since she was a teenager, back when she started schlepping discount designer goods at T.J. Maxx to pay for studio time.
Somebody whips out a sandwich bag of loud; a 750 of Patron Silver is uncorked. M.A, clad in a crisp red Nike tracksuit, seems just lifted enough to get into her zone. She's joking and in good spirits because her writer's block from too much touring is finally thawing out, and she's about to record the first full song she's readied in months. "I ain't turn up in the studio in a minute!" she exclaims like she's free at last, and while an engineer, FreshBeatz, cues up an ominous-sounding track, the three of them rib each other. "Niggas expect you to rap fast on this beat," M.A yells, before spitting a near-illegible stream of lyrics, a pitch-perfect imitation of the hyper-lyrical speed-rapper archetype circa 2004.
Finally, she's ready; Blu and Keyz follow her into the tiny vocal booth behind the mixing board, and its glass observation window smokes up, hotboxed. M.A ad-libs jokes — "This is what you give to your daughter or your son when they come out your pussy and they're gonna be a rapper," she says, wielding her cell phone like a baby rattle, her lyrics presumably typed out on the yellow Notes app. Blu cracks back: "This shit'll make you famous!" Before long, she's unleashing bars for "Hot Sauce," a track that sounds like her next summer smash, full of languorous, instant-hit punchlines. "You don't got no hot sauce/ You are not hot, you a knockoff." And: "Shout out to my girls who don't wear sew-ins/ Cause it's all about my bitches with the wigs on/ OOOUUU!"
M.A credits her coming-out, when she was 18 or 19, to Brooklyn's relatively open cultural environment, as well as the aftermath of coping with her brother's murder. "Life is too short," she says. "I need to just be myself, express myself. In New York City, it's popular. I used to think to myself, Man, there's a lot of gay people out here. And it had me comfortable, it was like, I can be myself! I used to still try to hide it, until it was really overwhelming — there were just too much girls attracted to me!"
Young M.A's music is peppered with brags about the baddies she pulls; sometimes they mirror tropes that men rap about women — particularly the notion that she's stealing her rivals' girlfriends under their noses. Because of certain depictions of women, like the jubilant call on "OOOUUU" that "You call her Stephanie/ I call her Headphanie," she's been occasionally accused of misogyny, though she bristles at the description. "At the end of the day, men can be described the same way as men describe women," she says. "A man can be a ho, just as much as a woman can be a ho. And I'm a woman myself! I respect women. I respect my mother." Her jabs at objectification are usually mitigated with humor, and within the context of each song typically include some explicit statement of self-identity that complicates her lyrics beyond not loving these hoes. (Which is not to say she doesn't have lyrics about that, too.)

In "Body Bag," for instance, she raps about a topic male rappers rarely deign to broach — "I swallow pussy like I can't chew" — and later in the same song lobs back lyrics that seem to challenge the very construct of hypermasculinity: "Grown men hating on me/ Bitch niggas in they feelings/ Y'all niggas got a clitoris/ Niggas must be on they period/ Niggas must be bi-curious/ But I don't take you niggas serious." She knows that, for a certain breed of toxically masculine man, being called queer and a woman is the absolute lowest cutdown — and being both queer and a woman who deploys those stereotypes, she cuts the insult off at the knees. At the same time, M.A understandably doesn't want to be defined just by her sexuality. "If I change people's lives, that's all that matters to me," she tells me. "I don't want to be the first 'dyke rapper,' 'aggressive rapper,' you know what I mean? I don't care for that."
Early on in her career, some long-gone managers wanted her to front. "They didn't really want me to talk about just being gay, so I would talk about liking girls and guys. I wasn't feeling that… they was trying to basically put me in a box." It wasn't until she met her current manager — a friend of her aunt's — that she felt she could start being who she was.
Though the masculinist structure of radio rap has loosened in recent years, it's only been enough to make space for one, possibly two, women to thrive on FM at once — and yet here is Young M.A rapping about her sexual virility, accepted in the mainstream in a way that, say, a gay man rapping about the same topic hasn't yet.
Part of that is because her music happens to fit right alongside the usual guys. It's tough and talks about getting and giving pleasure from women. But that doesn't mean it's not subversive, either, and might open the door a little wider for some future femme rapper, because if nothing else Young M.A's music welcomes a group that has been ignored if not outwardly attacked. Last August, during a somewhat embarrassing exchange on Power 105's The Breakfast Club, M.A found herself in the position of explaining the concept of dildos and lesbian sexual pleasure to DJ Envy and Charlamagne tha God. She grinned through it, but their ignorance was telling. Charlamagne had to concede: "I like the fact that your sexuality is not overshadowing your music," he said. "People are just like, 'Young M.A is dope.'"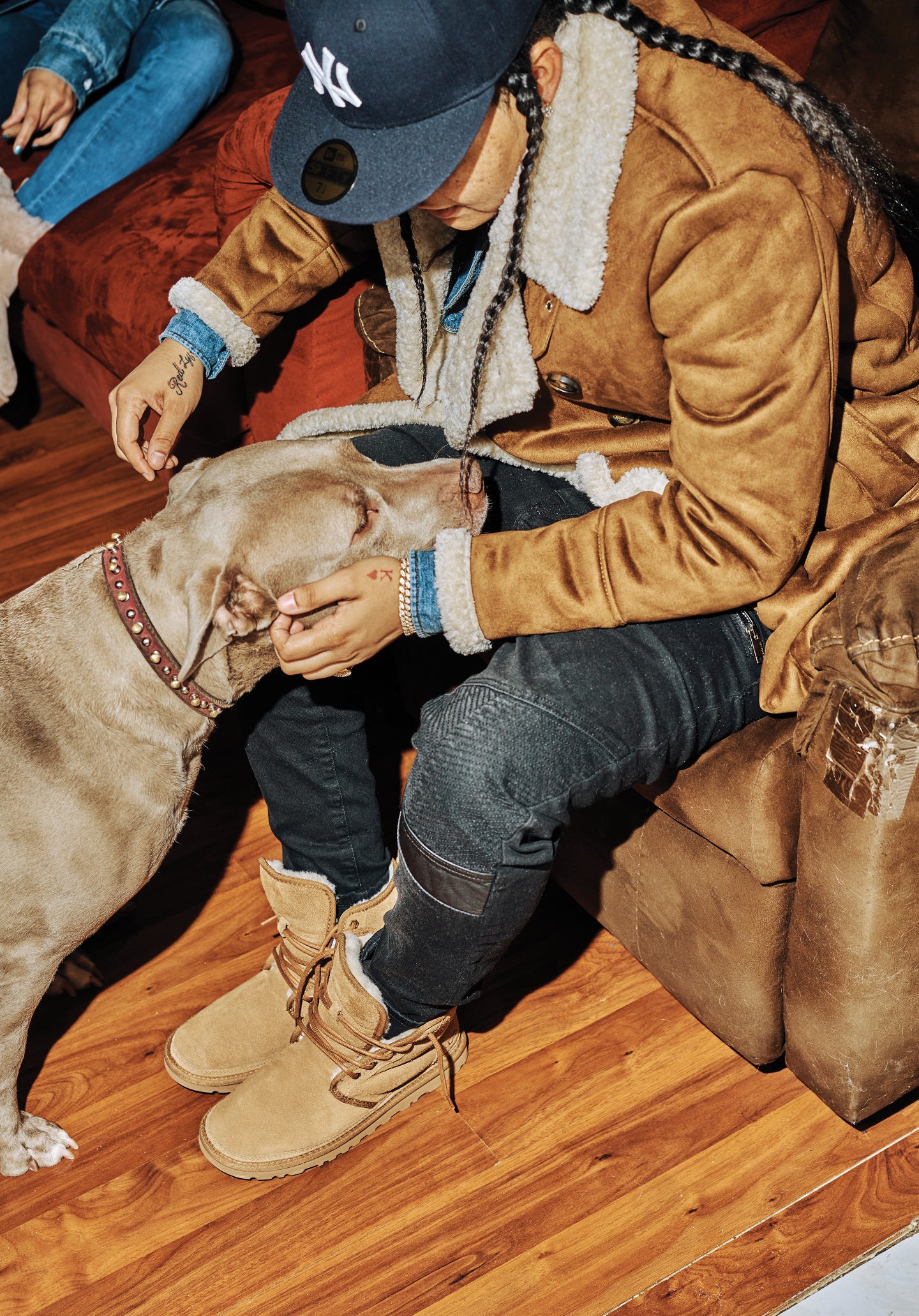 "They didn't really want me to talk about just being gay, so I would talk about liking girls and guys. I wasn't feeling that… They was trying to basically put me in a box."
It's now early January, and Young M.A has just returned from a club gig in Columbia, South Carolina, and an opening slot for a Trey Songz arena jam in Detroit. Today, in a cavernous Soho office, she is back to the unremarkable, workaday mundanities that come with being both a perfectionist and an independent artist. "I wouldn't say I would never sign," she says. "But as of now, I'm comfortable. You give up a lot of control to a label, and we wanted to build our own empire."
With her is Guy Blelloch, the director behind the "OOOUUU" video, and they're painstakingly putting together the final edit for the '90s-themed video for a song called "Get This Money." In the clip, M.A is surrounded by men from RedLyfe, and everyone is suited up in Tommy Hilfiger and Fila sweats, sipping 40s and throwing dominos for historical accuracy. One of the lines is about getting head from a corny dude's girlfriend; later, M.A acknowledges the woman's agency, rapping, "If she wanna be a thot then that's her decision/ She ain't complaining, she ain't mad, upset or offended/ She grown, leave her alone/ If she widdit, she widdit." For part of the video, M.A has her long hair out instead of in its usual braids, as the phalanx of dudes vie for a spot on camera behind her, each rapping her lyrics with pride.
"Get This Money" is as solid and compelling as any of her tracks — but it's also from Sleep Walkin, released in 2015. Already eight months after "OOOUUU," the video is a reminder that, other than a few features here and there — including Uncle Murda's "Thot" and Project Pat's "30" — she has yet to follow up with a proper single.
"I know people are looking forward to an album from me, but I don't think it needs to be rushed either," she says, her focus temporarily diverted from editing video frames as she pops potato chips into her mouth. "Nowadays albums don't come out as frequent as they used to, so I'm not too sure if I'ma drop an album as soon as people would think. I'm just trying to go off a vibe: how they feeling this, how they feeling that?"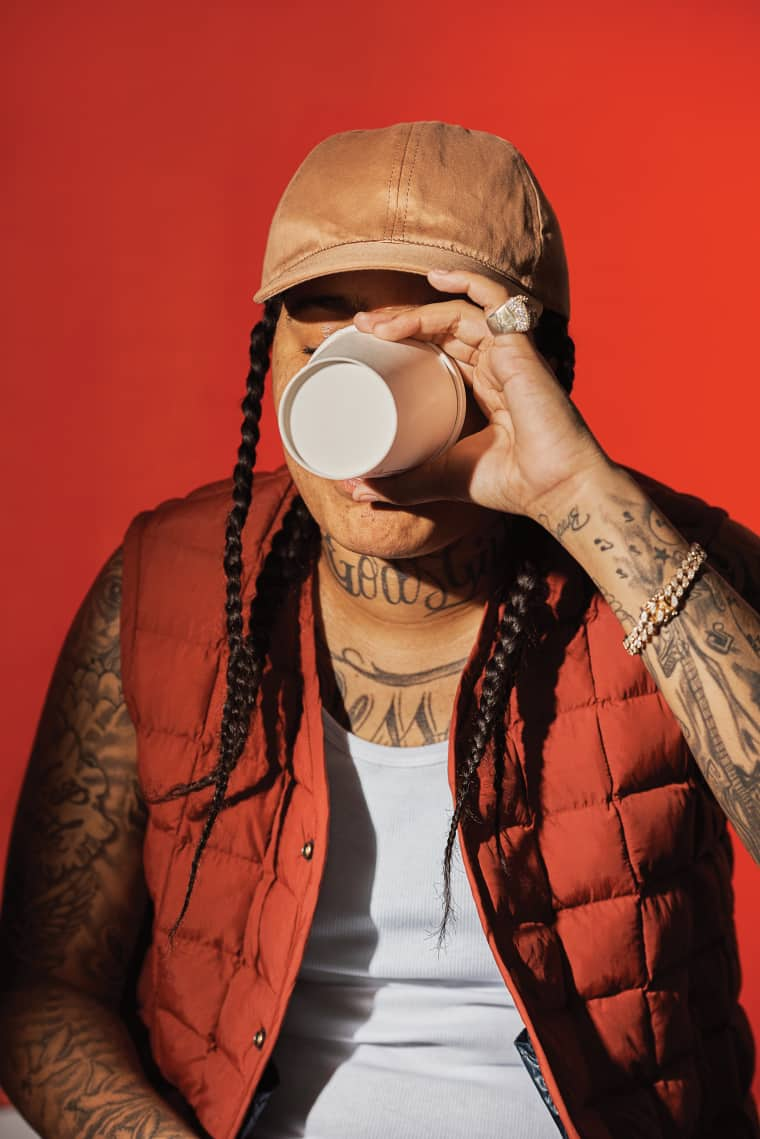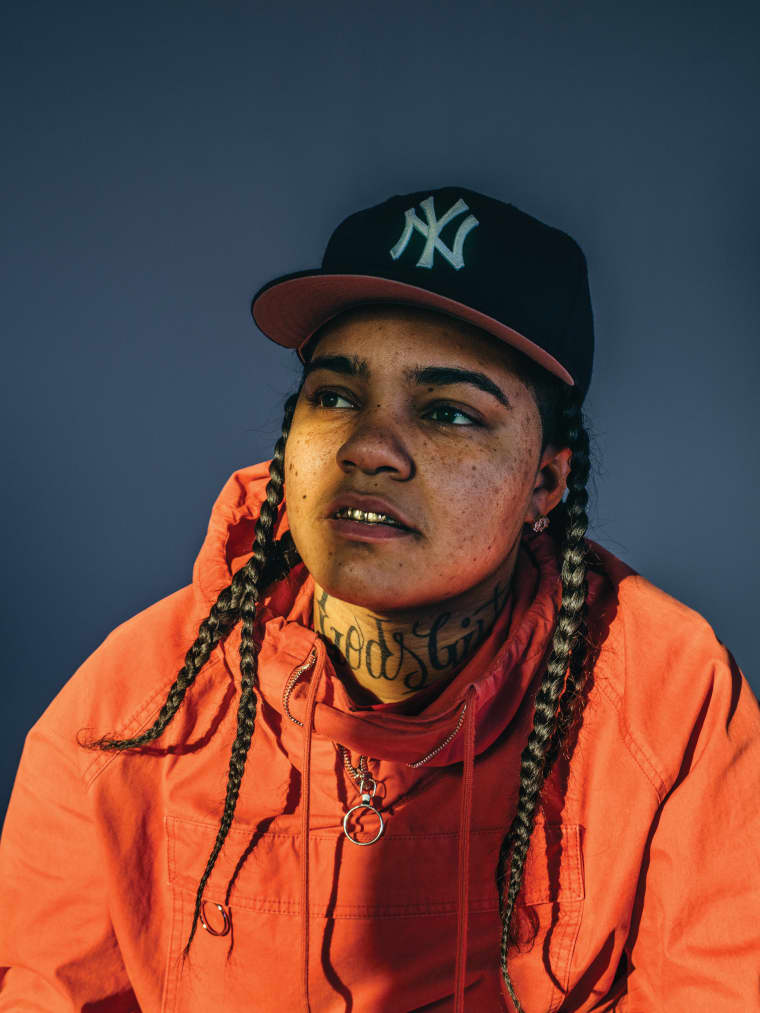 A meandering plan based on instinct would probably send chills through the spines of any major label marketing department, but it seems to have worked so far — and given M.A's past experiences with managers, it makes sense that she wouldn't want to work with any corporations who might have designs on transforming her into a cliché or a product. With "OOOUUU," she knew it was the single and knew she should drop it close to summer. "Hot Sauce," a song that is truly thrilling in the same, humid vein, will drop in spring, too — when exactly will be based on her "vibe."
Maybe vibe is as good a bet as any. She's certainly got the innate sense of professionalism, and perfectionism, and her drive is, as she notes again and again, neither fame nor extravagance. Supporting her family and keeping her brother's memory alive is "mandatory," she says, and above that, "I'm pursuing my dreams, my passion for it. And now that I know a lot of people look up to me, I have another reason to do it."
Having lived all over Brooklyn, Young M.A doesn't like to rep for one specific neighborhood, which adds to her allure — it's easier to be the king of New York if you're an all-city superstar — but she recently moved to an apartment in a whiter area, where her neighbors do not recognize her as easily.
Still, she got cornered recently in a local Bed Bath & Beyond, by an 8-year-old Russian kid and his mother. She was trying to shop for linens for her new place; a clerk who saw she was uncomfortable offered to open a register just for her so she could dip. "I don't go out trying to be noticed or nothin like that," M.A says. "You a person like me, we both people. What makes me so special? Because I make money and I'm all over TV? No, we're both human, I'm gonna stand on line just like you… But I did get out of that line because I wanted to get up outta there though." She cackles, a force of personality. Every rapper says they want to be regular, but Young M.A is just getting comfortable.