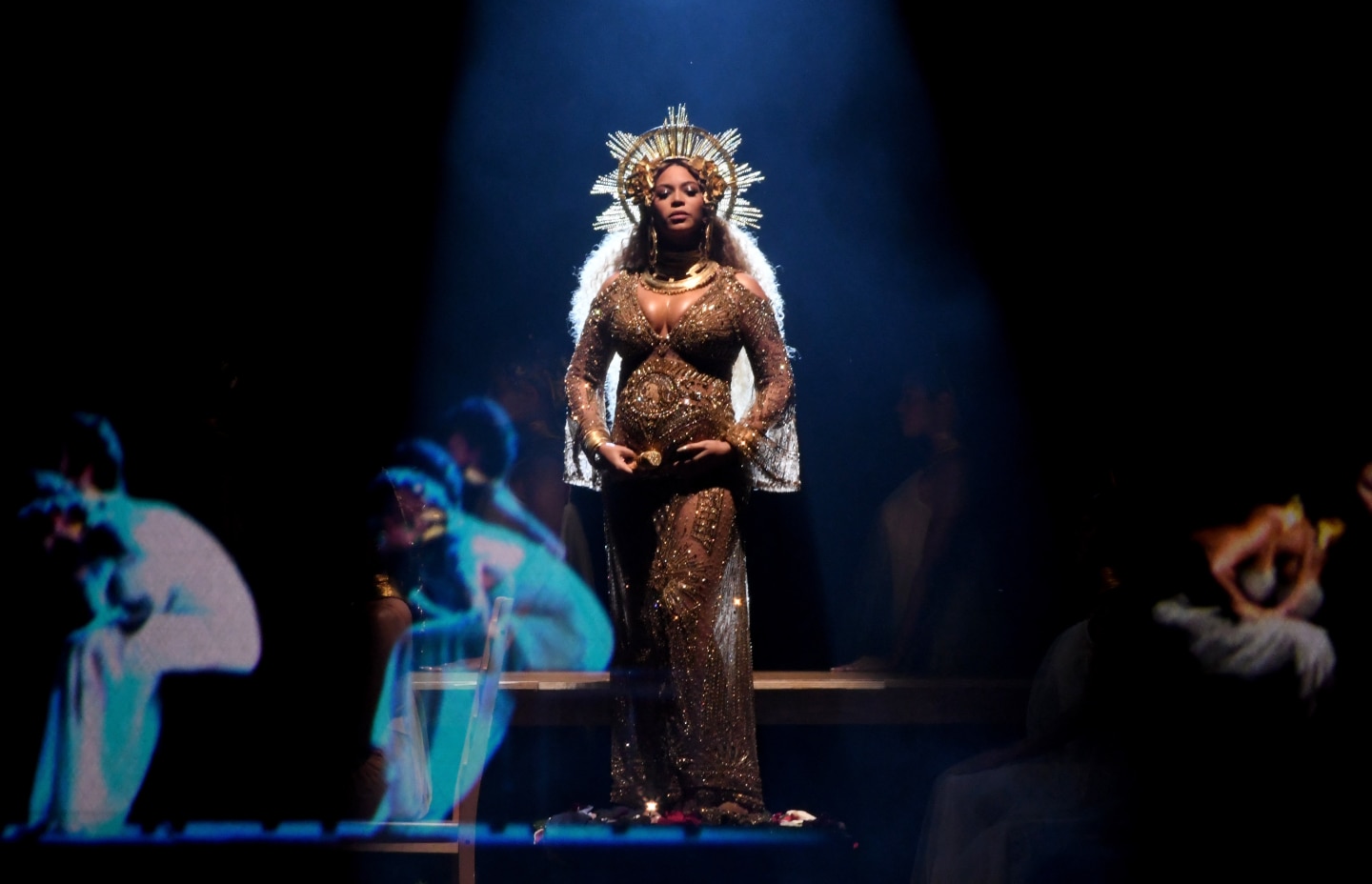 Just 12 minutes into the 59th Grammys ceremony on February 12, Jennifer Lopez was quoting Toni Morrison. "At this particular point in history, our voices are needed more than ever," she stated while presenting the award for Best New Artist. "As Toni Morrison once said, 'This is precisely the time when artists go to work.'" She concluded, "Tonight, we celebrate our most universal language: music." It signaled the beginning of a very 2017 awards show, situated in a world where politics is at the forefront of the mainstream.
During her introduction of The Weeknd's performance, Paris Jackson shouted out the #NoDAPL movement and raised her fist. Laverne Cox urged viewers to "google Gavin Grimm." (Grimm is a transgender boy who is being taken to Supreme Court by his school, which introduced a policy to prevent him from using the boys' restroom.) During a brilliantly charged performance with A Tribe Called Quest and Anderson .Paak, Busta Rhymes called out, "I wanna thank President Agent Orange for his unsuccessful attempt at the Muslim Ban."
Katy Perry was among those who chose to make a political statement with the debut live performance of her comeback single "Chained To The Rhythm." On Twitter, she described the song as "purposeful pop," with its lyrics declaring "we're living in a bubble." Onstage at The Grammys, she wore a glittery armband with the word "PERSIST," and closed her performance by yelling, "No hate." Offstage, Perry is politically engaged — she campaigned for Clinton, and performed at the DNC last year — but last night her performance seemed more confused than outspoken. When Ryan Seacrest asked her to elaborate on the song's meaning, she was vague and non-committal: "I think it's just a song that starts conversations, and that's what we need more than ever...We just need to listen to each other."
Meanwhile, Beyoncé's acceptance speech for Best Urban Contemporary Album firmly emphasized the celebration of black womanhood at the center of her 2016 record Lemonade (and its accompanying film). She simultaneously drew attention to the historical racial bias of The Grammys itself. "My intention for the film and album was to create a body of work that will give a voice to our pain, our struggles, our darkness and our history," she said. "It's important to me to show images to my children that reflect their beauty so they can grow up in a world where they look in the mirror — first through their own families, as well as the news, the Super Bowl, the Olympics, the White House, and The Grammys, and see themselves."
Beyoncé's speech was so impactful because it was a natural continuation of her work itself. This was only underscored by her performance of "Love Drought," which had a political undercurrent, as it recreated imagery from Lemonade that was influenced by the 1991 film Daughters of the Dust — which, in turn, referenced the story of Igbo Landing, an act of mass resistance against slavery. Though hashtags and shout-outs are great ways to quickly raise awareness of an issue on national TV, Beyoncé's speech encouraged deeper engagement with issues of identity and lineage.
The inclusive politics of the show, however, didn't extend to the awards themselves. The Grammys has a long history of disproportionately awarding white artists in its major categories, and last night was no exception. Beyoncé lost Album of the Year for the third time to a white artist — and even AOTY winner Adele recognized that Lemonade deserved that trophy. Kanye West and Rihanna were each nominated eight times, but won nothing. It's clear that the awards themselves uphold the institutional racism of the music industry and the media. In this context, perhaps some of the most significant political moments of the evening were Kanye West's decision not to attend, and Frank Ocean's decision to not submit his albums Blonde and Endless for consideration. (On Tumblr, Ocean wrote to the show's producers: "You know what's really not 'great TV,' guys? 1989 getting Album of the Year over To Pimp A Butterfly.")
Awards shows themselves, with their commercial aims and problematic histories, cannot be the locus for political change. But when celebrities deliver clear, carefully thought-through messages on mainstream platforms, they can accelerate political consciousness. There's a chance someone tuned into The Grammys last night and learned who Gavin Grimm is, or felt that they saw themselves reflected in Beyoncé's gold-wrapped speech. The Recording Academy may be stuck in its old ways, but the true winners of the night were those who used its platform to push boundaries. J Lo isn't wrong to say that we need artists to use their voices in 2017, and last night's show indicated that some of our celebrities are prepared to rise to the challenge.