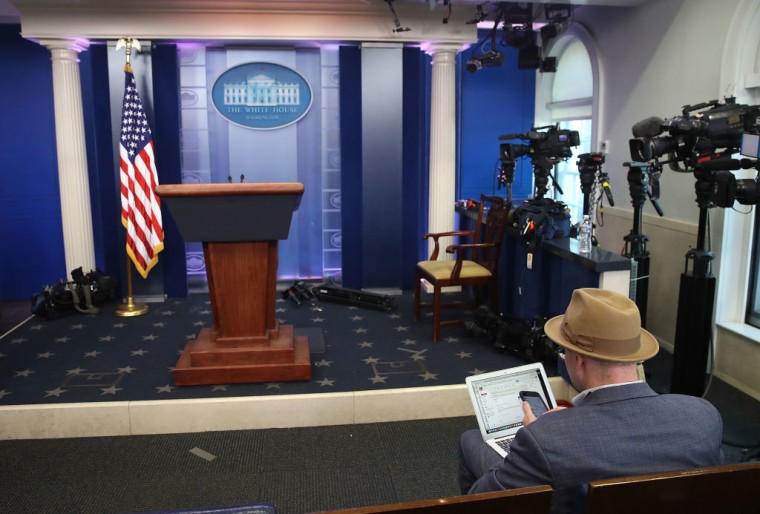 Reporters from select outlets that have been critical of the Trump administration were denied access to a press briefing on Friday, Washington Post reports. Journalists from The New York Times, BuzzFeed News, The Los Angeles Times, POLITICO, were denied entry to the briefing in an unprecedented move by the White House.
The small-group briefing, referred to as a gaggle, was less-formal than a usual press conference and was scheduled as a no-camera event. However, these small-group briefings are usually attended by at least one member of each news outlet and those who have been allowed to attend have never been handpicked by the White House.
CNN's Sarah Murray described the events on Friday:
We lined up. We were told there was a list ahead of time, which is sort of abnormal, but we put our name on a list. And then when we went to enter, I was blocked by a White House staffer, who said we were not on the list for this gaggle today.
Now, normally, if you were going to do something like this — an extended gaggle, off camera — you would have one person from each news outlet. As you know, we have multiple people from CNN here every day. So, if you're going to do something beyond a pool, which is sort of the smallest group of reporters that then disseminates the information, you would have one person from every news outlet.
That is not what the White House was doing today. What the White House was doing was handpicking the outlets they wanted in for this briefing. So Breitbart, the Washington Times, the One America News Network — news outlets that maybe the White House feels are more favorable were all allowed in, whereas I was blocked from entering, Politico was blocked from entering, the New York Times, the L.A. Times. All of these news outlets were blocked from going to a gaggle.
Only a handful of press outlets were allowed into the press briefing by press secretary Sean Spicer's aides, including conservative news outlets Breitbart News, the One America News Network, and The Washington Times. Reporters from ABC, CBS, The Wall Street Journal, Bloomberg, and Fox News also attended, while journalists from TIME magazine and the Associated Press sat out of the briefing to protest.
"Nothing like this has ever happened at the White House in our long history of covering multiple administrations of different parties," said Dean Baquet, the executive editor of The New York Times, in a statement on Friday. "We strongly protest the exclusion of The New York Times and the other news organizations. Free media access to a transparent government is obviously of crucial national interest."
The denial of journalists from the press briefing came hours after Trump harshly criticized the press in his speech at the Conservative Political Action Conference. The president referred to news outlets as "dishonest" and characterized them as "fake news."