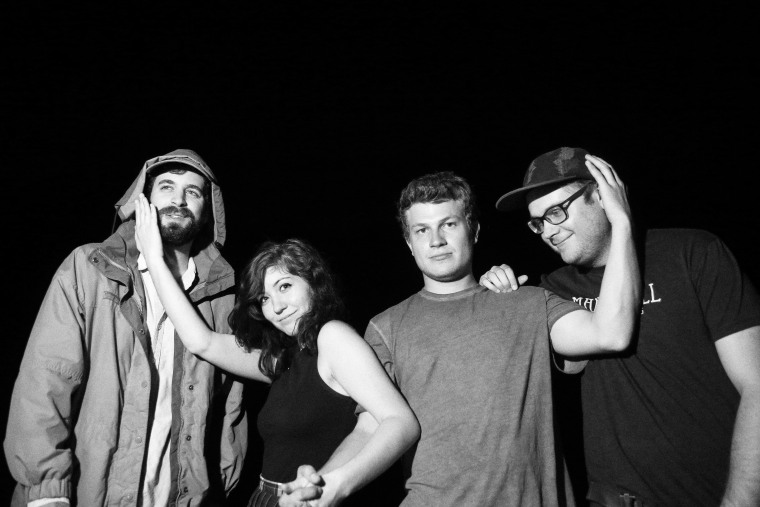 The Sea Life, a band from Washington D.C., is releasing a self-titled debut album this May 26. They're a group of twentysomethings making dark, fuzzed-out rock songs from deep within the D.C. music scene — the band's frontman, Jon Weiss, is a show booker and the founder of Babe City Records, a home to many local D.C.-area musicians. The first single from their new record is "Red Eyes," premiering today on The FADER, is a stressed-out banger about witnessing the things you love get drained of their color.
"'Red Eyes' is about escaping the weight and anxiety of social and economic pressures in daily life," Weiss wrote in a note to The FADER. "To me, this has been anything from growing up, to appeasing someone you care about, to trading away your passion for a paycheck. It's so easy to be stretched thin that you lose sight of or forget the things that you actually care about, the things that drive and define you."
The Sea Life is out May 26 on Art is Hard (UK) and Babe City Records (US).
The Sea Life Tour Dates:
3/9 Carrboro, North Carolina @ Cat's Cradle
3/10 Atlanta, GA @ Hill Street House
3/11 Tallahassee, FL @ The Wolf's Den
3/12 Austin TX @ SXSW
3/13 Austin TX @ SXSW
3/14 Austin TX @ SXSW
3/15 Austin TX @ SXSW
3/16 Austin TX @ SXSW
3/17 Austin TX @ SXSW
3/20 Long Beach, CA @ Que Sera
3/21 Los Angeles, CA @ The Lost Room
3/24 Boise ID @ Bittercreek Alehouse
3/24 Boise, ID @ Treefort Festival Showcase
3/25 Denver, CO @ The Hi Dive
3/27 Beloit, Wisconsin @ Beloit College
3/28 Chicago, Illinois
3/29 Cincinnati, Ohio @ Northside Yacht Club
3/31 Brooklyn, New York @ Alphaville, NY