Ashton Sanders knows how to get a fit off. Early this awards season, the still-under-the-radar, 21-year-old Moonlight star's clean-yet-daring, mod looks began attracting attention on and off the red carpet. There was a Public School printed camo three-piece, then a light brown, slim-fitting and heavily pocketed Louis Vuitton suit, his show-stopping oversized sienna workwear-centric look at Raf Simon's first Calvin Klein NYFW show, and then, of course, his post-Oscars kilt get up.
Citing Jimi Hendrix and André 3000 as style inspirations, Sanders has been able to pull off his impeccable '60s and '70s-channeling aesthetic with the help of L.A.-based stylist Jessie Jamz. Jamz, who originally began styling for projects in the advertising industry, was introduced to Sanders during a freelance magazine shoot in 2016. The two clicked, and have been collaborating on his looks ever since. Below, Jamz talks about her winding path to styling and how it uniquely informs her work, what it's like collaborating with Sanders, and why men's fashion is exciting right now.
---
How'd you get your start styling?
JESSIE JAMZ: I actually majored in painting. Right before I graduated I was like, "Shit, what am I gonna do with a degree in painting?" I hustled and I got a second degree in design. It was expansive — graphic design, but also sustainable: buildings, furniture, and houses. Right out of college I got a job with Ed Hardy in L.A. as a graphic designer in their jackets division. They let go of their jacket designer and said, "Jessie, you have to design jackets." I was like, "I have no idea how to design anything, I know how to paint and draw." But I figured it out and got it done. As soon as I knew how to design clothing I left them and started freelancing with local designers and different companies in L.A. I was also styling the clothing that I was designing on set for look book shoots. I realized that [styling] was an actual thing I could do, and that's when I decided, "Okay I'm gonna be a stylist. Fuck everything else, that's what I want to do."
How does your your different background experience inform your work now? Do you feel like you have a wider scope to look at styling situations?
Growing up, I was all over the place with things I was interested in, and they didn't seem to make sense at the time. I was a painter, and did design. Then I did party photography for a bit. I felt, "Oh I don't really have a path," it didn't necessarily all make sense together. Now, I'm shooting clothes and color theory comes into play, and structure, and line, and composition, and all this stuff that I learned when I was studying painting. I didn't realize it, but it's inherently in me.
What's your approach to styling?
It depends on what I'm doing. I have super OCD so I have to be organized. I can't just pull a bunch of shit and bring it [to the client]. It's very methodical. With Ashton [Sanders], specifically, we send each other images and kind of work our way through looks. I'll target specific designers because I'll pick 8 to 10 runway looks that we're really feeling, and I'll hit up the designers and see if they wanna lend. It's much more curated.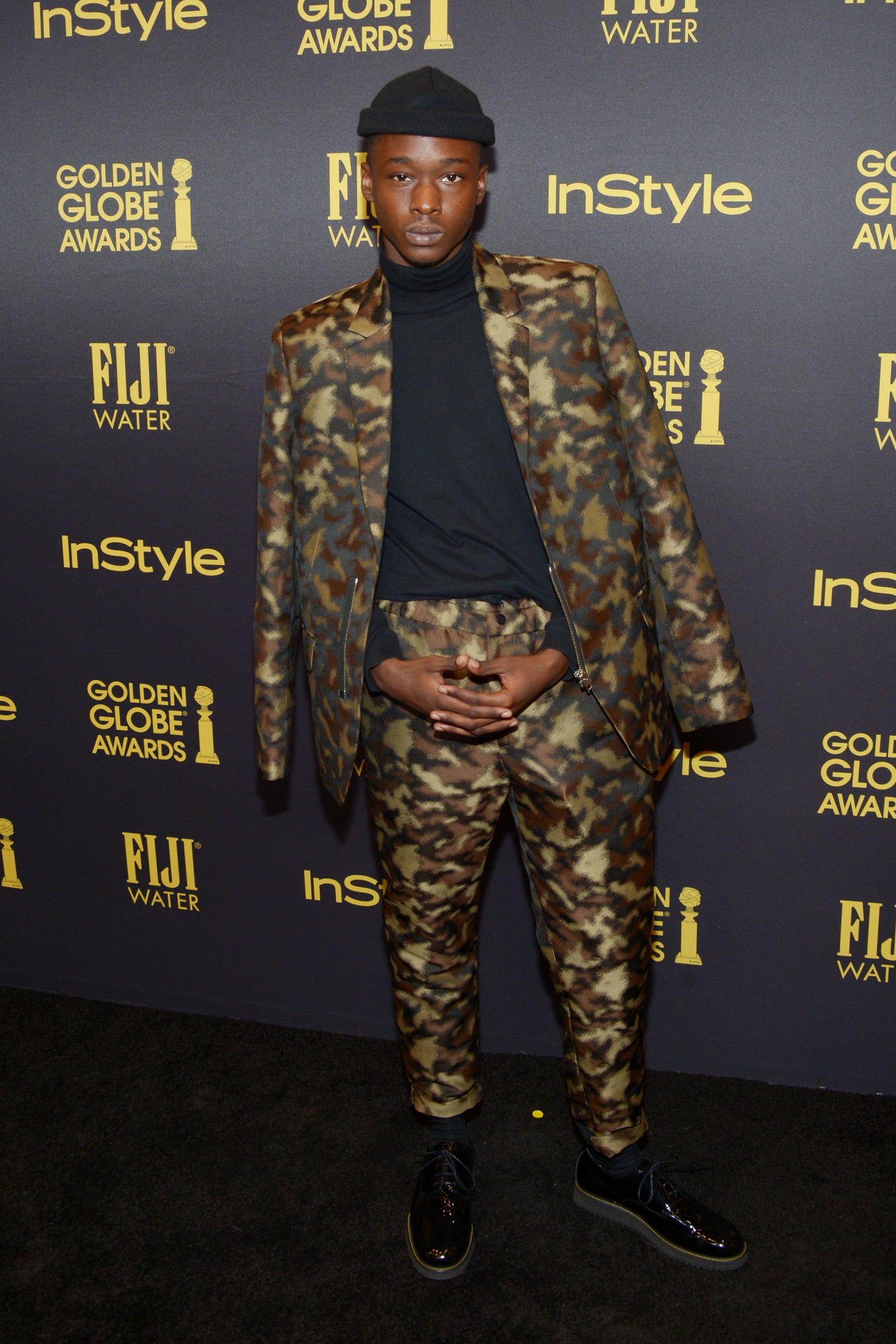 You first worked with Ashton on a shoot for Ladygunn magazine. What was that initial experience like?
My friend Shanna Fisher, who shot it, hit me up like, "Hey, there's this kid who's gonna be in this movie that's coming out. I dunno if you want to do it, but it would be fun." I was like, "Hell yeah, let's make it happen."
This was when Ashton had like 2,000 [Instagram] followers. I always get nervous and second guess myself the night before any shoot. I checked out his Instagram, so I got a little of his vibe. I was like, "This stuff would look dope on him." I had pulled gold bell-bottoms and pink turtlenecks, I turned to my boyfriend and was like, "Dude, this kid is either gonna love this or hate this." Ashton showed up on set and was like, "Oh my gosh, you read my mind. I love everything you pulled. Do you know me?" It was one of the best shoots I've done. We all just got along so well, I was like, "Hey, if you ever need help with anything here's my number. I really liked working with you."
We exchanged numbers and a week later he hit me up about the InStyle Golden Globe opening season party. Public School sent that outfit for us — the camo three-piece look. I sent him off to the party and Getty Images started rolling in, and I wasn't really seeing any of him, and then I saw one. I didn't hear anything from him. There was a little talk in the beginning, like, "Is this too crazy? Should it be more dialed back?" It was his first event like that, so the look was a little bit of a risk. I knew that the party ended, and I was like, "He hasn't texted me. Oh no, what did I do?" And then at 1 a.m. I get a text from him, "They fuckin' loved it! Everybody was telling me how good I looked, thank you!"
Ashton mentioned that you were the one that introduced him to "high fashion."
Since we've known each other, he's paid more attention to fashion. When we first started working together I would send him images of runway shows to see if he liked anything, and one day he asked, "Where are you getting all of these?" I was like, "Vogue dot com, dude! Download the app, look through all the shows and screenshot whatever you like." A couple of hours later I got a text from him saying "I can't stop looking at it. Holy shit what did you do to me!" Now he looks at it regularly.
I think it's cool to keep elements of your roots, though. That's what makes something authentic. Like his look for the Calvin Klein show — that was Cos and a giant Dickie's jacket thrown over it. Those white sunglasses he had, I didn't get for him. Someone had let him borrow some sunglasses and he didn't wanna take 'em off. It's important to stay true to your own vibe, that's what keeps things looking good.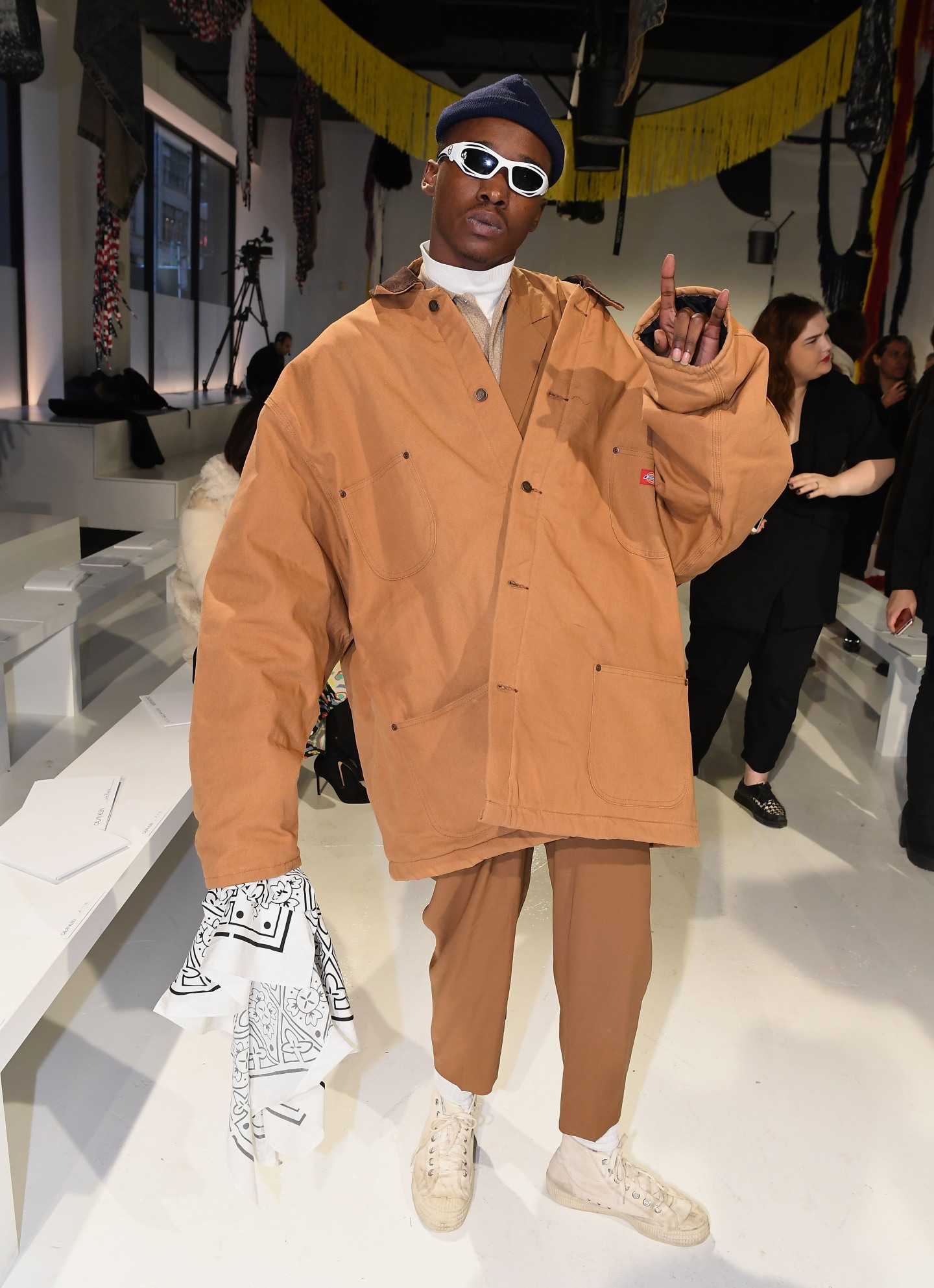 "I want to stay true to myself and my art. I feel like he's kind of the same type of person, so we really have a good collaborative dynamic." —Jessie Jamz
You mentioned that he's really into mod styles. He's also mentioned that he's super inspired by André 3000 and Jimi Hendrix, The Beatles and The Beach Boys.
I think there are just certain staples with him. Silhouettes are important — turtlenecks, he loves. Glasses — also very '60s, Jimi Hendrix, everybody was about the sunglasses. Beanies have been a thing with Ashton. The cut of pants too — we keep a pretty slim fit, but he's getting more into a wider cut, that's more '70s. The slim fit pant is more mod, kind of high water. We'll do white socks if we can, if it makes sense. That's a nod to street fashion, because they're just whatever socks you can buy in eight packs, just clean white basketball socks. Doc Martens are a mod type of shoe from the '60s. It's funny, Ashton texted me a picture of André 3000 in a kilt two days after the Vanity Fair party, like, "Dude, I did not know he did this." I'm like, "Well you did it differently. His looks very Scottish, yours looks very punk." Ashton's like, "But can you believe that, that's crazy!"
Ashton has said that you both collaborate on looks. What's that dynamic like?
I want to stay true to myself and my art. I feel like he's kind of the same type of person, so we really have a good collaborative dynamic. We can talk about our work, why we're picking what we're picking, what makes sense and what doesn't make sense. If we disagree then we really talk it out, rather than someone being like, "I don't like it. Next." We talked about the turtlenecks and beanies and other items sometimes being nods to the Black Panthers in a way.
I've always told him do what feels right, like with the kilt look from the Vanity Fair party. He came back from winning the Oscar, and we were kind of screaming, super stoked on it. Then the lady from Calvin Klein that I've been working with came and knocked on the door and Ashton was wearing the top of the Calvin Klein suit, but in the kilt. I asked her, "Is it cool if he wears this to the Vanity Fair party?" And she was like, "Yeah, it looks awesome." As long as the designers okay with it — I think that's the only thing that makes me more reserve.
When you're both so collaborative, how you land on a final look?
Everything is a discussion, I can't say I did all of this, or he did all of this. If he's really into something right now, or I'm into something, or I discovered something, I'll run it by him. Every show I ask, "What vibe do you want to go for?" and I'll go hunt for him.
Sometimes he'll get an idea, do it, and send it to me. Maybe it's not the plan, but I fully support that. That happened with the Golden Globes [Yves] Saint Laurent suit. We agreed with Saint Laurent to wear the full look exactly as it was, head to toe. But when I was putting Ashton in the car to go to the show, I took off my Ray-Bans and put them on his face, and threw a leather jacket over him to wear to the after party. He forgot to take off the leather jacket and walked the red carpet. He called me from the bathroom like, "Jessie, what do I do?" I'm like, "You've already done it, and I think it looks fucking good."
What was the energy like on Oscars night?
It was crazy. Probably one of the most unreal and emotional experiences. We'd been talking with Calvin Klein and working on this look for a while — it was all custom for him. In the past I'd been working with him at his grandfather's house. Seeing him being flown in, staying in The Peninsula Hotel in Beverly Hills, his hotel room had a pillow with his initials monogrammed on it. He's going to the fucking Oscars — all of it seemed so unreal. He was like, "Look at where I am, look at this room."
We walked down to the Calvin Klein suite, and all of a sudden there were managers, people working for Calvin Klein, photographers, behind the scenes photographers — it felt like a movie. We had gotten dressed and went straight to do a photoshoot in the hotel, Calvin Klein had a team there shooting Trevante [Rhodes] and Alex [Hibbert] and him. I met Ashton's dad for the first time.
In another interview you mentioned that men's fashion is exciting right now, why do you feel that way?
I feel like it's at definitely at a point where anything can happen, and men can do anything. I think Ashton is showing the world that you don't have to go to an award show in a suit and tie. You can go in something totally different, you wear a skirt if you want to. Men are wearing fur, and oversized things. I pull women's clothes for Ashton. I was talking to Van Van, Mahershala [Ali]'s stylist last night and she said, "I pull so much women's clothes for men." You look at runways, the Off-White show with the see through shirt for the guy. The key is not to do it sloppy. I've seen people put on a little bit of everything and look like they're doing too much. You have to tailor the look in a way that's more refined.
Being with him from the beginning, and the way you communicate with one another, it seems like you've become real friends.
We talk like once a day. He Facetimed me yesterday. He's filming his new movie, and he's like, "I'm on set, waiting to do my scene, I'm bored I'm just waiting here to shoot." Then all of a sudden there's a makeup brush in the frame — I'm like, "Are you getting your makeup done?" It's not just fashion related, I've gotten to know his family, his grandpa. I have so much love for that kid, and I have his back no matter what happens.