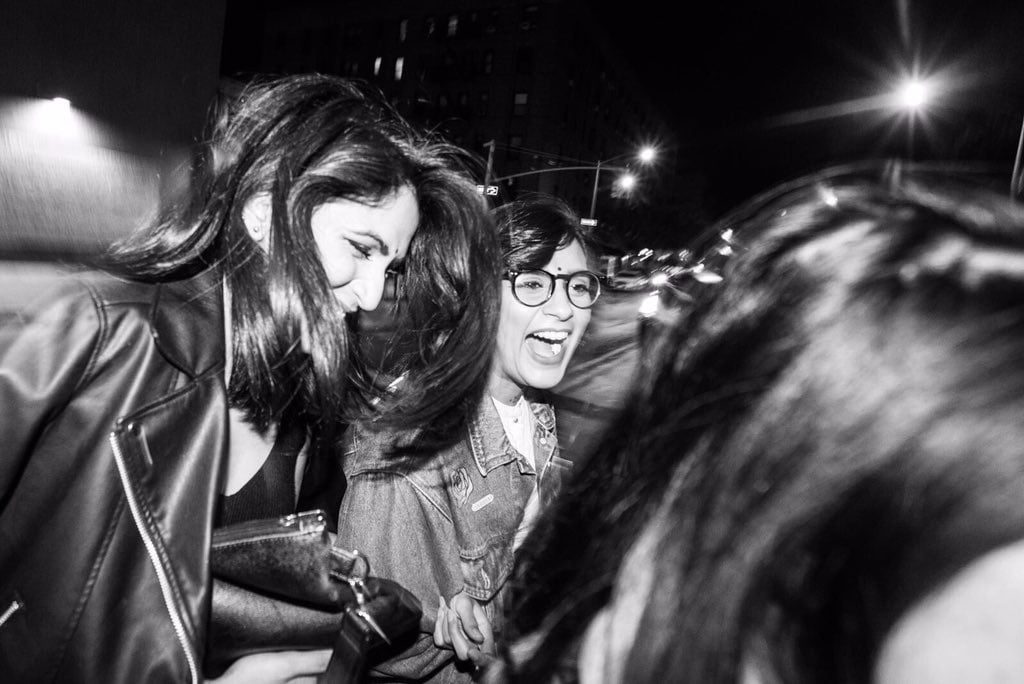 As part of BFF Week on The FADER, we wanted to capture the seemingly limitless ways that friends keep in touch with each other throughout their days, and even across distances and timezones. So we asked Toronto illustrator Hatecopy to share what a day's worth of WhatsApps, DMs, and other social media communication looks like between her and her best friend, Babbu the Painter.
Hatecopy and Babbu actually met on Instagram in 2015, and their friendship has deepened through shared creative passions (they've done two art shows together, in Toronto and London) and travel. "We've faced obstacles and challenges together that made us almost inseparable," Hatecopy told The FADER. "Our friendship allows both of us to express our creativity without judgement, and give each other a second pair of eyes to proof and improve on our work."
Usually, Hatecopy is posted up at Babbu's house, "watching soap operas with her mom and drinking chai," but they've recently taken their friendship long distance since Babbu is on a half-year trip to India. Here's a day's worth of communication between the BFFs, as told by Hatecopy.
---
7-8:30 AM:
I realize I woke up too early for my 9AM alarm.
8:12 AM:
I check Whatsapp for updates from my best friend Babbu, who is currently traveling across India for half the year. I decide to send her three pictures of my latest artwork: what I post to Instagram today is in Babbu's hands.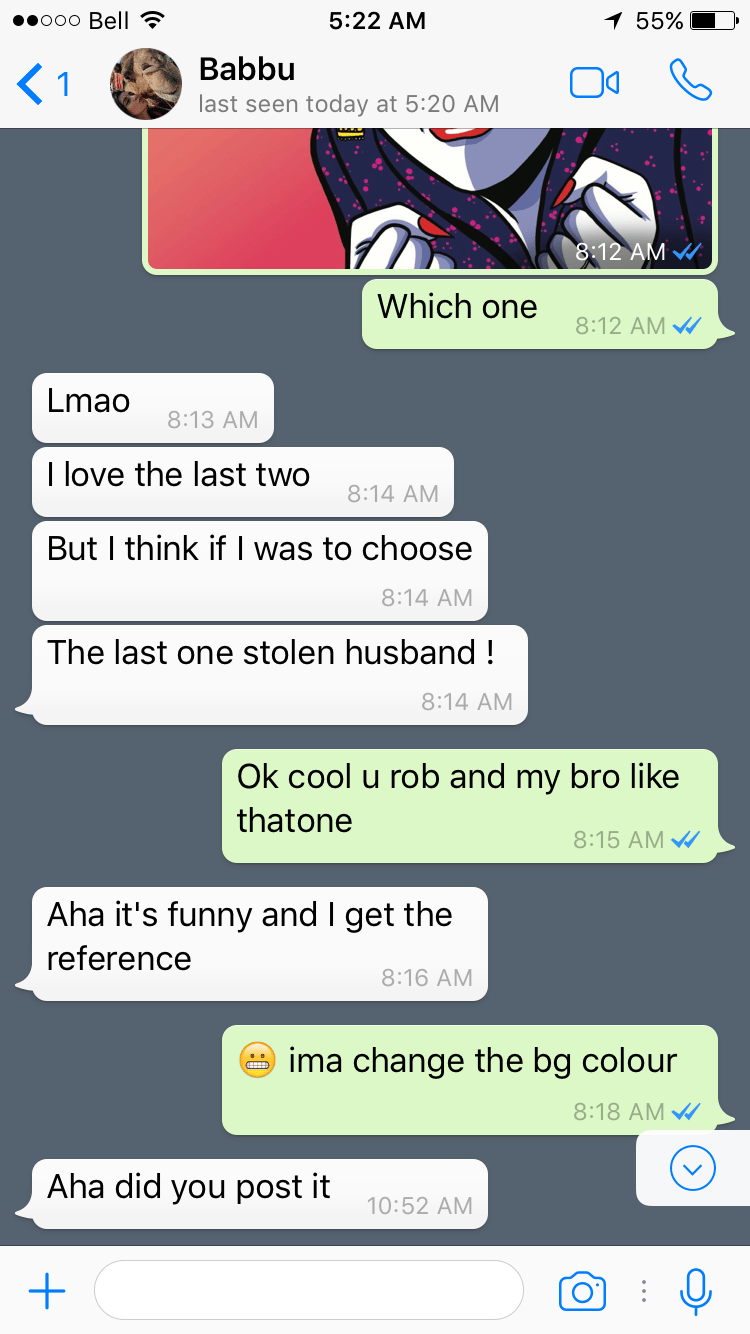 9 AM:
Before Babbu left, she asked if me or my sister wanted anything in particular from India. The answer was an instant, JEWELRY. But I've also asked for Babbu to keep me updated with all the cows, camels, and other wildlife she's encountering in the motherland. So when I open my IG DMs I see that Babbu's sent over a few selfies with a cow in Rajasthan.
I add her animal selfies to a Twitter thread that I'm keeping.
10 AM:
Time to get out of bed and head to Toronto for a meeting. No breakfast for me, but it's 8:30 PM in India and Babbu says she's grabbing a late dinner.
11 AM:
Finally time for breakfast; Babbu is eating some delicious Indian food and I've got meat and potatoes.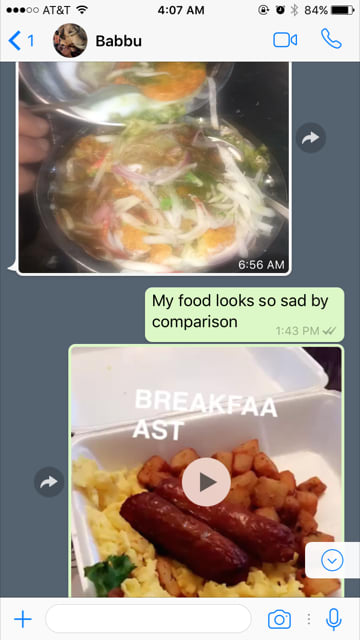 12 PM:
I'm in a cab to meet with an art director about my upcoming book, Trust No Aunty and Babbu's at a party, but we're religiously checking Instagram and Twitter to share jokes, memes, and news from the world.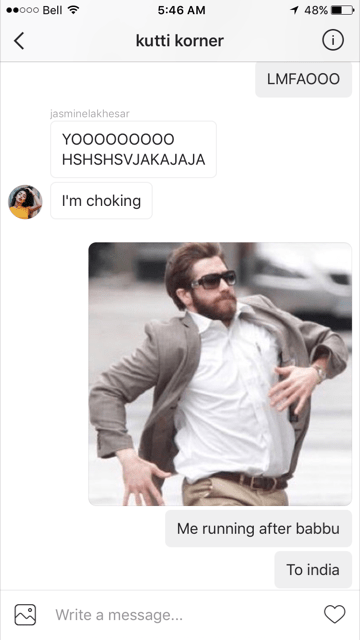 1 PM:
I'm at Soho House, where I usually take my meetings, and I share snippets of the book with Babbu. She responds with a picture of an unfortunate toilet paper situation.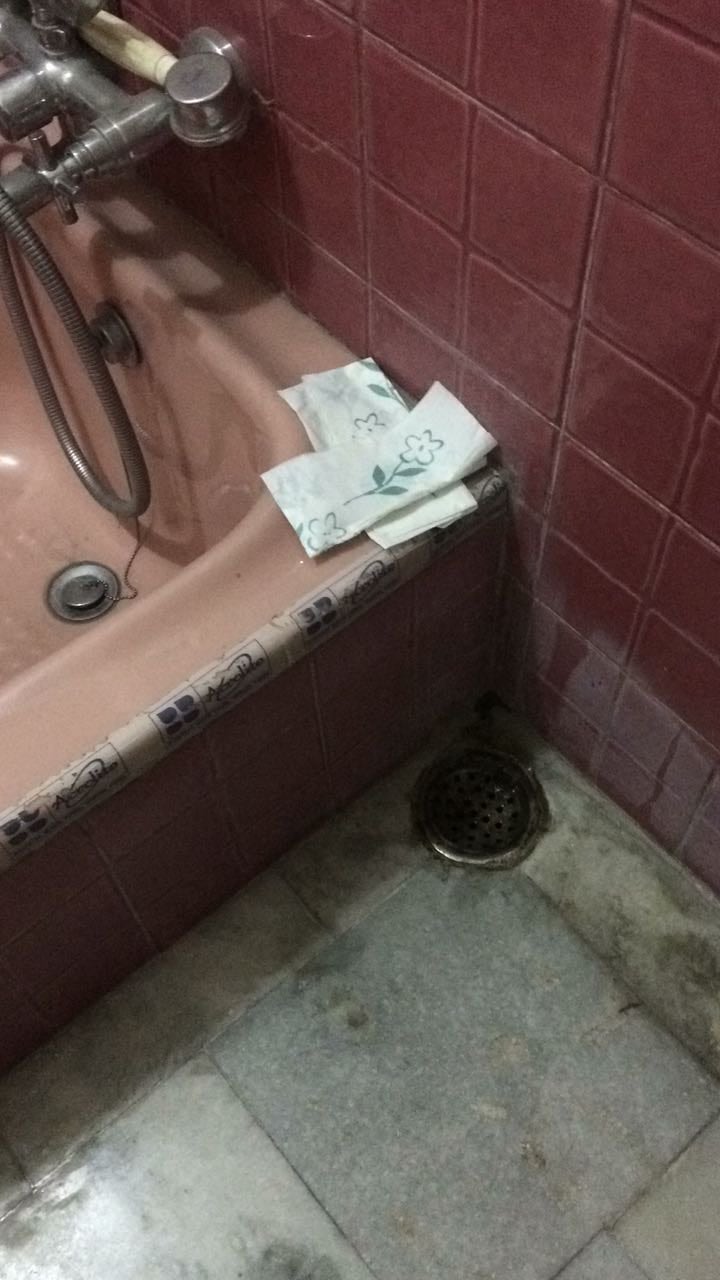 3:30 PM:
Babbu is having a very lit evening, while I'm in another meeting — a photoshoot with Adidas. She shares a short video of a rapping DJ she's encountered at a party.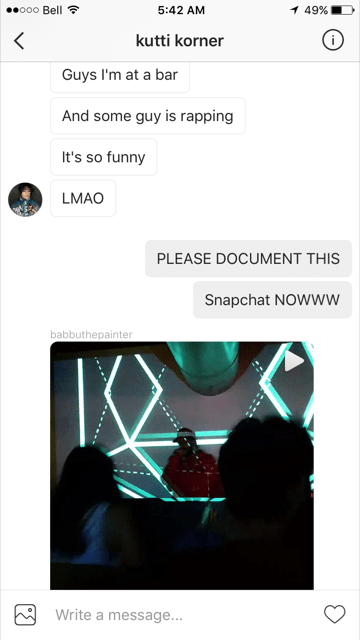 I tell Babbu about a party I was at earlier that week that I would have loved her to be at. We decide that we need to meet somewhere between Canada and India. "How about Prague?!"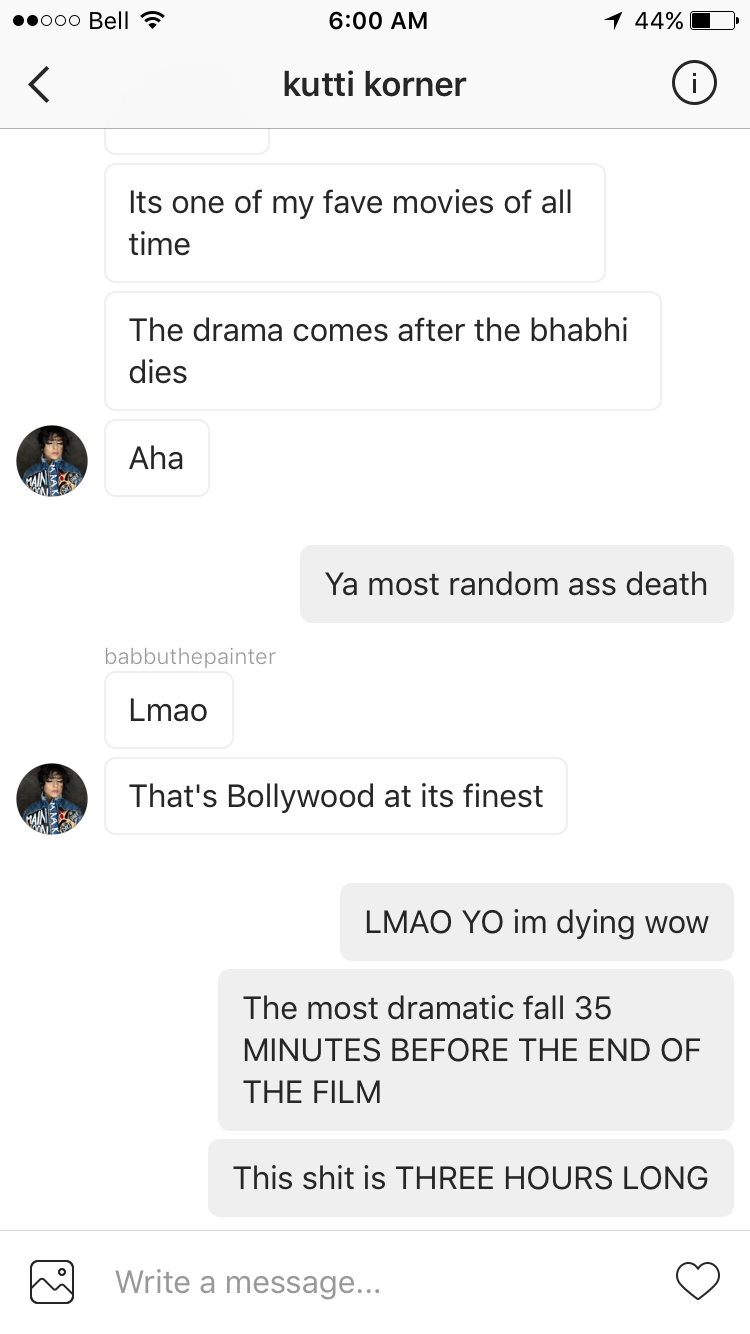 1 AM:
Bollywood movies typically last for about three hours, so this is around when I edit my Instagram story to share with the world. And, by habit, I'm also recapping the day and thinking about what to post tomorrow. Again, I make three variations of a post and share it with Babbu so I can get feedback at 8AM EST. As usual.