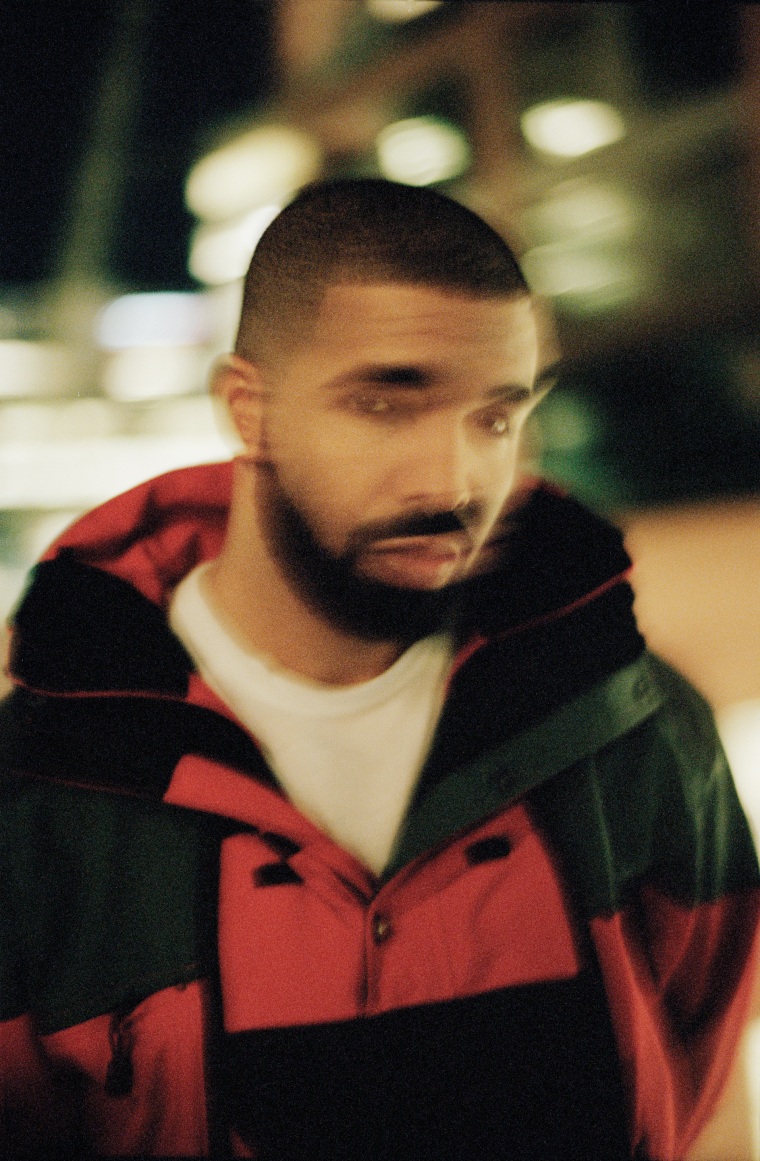 Drake's music is at its best when he's putting his own spin on borrowed bits and pieces from around the world. That's why his new playlist — not "album" — More Life is so listenable and uniquely his own. But with this project, he's used that same musical technique and applied it to the album's presentation, which could have destabilizing effects on the entire industry.
By choosing to call this project a playlist, he's fully acknowledging the importance of curated lists of songs to the industry right now. Spotify's editorial playlists are the center of their brand and are tailored around moods and tastes like "Good Vibes" and "Rap Caviar." Their top playlists have millions of followers and real sway, and are increasingly a crucial component in helping songs like "Bad and Boujee" and "iSpy" reach the Billboard Top 10. All the major streaming services have invited Top 40 artists (and Barack Obama) to make their own playlists as a way to invite fandoms into their fold, although the results often feel put together by a PR team. (Counterexample: Nicki Minaj's recent "Queens Got Da Crown" playlist for TIDAL sounded like she actually made it herself.) And labels like Def Jam, Epic, and XL now routinely package up loosies from their most successful artists with their roster's greener ones so you might accidentally come across a new favorite song.
Yes, More Life is still a tight grouping of tracks mostly by the same artist, and doesn't look much that different from an album, but its focus and sequencing reveals something different. With its inward-looking nature and strong U.K. influences, More Life manages to feel both playfully casual and deeply personal, like a travel diary or a burned CD for a road trip. As Drake explained his process in his 2015 FADER cover story, "I'm really trying to make music for your life." Whereas Drake's last release Views suffered from overworked pacing decisions — it was explained as "going from winter to summer back to winter again" — More Life scans like a well-tuned playlist any regular music fan could put together with some hard work.
Some have called the album's 22-strong tracklist too long, but providing fans with more content, not less, is at the core of Drake's strategy. Since 2015, Drake has given the world 70 official songs across four albums, plus lent his voice to a countless number of songs for other streaming heavyweights like Rihanna, Future, and Nicki Minaj. There's been 39 episodes of his bi-weekly radio show on Beats 1, including Saturday's ultra-tweetable premiere of More Life. The streaming model has rewarded those, like Drake and Future, who crank out content consistently. It's just more stuff for fans to put on their own playlists.
In the '80s, the ascent of the CD cemented the power of labels: they could sell music in a cheaply manufactured format for far more than it cost to make. The major labels' stronghold on the music industry made artistic independence almost an impossibility. Later, the digital revolution of the '00s transferred that tremendous power to Apple and helped open the door for artists to ditch the label system entirely. It took hardware, like cheap MP3 players and the iPod, to make everyone stop buying CDs, but 99 cent song downloads made sure those players got filled with music.
More Life could perhaps be seen as the beginnings of a new template for this maturing era of digital distribution; an artist-driven format for churning out the level of content that being a relevant artist in the streaming era demands. It's not hard to imagine how More Life's playlist model could evolve in the future — seeing an album come together in real time via frequent updates or artists including songs by their peers in their projects without having to worry about label conflicts. The question remains of how much power Spotify, Apple, and their rivals can hold on to as they negotiate and renegotiate their access deals with labels. The rise of playlists could be the thing that gives streaming platforms an important advantage over labels, or it could be a final straw for labels who decide to pull the access to their music. In the sunniest vision of the future, playlists offer a future where labels, streaming services, and artists all share the power and money in the room, even though there might not be that much of it to go around.