Moor Mother Tells The Story Behind Every Track On Her Radical New Record
The Philly artist documents black memory, trauma, and survival on The Motionless Present.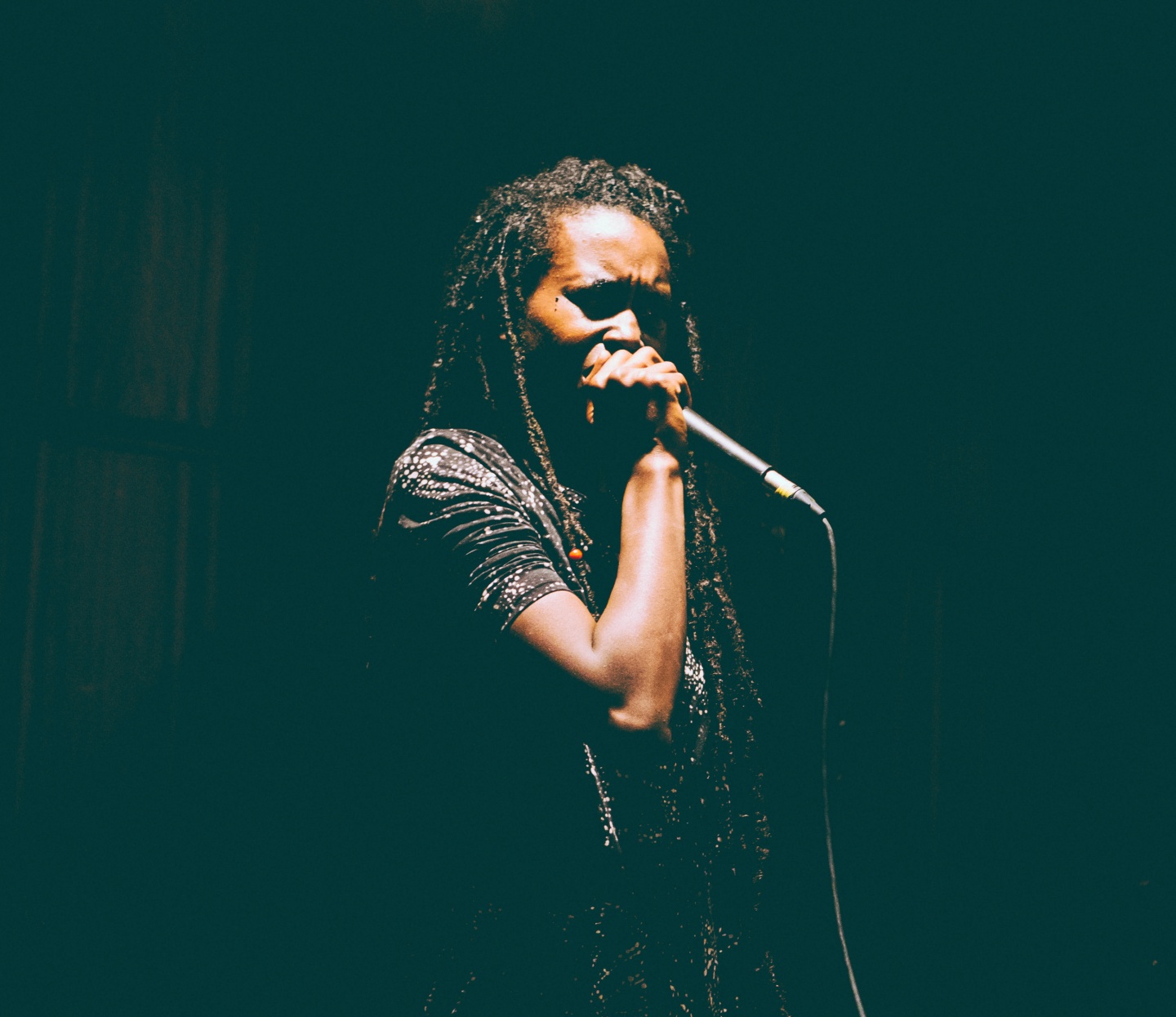 Moor Mother, a.k.a. Philadelphia musician and community activist Camae Ayewa, has been putting out music at the intersection of noise, free jazz, punk, and rap for several years. In 2016, her politically charged album, Fetish Bones, saw her reach a wider audience with its non-linear telling of black American history through spoken word, thickets of samples, and looped electronics. Now, just months later, a radical new record titled The Motionless Present follows in its wake to confront subjects of memory and trauma, truth and survival, and resistance. A poet who describes herself as a "nerd about language," Ayewa is a storyteller who always favors a multi-angled narrative over a single story, using soundscapes and words to craft a record that she describes as a "whole collage of space and time" told "from the heart."

Incredibly, Ayewa created The Motionless Present during the second and third weeks of December, at her home studio in Philadelphia. "It was all very stressful," she laughs over Skype. As sonically dense as it is narratively complex, The Motionless Present mashes together dissonant sounds and styles with "droney beats" to harrowing and jarring effect. Ayewa considers her music as much an archive as original work, and her practice as a document of black memories, in order to defy their erasure. Mirroring that stance, the new album documents the process of its own creation. Its stories are built up in sedimentary layers: field recordings, poetry, improvised electronics, synth patches left running, and samples taken from old blues and gospel songs, which she manipulates beyond recognition on tracks like "Earthquake Hymn." Most devastating is final track "Time Distortion," which samples the dash cam recording of Sandra Bland's arrest. With these samples, Ayewa questions who really holds power when it comes to archiving or erasing memories, and moves towards "taking that agency back."
Ahead of its vinyl-only release, Ayewa spoke to The FADER about the rich network of inspirations and ideas underlying every track on The Motionless Present.
"The Motionless Present"
When I was thinking about [the title] The Motionless Present, I was thinking about how there's so much happening right now, the movements, but there's this standing feeling when it comes to change. It definitely feels like nothing is changing. And I just look at all the problems that still remain. So many people get into this idea that we're under a new dictatorship or a new leader, or it's a new year, or a new season, and it's supposed to bring this change, but it hasn't. A lot of the work I've been doing in Philly has been [around] the same kind of problems: our school system being not invested in youth. We're always bankrupt, almost every year. More and more services, especially arts and music, are being taken away from the schools.

I knew I wanted to have some soundscapes on there. I was really inspired by a lot of blues musicians telling stories, so "The Motionless Present" really built off the idea of blues singers in the '30s, '40s and '50s singing about being incarcerated, or run-ins with the police. One sound is like a rabbit hole, you know? You start out with one thing and then you end up with the whole collection — the collection meaning the air, the sound the foot is making while the mouth is singing. Trying to tell whole stories is kind of like my thing, sonically.
"This Week" ft. Geng
That poem's in my book, Fetish Bones. I wrote it thinking about how young people disappear, from a perspective of a teacher seeing this young kid at school every day, and watching what happens around the kid. That story rings true with a lot of stuff that's happening in Chicago, all over the world, where there are certain neighborhoods you have to run through. We find out about some horrific video on the news, and how so many young people have disappeared. It happens all the time, and I wanted to speak about it. When I say, "They said that you were superhuman," it's that whole idea of "superpredators" and what it does to the communities that we live in. I definitely want to focus on real life.

I also wanted to work with Geng. We had been talking and he came to one of my shows in New York and we had a really good conversation. I really recorded it in just one take and sent it over, because we were on this deadline, and when he sent it back, I was like, "Ah, that's exactly what I was hoping that you would do with it!" He took care. And that was really the main thing, because the words are the most important. That was awesome.
Earthquake Hymn
There was a sample that I was absolutely in love with, and then when I played it backwards, I couldn't get enough of it. It's a gospel sample — it was just something that I listened to on loop, and then I had to have it a part of [the track] because it was speaking to me, melody-wise. I feel like it's part of the key to the album, also forcing the ear places as well. There's this quote where a comedian or someone says, "You're slipping the truth once you have them laughing." It's that kind of theory — I'm slipping them the liberation technology into the droney beats.

I usually think it's like my Scorpio nature to want to keep things to myself. It's such a beautiful sample that if I didn't play it backwards, it would have been much better, but I also want to have a sort of protection. I saw what happened recently with the [gospel singer] Shirley Caesar sample — some Christmas special, where she's talking about all the food she's going to make — [it] went viral, and they made a club version of it. Well, while that's fun, part of me wants to be like, that's not how we do things. Scorpios are very private. I mean, while everything is built to spill your guts and everything that you like and dislike on the internet, I believe that some things are sacred, and they need to be handled with some care. I feel like that's a foreign thing now.
Day Rules
That one was basically me in my studio, fooling around and recording sounds. I really just made that poem up right there. It was more of an improv poem. Once I said those first words, "Rules for survival", it kind of just all flowed. I guess you can tell a little bit that I'm speaking about resistance — speaking, versus writing lyrics.

I have a community here in Philly called the Community Futures Lab, and we do some events that's offline, where we really get a chance to talk without some fear of someone recording you, or someone going to tell someone else about things that you're thinking about, and really preparing for the future. A lot of ideas just come from that, and come from my belief that they're actively erasing our memories, by destroying our historic neighborhoods, by removing people from homes, by letting continual domestic violence and sexual assault continue to happen on women. That's the one where I'm like "hack your memory," right? Just take the agency back. Of who you are, where you've been, and where you're going in the future. It's some of my natural feelings. Yeah, it's more me poetically raw, that track.
4 Oakland
So my friend Mike D from Oakland had booked shows for me out there. Last time I was there I was on tour with Screaming Females, and I stayed in his roommate's room. His roommate was out of town or doing another show somewhere — it was before the fire. [After it happened] I had this feeling, in the room that I stayed in, that the young man passed. And when I had a chance to talk to Mike, it turned out it was true. It weighed on my heart so much, because I could have been at that venue. It's not just about me — the sonic movement that's happening in Oakland is at that venue. And I consider myself a part of that sonic world even though I'm based in Philadelphia, the way I've been embraced by the Oakland community. It hit me very hard.

It's about groups of people that are dedicated to showing the DIY artists, these spaces that so many of us have to go — black women doing electronic music. You can go other places, and they can be fucking shitbags, and the sound can be shit, people can be shit, but in Oakland it's very special. It's not like anywhere else. What's happening musically in Oakland is something special, and it's a part of the liberation technology to bring the world to a certain type of balance. It's a little bit more important.

What I was going for [was the sound of radio], but not like radio here, where you have one oldies station, one rock station, one Top 40 station — not like that, but like a station through time, as if these radio stations were decades and decades apart, and not just regional. I didn't even have [the track] listed at first; I was like, whatever, it's going on there. The sonic energy of it needed to be there.
A Way Out
This one is kind of built off this session of when I did "Day Rules." This was me in the studio just fooling around with stuff, without a plan, saying that I gotta make something. This one and "Day Rules" are made with the energy of no plan, just jamming out.

I never take anything out, never let anything go to waste. I record something, then I just keep it and record another thing. It's very multi-layered. Then I'll be like, OK, this doesn't work, I need another [sound], then another, then another. I feel like I did everything for some reason, so maybe the track also needed that. With synthesizers, you can't go wrong. Why keep starting over when you can just keep layering? I don't know any other way. I've only ever been to two of my friends' studios to see how things work. And one of those friends is the one who made the next track, and the other person is King Britt, who's super talented. I was just trying to be cool in his studio.
"29th" ft. 700 Bliss
Me and DJ Haram have a project called 700 Bliss. I knew her before she was a DJ, just as a person who was running shows in West Philly. She came to one of my sci-fi events that I do in the city, so it's definitely cool to come up from the beginning with them. The project's been a long time coming, we've been working on it for a while so I'm glad it's finally going to come out. But none of the songs were mixed or mastered yet for me to put on [The Motionless Present]. I had this sample that I just kept listening to from the church around the corner — I collect field sounds — and I played it for DJ Haram and was like, "send me something." She sent me a sample — I didn't know where this sample came from and didn't ask any background information on it — I just put it in Ableton and that's just how it came out. It's nothing like what our music sounds like.

Each project brings out a different part of me. With my stuff [as Moor Mother], it's based on memory and where I came from and the truth, and this whole collage of space and time. But with the 700 Bliss stuff, I have an attitude, the club music brings out that attitude — this is my truth, however I'm going to say it. This [track] is no indication of how 700 Bliss sounds.
"A lot of ideas come from my belief that they're actively erasing our memories, by destroying our historic neighborhoods, by removing people from homes, by letting continual domestic violence and sexual assault continue to happen on women."
"Remember" ft. Mental Jewelry
Mental Jewelry is a producer [who] went to school for jazz [and] used to play guitar in a band called Dragon King. Another person I met at one of my shows, and we have mutual friends, and I really like their production. We'd met up to work on a track for Fetish Bones actually, but I felt like I needed a singer to help me out. It was actually a very isolating experience, trying to get collaborators to help me out with that. We would get together and just talk, and he would tell me about all these electronic musicians I'd never heard of that now I'm either meeting or sharing bills with.

This is basically how the Moor Jewelry project really sounds — influenced by classical music, and Tricky and heavy dub and dancehall. It's definitely fun, and I love it because it sounds totally different from the stuff I've done with DJ Haram. 700 Bliss is on some American club feel, but Moor Jewelry is definitely on some red-light, London type vibe.
"Big Crime" ft. Mental Jewelry
I'm saying, "I run with a two-time golden gun, with the skull of my son in my hand" — a very medieval thing, but also in a superhero, Afrofuturist way. The idea that we never won this war, but somehow we've kept peace of mind. It's just the remarkable nature of so-called African-American people in the United States, how we're still at the grips of all of these social constructs, but we still continue to produce, we still continue to love, we still continue; it's just the beautiful nature of it.

And I was thinking of my collective Black Quantum Futurism. I say the line in the song, "Fight time as a state of mind." We're definitely trying to smash the linear time construct, so people can have the freedom to just continue, and understand that it's not towards a chaotic end, it's actually towards our ancestors. That's why that song is kind of like a chant over and over again.

What we say in Black Quantum Futurism, it's actually practical. It's stuff you're able to use in your communities, all over the world. It feels very real, and we're removing the fantasy, because there's enough fantasy, and people's day-to-day lives are this horrific sci-fi shit, you know? It's like, it doesn't need Steven Spielberg or some fucking director to make that any more impactful than what it is.
"Time Distortion" ft. Black Quantum Futurism
I'm in a collective with my partner Rasheedah called Black Quantum Futurism. We travel and perform music, and we also do workshops. One of our zines was dedicated to charting the stars around the time that Sandra Bland was murdered. We were thinking about temporalities. I stayed listening to that dash cam recording for months before I even did anything to it. What I like to do is really try to get all of the angles — like I said, we were mapping out the stars, trying to get every angle that we possibly can, because we believe that each sound is its own event. So that's really where that piece came from, us really diving into this event.

This [track] had been put out a year ago, and a DJ had put it in their mix, so it did get play, but I did think it needed to be put out in a certain way, as a part of not having our memory erased. Because they can flip and turn this narrative so many times, so rather than it be told by this documentary or a 20/20 episode, or whoever is going to take control of this story, we felt it right to be told through the lens of Black Quantum Futurism, and that's why I felt it was important to have. It is a very hard thing to listen to, but it's real. That's why you listen to it, because it's fucking real.
The Motionless Present is out now on limited edition vinyl via The Vinyl Factory. Buy it here.