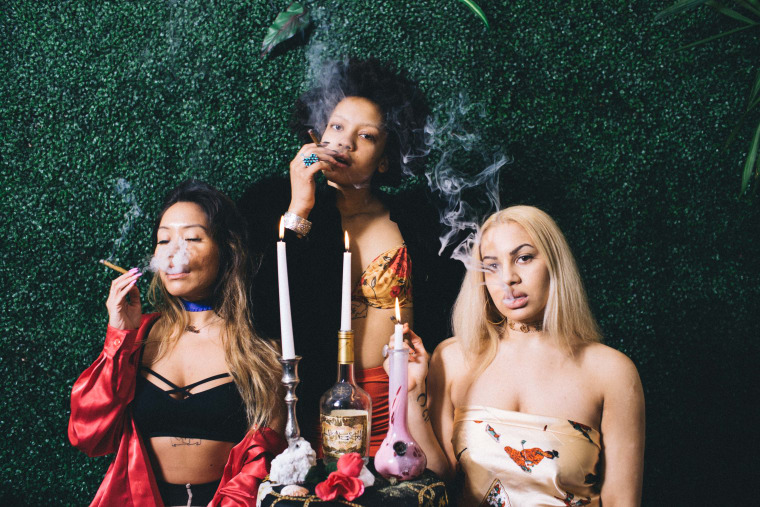 When the state of Washington legalized recreational marijuana in 2012, it created a new business frontier — but in a rapidly gentrifying city like Seattle, the legal weed industry quickly found itself as a white and male dominated arena, and in some cases, created tension in communities of color. In response, Amanya Maloba and Janice Ibarra created Women.Weed.Wifi, an art collective for "badass chicks who pursue their dreams, are committed to building strong communities, and share the same love of cannabis" that's gained a lot of traction in the last two years.
The collective quickly grew into selling merchandise and zines, operating a blog and YouTube channel, and hosting large scale events like the "Black Market," where vendors of color can sell their art, spiritual services, and merchandise and keep 100% of the profits. After Ibarra and Maloba made the collective official, another young local Vanity Thomas joined them in 2016. The trio bonded over their shared experiences as artists of color in the cannabis industry.
"Women.Weed.Wifi was this organic thing that came together from all the conversations our friends were already having," Maloba said. "We were all pretty much in the weed industry, working in fashion or retail in some way, and into the same music. So we wondered, 'How can we present all of these elements together?'"
While the collective is focused on shaping Seattle's legal weed culture, it's also become a center for spirituality, the local music scene, and the arts for smokers and non-smokers alike. The FADER caught up Maloba, Ibarra, and Thomas to learn about sisterhood, the industry dynamic that sparked them to organize, and their vision for the city.
Amanya Maloba: Janice and I founded the collective in 2015, after the recreational marijuana industry had been legalized in Seattle. Everything was all new. The recreational store I was working at is located in the Central District, which is a historically black community — and [vendors] are definitely capitalizing on that. The same dudes that would chill around the corners and shit have been locked up and are still dealing with those repercussions from when it was illegal. And now, there's these businesses selling there, making crazy amounts of money. Millions of dollars. The cannabis industry is definitely white, male dominated, and made up of young people who come from wealth. Even when people of color are in the industry as budtenders, there's still the exploitation of black and youth culture for sales or business image. We're being underpaid, and being viewed as more threatening and therefore disposable than white employees. Janice and I have experienced this personally, and have many friends who are budtenders of color in Washington and Oregon who have all experienced this. In a way, this winds up as a force against us, and think it's important that we, as women of color, control the culture.
We don't have an image that we're trying to uphold because we're creating it. We're in charge of it, so we can change what we do at any point. I think that's part of why people fuck with us. It's because we talk about all kinds of stuff. Women.Weed.Wifi isn't just about cannabis, or just music; we're about spirituality, yoga, creative expression. Our community extends beyond the three of us, and I think that's been the best part.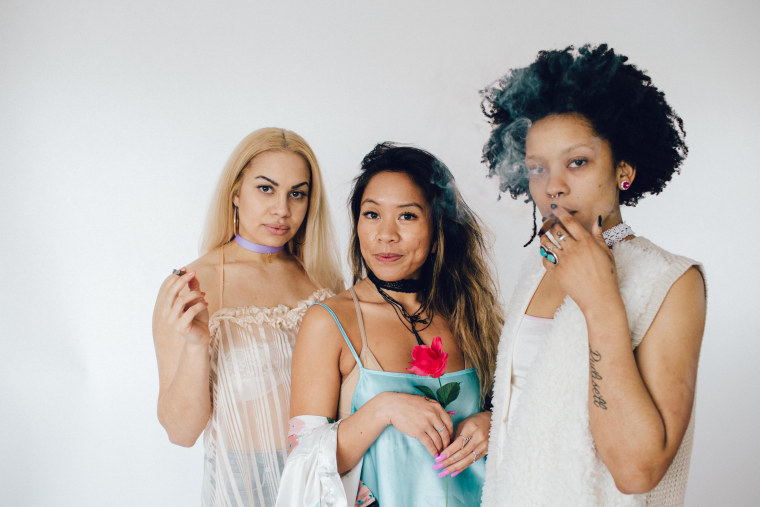 "We don't have an image that we're trying to uphold because we're creating it. We're in charge of it, so we can change what we do at any point."
Janice Ibarra: I think one of the main messages of the collective is that no one is self-made — we all exist because of our relationships. And Amanya and I vibed off of the spiritual aspect of marijuana, and it brought us together. We would smoke copious amounts of blunts and share stories with one another, sparking up ideas. The blunt was like a spell that got us entranced, and we connected through interlocking stories about failure, growth, and abuse. We wanted to find a way to feed this knowledge to others, or have it become a chain reaction. When we met, we connected over having multiple hustles. We were like, Fuck the idea of loyalty to these corporations and organizations. We should build a community of people we love, who love us back. We're free agents.
To a degree, we are filling a void in dark places. This is our community. We've been rooted here. Ancestral empowerment is very important to us, as is feminism. To this day, there's still a lack of spaces that allow women to be bold, you know? We hope that our courage inspires people. That's the movement we need, that vivid demonstration. Doing what the fuck we want to do. Living from the heart and from a place of integrity. When you live from a place of honesty and then you meet other women who are honest as well, you can only go in the direction of healing.
We're just each other's plug, we rep each other to the fullest. We're expanding into new arenas, and challenging ourselves. Our latest zine, which is called "Once Upon A Lit Time," was titled after this analogy we have of how our friendship is like a blue flame. Each of us have a bright quality and when we revolve around each other, it just grows bigger.
Vanity Thomas: I first started working in the weed industry four and a half years ago, and I hadn't told my family what I was doing for a solid three of those years. I met Janice and Amanya at the very first zine release, after I was approached by a mutual friend to contribute to the zine. After meeting them and learning what the collective was doing, I came to them with an outline and a proposal, and told them I really believed in the cause. Writing and organizing within this collective brought me this feeling and energy of family, and it was very uplifting. We all have things in our life that we have to hide, and this space is a positive space to be who you are. It's about being your true self. I was going through a lot personally, and it was a really crucial time to have that positive energy in my life. I wanted to focus on my goals as a business woman, so I went full force with it. Women.Weed.Wifi was a judgment free space that empowered women, and I found that to be really valuable.
The thing about legal weed in Washington is that all of this is very new. What we're doing is paving the way in how the culture is looked at, which is a huge responsibility. We've been so blessed with positive energy through social media, and people coming to our events — I've been blown away by how many people attend. I think it's because they're craving that sense of community. We've done a lot of fundraising for Native relief, where we set up donation buckets and stations, and that's been really successful. It touches my heart because my mother is Native, and I went to Standing Rock myself last year. The fact that everyone in Seattle has opened their hearts and resources to help the cause has been amazing and breathtaking. I really do think we can really pave the way in culture, find our niche, and persevere.