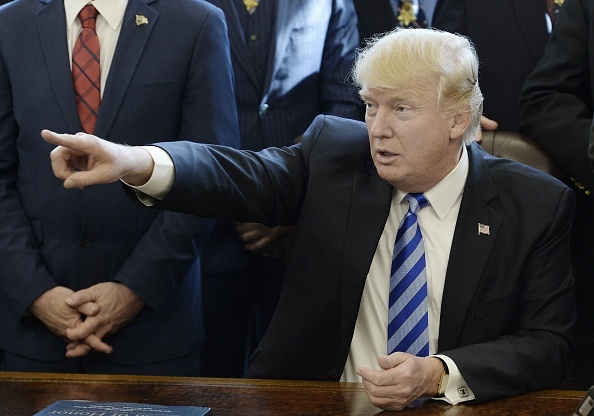 President Trump took to his personal twitter account Sunday morning, adding conservative Republicans to those he blames for his administrations failure to secure enough votes to repeal and replace the Affordable Care Act.
"Democrats are smiling in D.C. that the Freedom Caucus, with the help of Club For Growth and Heritage, have saved Planned Parenthood & Ocare!" he tweeted out, condemning Democrats and the two conservative organizations.
The President previously blamed Democrats for the bill's lack of votes despite the fact that the GOP controls the White House and Congress. "When you get no votes from the other side –– meaning Democrats –– it is really a difficult situation," Trump said to reporters in the Oval Office on Friday following the announcement that the bill would not have enough votes to pass.
Yesterday, March 25, Trump tweeted out for his followers to watch the Fox News show, Justice with Judge Jeanine, in which Judge Jeanine called for Speaker of the House Paul Ryan to step down from his position as majority leader. While the president did not explicitly ask for Ryan's resignation, the tweet caused confusion in nailing down his true feeling on who is to blame for the bill's failure.
With both Democrats and Republicans on his list, it's everyone but himself.