This Compilation Celebrates The Love And Longing Of Mexican Cumbia
¡Un Saludo! Mexican Soundsystem Cumbia In LA is due out April 14 via Dutty Artz and Songs From Home.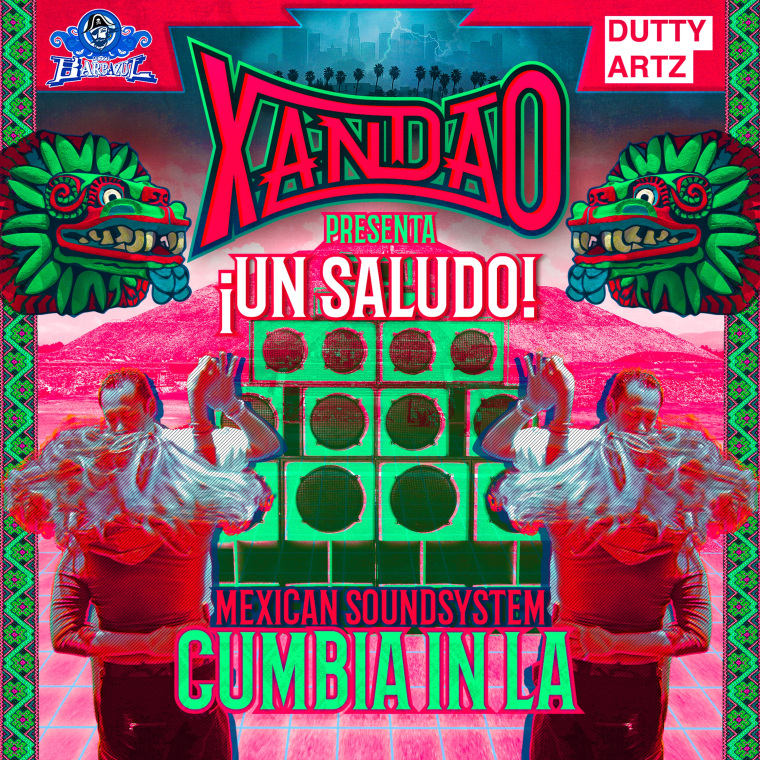 New York label Dutty Artz has teemed up with Songs From Home, a new imprint from the team behind Sahel Sounds, to release a compilation titled ¡Un Saludo! Mexican Soundsystem Cumbia In LA. Curated by DJ and anthropologist Alexandra Lippman, who goes by Xandão, the record serves as a tantalizing toe-dip into the vast back catalog of L.A. label Discos Barba Azul, which put out nearly 150 albums by Mexican cumbia artists between 2006 and 2013.
Today The FADER is premiering one of the tracks from the compilation: "Karaway," a creaky synth jam that speaks to the joints by Mexico's Grupo Ju-Juy, a family band featuring three brothers.
Ahead of the release party in L.A. on April 5, the various people involved in helping give birth to the compilation told The FADER about the roles they played.
The curator
Xandão a.k.a Alexandra Lippman: "The album is about how music defies borders and how people connect with each other using sound technology. I became fascinated by how saludos — dedications and shout-outs spoken by sonidero DJs — connect families separated by borders. Fans speak to absent loved ones through the DJ's voice and then send recordings of the show to their family. Cumbia sonidera — densely layered and personalized with saludos — creates an auditory archive of feelings of longing, love, and homesickness.
A couple years ago, Jace Clayton — who Nguzunguzu had brought to the shop and label Discos Barba Azul in DTLA — connected me to its owner Vicente Pedraza and told me about his dream idea of a collaborative compilation documenting how Discos Barba Azul became a gateway connecting cumbia sonidera artists mostly in Mexico with U.S.-based fans by recording, promoting, and circulating their music here.
Although I didn't know it at the time, I first heard Discos Barba Azul's releases in 2008, at Wildness, Total Freedom and Nguzunguzu's short-lived queer party at the Silver Platter in Westlake, a heavily Latino neighborhood. I heard a cover of Art of Noise's "Moments in Love," all screwed vocals, melancholic keyboards to the beat of a guacharaca and had to ask what I was hearing. [Nguzunguzu's] Asma told me this cover was by Los Daddy's de Chinantla. I found out later that Los Daddy's — along with other cumbia they played — was released by Discos Barba Azul."
The cumbia distributor
Vicente Pedraza, founder and owner of Discos Barba Azul: "When I had the store on Broadway that's when I started learning about the cumbia artists. I didn't know that much about sonidera. In '98 a guy brought me tapes, VHS of people dancing at concerts in Mexico. Then I started bringing music directly from Mexico. There was a person, I used to call him and say, 'I need some DVDs, some CDs,' and he would send them to me or bring them from Mexico. That's where I learned. The customers would teach me. I knew Colombian cumbia, but not sonidera. After meeting everyone through selling the music, I started to produce albums myself for Discos Barba Azul.
The first band [I put out] was Vakumbia in 2006. I called Vakumbia to ask if I could release their next album because I liked their music. But they didn't believe me, so I had a friend who was traveling to Mexico to near where they live to tell them. And I bought them seven band uniforms, pants and everything, custom-made from here in L.A., so they could believe me. And then they said, 'OK, now we believe you,' and they sent me the CD.
I used to send money to [the bands] to start recording, and they used to send the masters to me by UPS. I didn't know that much about email yet. And when they would come here on tour, they would bring the master with them directly from Mexico. When I started, I would go to radio stations and concerts to ask the DJs to play the songs I was releasing. They would ask me why I wasn't a DJ since I had everything. I didn't have time."
The label
Jace Clayton, Dutty Artz: "I love all kinds of cumbia but the current wave of Mexican cumbias are closest to my heart. They're what's bumping in L.A. and N.Y.C., and they still haven't gotten a lot of English-language media attention. So it's incredibly satisfying to have helped connect the dots to make this compilation of border-crossing dancefloor cumbias happen. Grupo Ju-Juy is known for their weird synthesizer sounds, and this tune is a great, weird cover of an Andean classic."

The artist
Rigo Huitzil Colex, singer and percussionist for Grupo Ju-Juy: "We didn't know what Ju-Juy meant when we were looking for a name for ourselves. We heard 'Ju-Juy' as a grito [cry], an expression. It sounded pretty, but we didn't know that it referred to a place in Argentina. With time, we learned that it was a province in Argentina. That's why we include the Argentinian flag along with the American and Mexican flags [in our logo]. None of us are from Argentina.
I've been a musician since I was a child, so I carry cumbia within me. 'Karaway' is a cover. I think it's Ecuadorian or Peruvian. Something like that. I'm not exactly sure. But what happened is that I heard it and then I renovated it. We play a lot of music from Peru and Ecuador because this music has pretty lyrics. And I do the arrangements in a Mexican style. [This mixture] is the sound of Grupo Ju-Juy."