FADER Mix: DJ Jigüe
A joyous celebration of Cuba's rich musical heritage from one of the island's finest DJs and producers.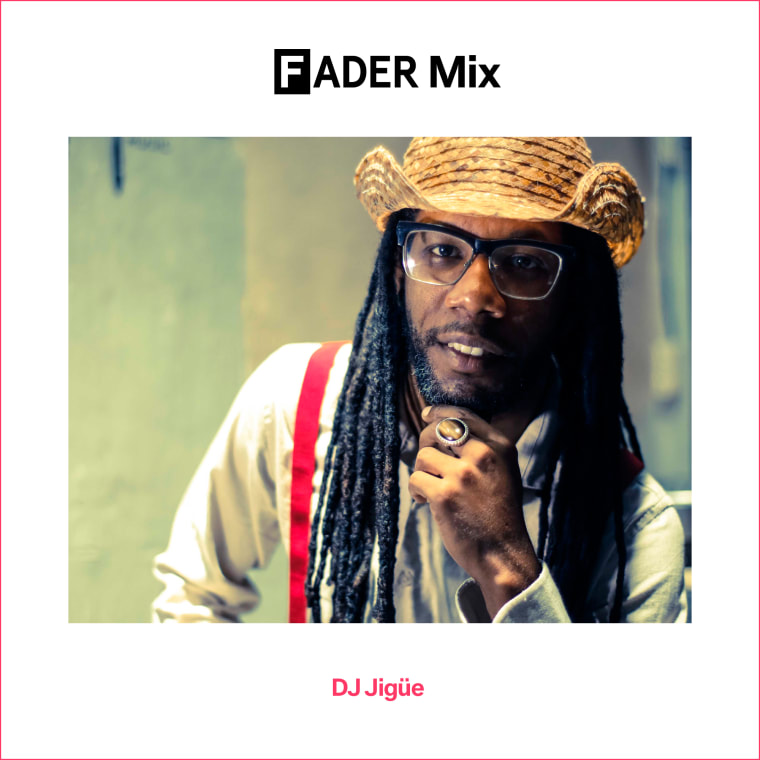 DJ Jigüe is a Cuban DJ and producer who got his start in music as part of the island's hip-hop scene in the '90s. Initially a rapper, he transitioned to production in search of more beats for himself. Over the past two decades, Jigüe has carved out a space in electronic experimentation, spinning new sonic tales with the riches of Cuba's musical heritage. In his hands, this week's FADER Mix draws the rhythms of Afro-Cuban music, rumba, house, and more into a joyous whole. The countdown to summer starts here.
Where are you right now? Describe your environment.
I live in Havana, the most cosmopolitan city in Cuba. I'm exactly in Central Havana, the most moving and mixed neighborhood of all of Cuba, where the music, folklore, and identities of many people who come from other provinces to the capital [mix]. (Just like me, I'm from Santiago de Cuba, the eastern most part of the country.)
Tell us a little about this mix — what do you imagine people doing while listening to it?
This mix is ​​a sample of the spirit that accompanies my musical creation, a summary of my musical influences: Afro-Cuban music, traditional "son" music, rumba, hip-hop, and electronic music. I think it reflects my maturity as an artist and creator. I imagine that people dance and travel to many places known and unknown when listening to my music.
What is your first musical memory?
My first musical memory is a Russian record player playing vinyl records of Cuban music from the '70s and '80s. Also my grandmother singing songs from the old Cuban trova.
How did you get into making music?
I always wanted to be a musician. Making music was a mixture of passion with need; I was part of the Cuban hip-hop movement of the '90s and needed to make my own beats to rap on, so I began my career as a music producer.
You described your track "Sigue Los Pasos" as "Afro-Cuban house" — what does that sound mean to you, and why did you want to make it?
The sound of "Afro-Cuban house" means a new sound of modern Cuban music, the language of a new generation. The creation of this style was not forced, it is part of my own development as a musician.
How has your daily life been affected by the new American-Cuban relationship?
Until today it's been only positive. It was a door that opened new musical worlds and necessary exchange for any musician, experiences that will be unforgettable; [it's] an opportunity to show my art to the world.
What projects do you have in 2017?
I have many projects planned for 2017, continuing to develop the Guampara Music production house, of which I am a founder, to reaffirm that Cuban music continues to evolve and generate new rhythms and genres, like what we are doing today.
What is the last book you read that had a big impact on you?
Creating and listening to music surpasses all other passions, that's why I do not have much time to read, but I remember with much pleasure reading The Souls of Black Folk by W. E. B. Du Bois. It definitely marked me by the way in which it reflects the life of the African American population with similarities to the history of my ancestors in Cuba.
What is your favorite dish to cook and how do you make it?
Hahaha chicken! And I make it very simple but I add pineapple to give it a different flavor.
Tracklist
0:00-Libre
4:16-Toma!!!
6:56-Ponte de pie
13:15-Nostalgia Cubana(Remix)
15:36-Ingravito
21:30-Dengele (Makuta club)
26:00-Vamos a gozar
31;00-Batería Perfecta
36:30-Sigue los Pasos
40:00-Kudutrando
43:25-Andule
46:56-Galaxia Tropical
50:00-La Colina
53:00-Rive