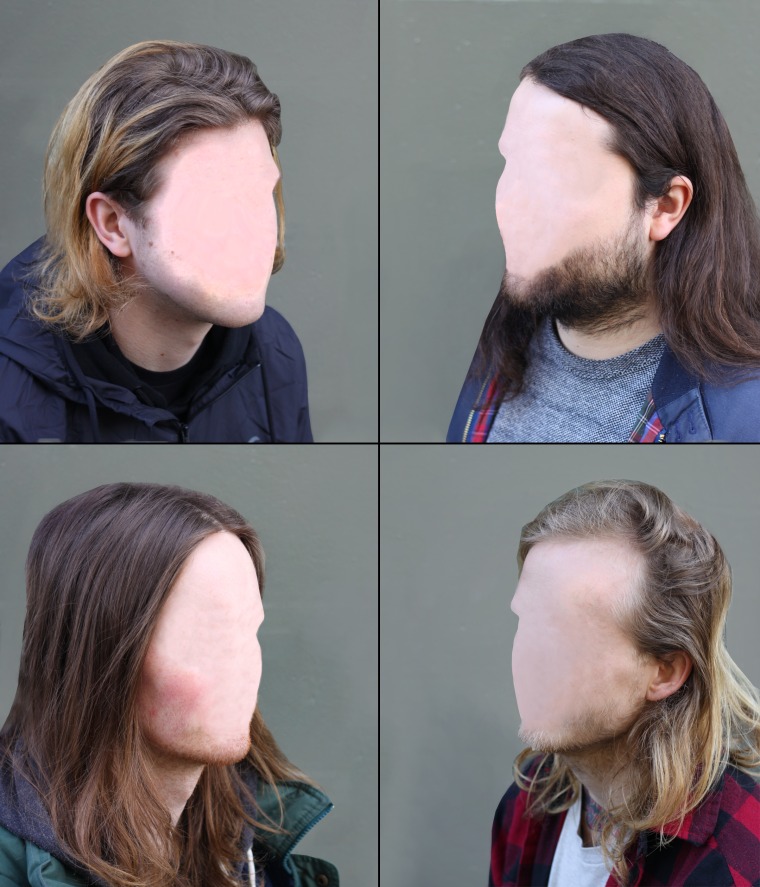 "Body," the new song from Vancouver's Blessed, is worth your time. It's an extended, punky jam, clocking in at just over seven minutes, and making each feel fresh and exciting. The first half of the track is dominated by the high-fructose riffing pioneered by Deerhoof, giving way to a darker, propulsive jam that's just as chaotic, yet well-controlled.
"This song was my favorite to compose on the EP," the band's Drew Riekman told The FADER over email. "The band as a whole had a lot of ideas that kept feeding into it, and turned it into such a long song. We're all fans of electronic music, and had been looking for ways to incorporate it into what we've been doing almost since the inception of the band. We bought some keyboards and a drum machine and just started fooling around. We had toyed with the idea of a droning, stretched out piece of almost unflinching music, akin to Neu. When we started fooling around with our new instruments, we created the piece in the middle of this song. It's become my favourite song to play live."
Blessed's new EP II is out April 28 via Kingfisher Bluez / Cointoss Records. Listen to "Body" below, followed by dates for the band's lengthy North American tour.
Blessed tour dates

May 5th - Mission, British Columbia @ Captains Cabin W/ Loans, Western Jaguar, Jenny Banai
May 6th - Vancouver, British Columbia @ 333 W/ Mi'ens, jo passed, Dead Soft
May 10th - Seattle, Washington
May 11th - Portland, Oregon @ High Water Mark Lounge W/ U SCO, Hang The Old Year
May 12th - Oakland, California - The Night Light
May 16th - Fullerton, California @ Republic
May 17th - San Diego, California @ Che Café Collective
May 18th - Long Beach, California @ The Prospector
May 19th - Los Angeles, California @ The Smell
May 20th - Tuscon, Arizona @ The Flycatcher
May 21st - Phoenix, Arizona @ The Lunchbox
May 23rd - Albuquerque, New Mexico @ The Fly Honey Warehouse
May 24th - El Paso, Texas @ Boomtown
May 25th - San Antonio, Texas
May 26th - Austin, Texas @ Beerland
May 27th - Denton, Texas @ Lions Den
May 28th - Houston, Texas
May 30th - New Orleans, Louisiana @ Poor Boys
May 31st - Little Rock, Arkansas
June 1st - Fayetteville, Arkansas @ Backspace
June 3rd - Nashville, Tennessee
June 4th - Birmingham, Alabama @ The Nick Rocks
June 6th - Atlanta, Georgia @ 529
June 7th - Durham, North Carolina @ The Cave
June 8th - Raleigh, North Carolina @ Slim's Distillery
June 9th - Richmond, Virginia @ 25 Watt
June 10th - Washington, DC
June 11th - Baltimore, Maryland
June 13th -Philadelphia, Pennsylvania @ Kung Fu Necktie
June 14th - Newark, New Jersey
June 15th - New York, New York
June 16th - Boston, Mass. @ O'Briens
June 17th - Montreal, Quebec @ Turbo Haüs
June 20th - Ottawa, Ontario @ Pressed w/ Dead Soft
June 21st - Windsor, Ontario @ Phog Lounge w/ Baby Labour
June 22nd - Guelph, Ontario w/ Baby Labour
June 23rd - Toronto, Ontario @ Smiling Buddha Cabaret w/ Baby Labour
June 24th - Pittsburgh, Pennsylvania
June 25th - Akron, Ohio
June 26th - Cleveland, Ohio @ Now That's Class
June 27th - Detroit, Michigan
June 28th - Kalamazoo, Michigan @ Headquarters
June 29th - Bloomington, Indiana
June 30th - Champaign, Illinois
July 1st - Chicago, Illinois
July 2nd - Milwaukee, Wisconsin @ HIGH DIVE MKE
July 4th - Madison, Wisconsin @ The Wisco
July 5th - Minneapolis, Minnesota
July 7th - Winnipeg, Manitoba @ The Handsome Daughter
July 8th - Saskatoon, Saskatchewan @ Vangelis Tavern
July 9th - Edmonton, Alberta @ The Buckingham w/ Gary Debussy
July 12th - Lethbridge, Alberta
July 13th - Calgary, Alberta @ The Palomino Smokehouse and Social Club
July 15th - Victoria, British Columbia @ Logan's Pub