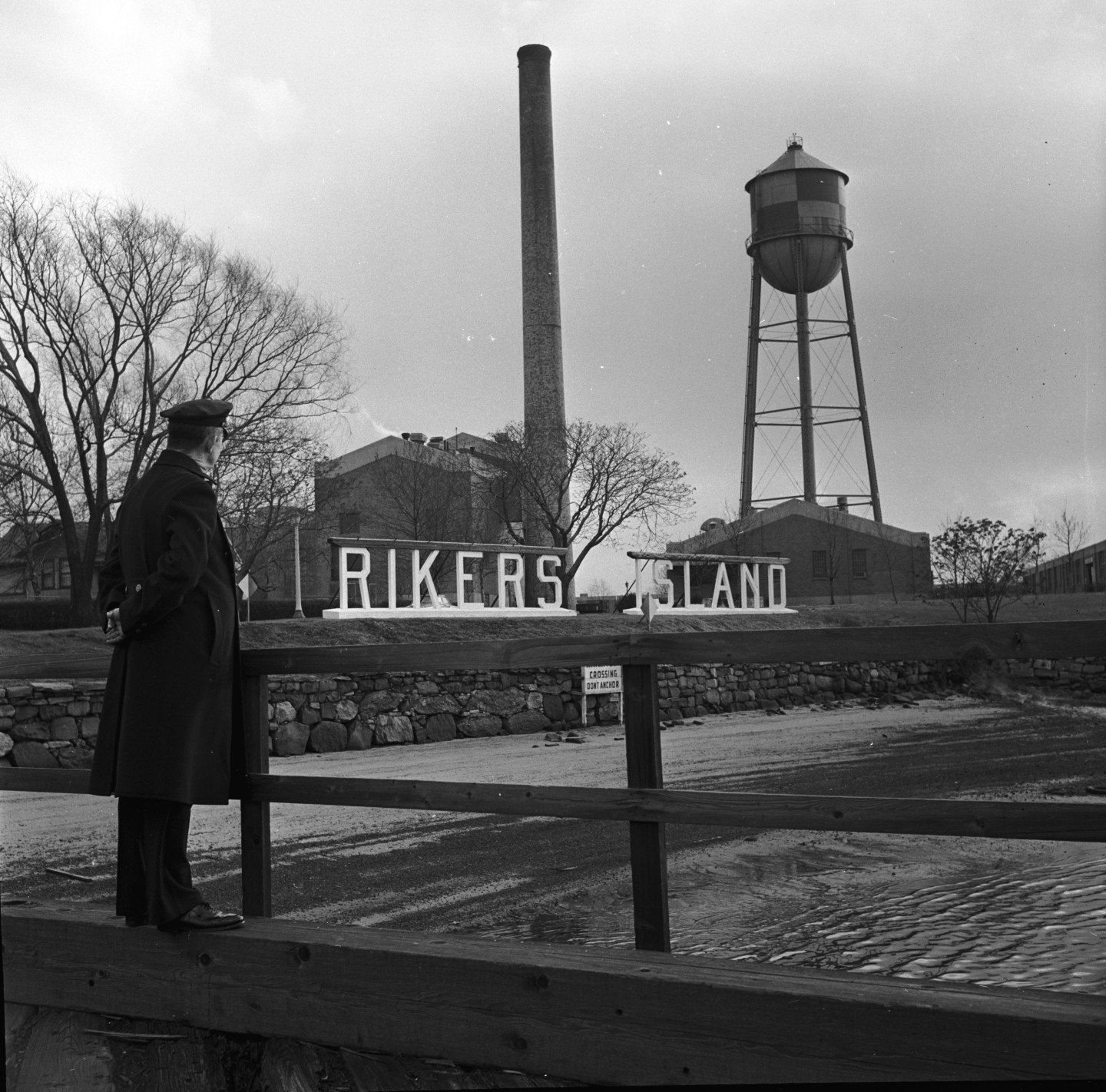 Prisons, as a rule, don't become famous for good reasons. The more you've heard the name of a prison facility, the more likely it is that terrible things have happened there. And Rikers Island — a 400 acre landmass plopped in the East River between the Bronx and Queens and built in part out of garbage and ashes and street dirt — is arguably the most famous prison in America.
On March 31, New York Mayor Bill De Blasio announced plans to shut down Rikers. Mitigating information immediately surfaced. According to the recent findings of an independent criminal justice commission led by Jonathan Lippman, the former chief judge of New York, the shutdown would take a decade, and cost upwards of $10 billion. It would involve the building of new, smaller prison facilities in individual boroughs, a plan guaranteed to unleash fierce NIMBY backlash. It would require the halving of Rikers current prison population, which currently hovers at around 10,000 people.
In other words: the task is gargantuan, and may well never be accomplished. What's more: De Blasio has not officially declared that the city would follow the Lippman Commission's proposed blueprint. His announcement to shut down Rikers came impromptuly, surprisingly and, to date, with no corresponding action plan.
For now, then, advocates advise caution. Glenn E. Martin, the president of prison reform organization JustLeadershipUSA, was one of many voices pushing for the shuttering of Rikers. He's happy that the movement has "achieved the milestone of shifting the official policy on Rikers" and that "we have something to hold the mayor accountable to." But, he makes sure to add, "that is all I am optimistic about."
Without a doubt, the fight to close Rikers has just begun. But the fact that the closing of Rikers is being attempted — the fact that a prison this famous can be targeted — that, on some level, is stunning.
Because Rikers is not just famous for its sins. It's a Hollywood prison. It's been featured and namechecked in movies, documentaries and, most famously, countless episodes of Law & Order. Stop a stranger on the street and ask them to name a prison. You'll hear "Alcatraz." You'll hear "Attica." You'll hear "Rikers." It is in a way, for lack of a better word, iconic.
Most recently, Rikers was a primary setting on HBO's limited series The Night Of, in which a young Queens man named Naz is arrested for a murder he did not commit. In his time at Rikers, Naz becomes wounded and hardened and transformed. He's nearly killed by a fellow inmate; he becomes drug-addled.
Seeing it all happen over the span of a few episodes was unrealistic, almost comically so. But the show was striving to show us the persistent damage that can be caused by spending even a small amount of time at Rikers. And all of this was happening to Naz as he was being held pre-trial. Which was a good reminder of a startling fact, often overlooked: pretrial detainees make up 85% of Rikers inmates population. The vast majority of the island's population are people that have not been found guilty of anything.
The movement to shut down Rikers bloomed rapidly over the last few years. It's been informed by dogged reporting that has uncovered extreme physical abuse of inmates, and pushed forth by a 2014 Department Of Justice lawsuit. The DOJ accused the prison of harboring a "deep-seated culture of violence:" according to their research, use of force from staff, as well as unchecked inmate fights, have led regularly to "broken jaws, broken orbital bones, broken noses, [and] long bone fractures."
Above all, though, the "shut down Rikers" movement has been accelerated by the tragedy of Kalief Browder, a teenager who spent three years at the prison, including 17 months in solitary confinement, for a crime he did not commit.
When Jennifer Gonnerman first reported his story for The New Yorker in October of 2014, Browder had been freed, and had returned to his mother's home in the Bronx. He had survived several suicide attempts at that point, and was wearily pushing forward with his education. In June of 2015, he pulled out his bedroom's air-conditioning unit and hung himself out of his window. He was 22. A month after his death, the New York Times published an op-ed titled "Shut Down Rikers Island."
"Kalief Browder's story helps to humanize an issue that for too long has been about dollars and cents and jobs for correction officers," said Martin, of JustLeadershipUSA. "The harm caused at Rikers ... Kalief's story forced people to recognize that these are our brothers and sisters and mothers and fathers."
As a younger man, Martin himself was twice briefly incarcerated at Rikers (1986, shoplifting; 1994, armed robbery). "To see that the human carnage that emanated through that place thirty years ago continues to be produced …" he said, before trailing off. "We can't close that facility soon enough. Every single day people continue to be harmed by Rikers Island. Ten years suddenly becomes a lifetime."
I don't know exactly when I first came across the name "Rikers Island." But I know it wasn't on a newscast, or in a newspaper. I know it was on Law & Order. Like many hardcore fans of the show, I used to devour episodes, watching criminals be caught and dutifully convicted, with great alacrity, over and over again.
On the show, grumpily avuncular actors like Jerry Orbach and Sam Waterston played cops and lawyers that were razor sharp and never wrong. They were my pals; perhaps unwittingly, I was letting them drill into me the idea that New York's system was fundamentally righteous. The L&O sound — dun-dun — came to mean, Pavlov-ingly, that justice was right around the corner.
We never actually saw Rikers on Law & Order: we saw sets of interrogation rooms, where no etiquette was ever breached. The Night Of at least showed us fictionalized cells, fictionalized grime, fictionalized violence. But it was Browder's tragedy that showed me, and so, so many others, the true hell of Rikers.
There are critics of the prison system that feel that the shutting down of Rikers does not go nearly far enough. The Incarcerated Workers Organizing Committee, or IWOC, is a sub-organization within Industrial Workers of the World, a famed labor union. IWOC does not push for prison reform, but for prison elimination.
"We need structural changes that move us towards the total abolition of this violent, racist system," says IWOC spokesperson Cole Dorsey, who himself was formerly incarcerated in Michigan. "The closing of Rikers is designed to calm the public outrage that followed Kalief Browder's death without a real commitment to the structural changes needed to prevent more tragedies."
Dorsey is particularly critical of the part of the Lippmann Commission's proposed plan that calls for the building of new borough jails. "New York is learning that prison construction is a method to keep surplus money in motion. The announcement is serving ideological demands, containing reformists, lending an appearance of being reasonable, competent and caring — while at the same time being an infrastructural spending project."
As prison abolitionists, Dorsey and the IWOC's point of view resides outside of the mainstream of the conversation. But they are not alone in their critique of De Blasio's announcement.
It came just days before the Lippman Commision was scheduled to unveil their findings. Some believe De Blasio was scrambling to get ahead of the commission because he didn't want to be one of the last progressive New York politicians still supporting Rikers. As Queens councilman Rory Lancman told the New York Times, "He big-footed the Lippman announcement and got on board the train before he was about to be under it."
That's the kind of pervasive politicization that breeds cynicism. In general, it makes us ask: can we really trust those who hold themselves up as reformers? Specifically, in New York, it makes us wonder: will Rikers actually be closed?
Martin, of JustLeadershipUSA, has been fiercely critical , too, and also skeptical of what comes next. He is fully aware that the March 31 announcement from Mayor De Blasio will not serve in any way to improve conditions for people incarcerated on that island right now. And he's not intending in any way to stop pushing. When dealing with elected officials, Martin explained — "people who have no taste for risk" — he can't afford to be "Pollyannaish." "None of this means anything if the mayor doesn't spend his political capital to move the process forward."

But, cautiously, he does see hope in the news. Because at the very least, the prison reform movement has conceptualized, and is now pushing forth, on something as grand as shutting down Rikers Island.
"One of the biggest barriers to ending mass incarceration is lack of imagination," Martin said. "The commitment to close Rikers allows people to come up with solutions to match the scope of the problem. I think it's an opportunity to inspire people all across the country to think bigger. If you really want to resist President Trump, the key is — act locally, and act boldly."