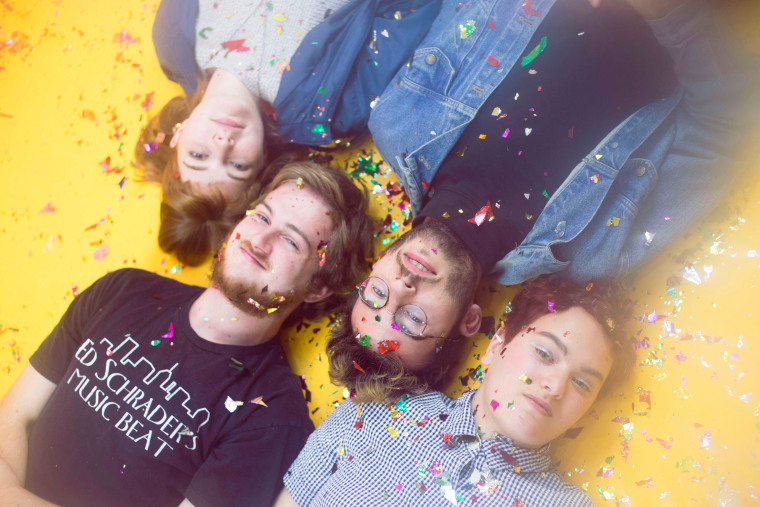 They say that you should probably love yourself before you can love someone else, but it doesn't always work out that way. "Tenderness," the new track from Purchase, New York-based band Adult Mom's sophomore record, Soft Spots, is about trying to figure out how to love the "right" way, if there even is one. It's a beautiful song that does its title justice, affectionately exploring the kinds of sensitive parts that are in all of us, one of the core themes of the new LP.
"'Tenderness' was an attempt at a love song, originally intended to portray happiness and care in a relationship," Adult Mom's lead singer Stephanie Knipe wrote to The FADER via email. "It evolved in a way to be much more about vulnerability and how to be in 'good' love with someone when trauma is what love has been based off of for so long. I feel the song acts as both this warning to a lover — like, This is going to be really hard for me, to accept your love — and also as an acceptance of why it's hard, and eventually how beautiful it all is."
Soft Spots is out May 19 on Tiny Engines. Listen to "Tenderness" below.
Tour Dates
4/20 Suny Purchase @ The Stood
- Supporting Kevin Devine 5/10-5/18
5/10 Hamden CT @ The Ballroom at The Outer Space
5/11 Providence RI @ Fete Music Hall
5/12 Asbury Park NJ @ House of Independents
5/13 Northampton MA @ Pearl Street
5/14 Amityville NY @ Amityville Music Hall
5/17 Bethlehem PA@ Blast Furnace Room
5/18 Ithaca NY @ The Haunt
5/20 Brooklyn, NY @ The SIlent Barn (record release)
- With Free Cake for Every Creature 5/31-7/3
5/31 Philadelphia, PA @ Everybody Hits
6/1 Richmond, VA @ Strange Matter
6/2 Chapel Hill, NC @ Local 506
6/3 Atlanta, Ga @ Casa Nova
6/4 Tallahassee, FL @ House
6/5 New Orleans, LA @ TBA
6/6 Houston, TX @ Water's
6/7 Austin, TX @ Shirley's Temple
6/8 Marfa, TX @ El Cosmico
6/9 Tucson, AZ @ PoMoRo
6/10 Phoenix, AZ @ Trunk Space
6/11 Pomona, CA @ VLHS
6/12 Los Angeles, CA @ Jr. High
6/13 San Francisco, CA @ Rickshaw Stop
6/14 Arcata, CA @ Outer Space
6/15 Portland, OR @ TBA
6/16 Olympia, OR @ New Moon Cafe
6/17 Tacoma, WA @ Real Arts
6/18 Seattle, WA @ Vera Project
6/19 Bellingham WA @ Make Shift
6/21 Missoula, MT @ ZACC (Zoo Arts Community Center)
6/22 Salt Lake City, UT @ Kilby Court
6/23 Denver, CO @ TBA
6/24 Omaha, NE @ Milk Run
6/25 Iowa City, IA @ Trumpet Blossom Cafe
6/26 Minneapolis, MN @ 7th St Entry
6/27 Madison, WI @ Williamson Magnetic
6/28 Chicago, IL @ Subterranean
6/29 Detroit, MI @ Trumbullplex
6/30 Columbus, OH @ Double Happiness
7/1 Pittsburgh, PA @ Roboto Project
7/2 Brooklyn, NY @ Knitting Factory
7/3 Boston, MA @ Once