FADER Mix: Infinite Machine
Exorcise your demons to this blistering set of noisy electronics from the Mexico City via Montreal label.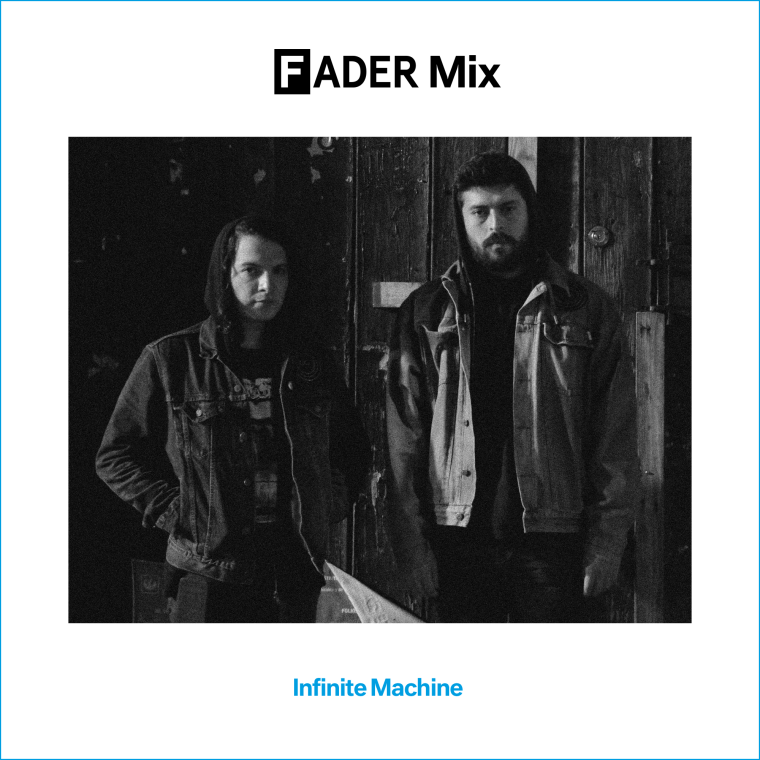 The bass tension and hammer-like drums that run through this week's FADER Mix from Mexico City via Montreal record label Infinite Machine are a salve. Like a firm thumb to the body's pressure points, they refashion force as relief. It should come as no surprise that label founder Charlie Jrz — who also makes music as WOLF — has a background in punk and hardcore. He's pictured above on the left of Tomás Urquieta, who also helps run and release on the label. The pair made the mix in Jrz's Mexico City studio, squeezing in a bunch of upcoming releases that are just the thing to exorcise your demons to. Hit play below as you read on to find out more about Infinite Machine and what the pair have up their sleeves for the future.
Where are you right now? Please describe your surroundings.
TOMÁS URQUIETA: I'm at the airport, waiting for my next flight in México City, listening to Cocteau Twins — very calm but boring btw.

WOLF: I'm sitting in my studio at my home in Mexico City. It is a little room occupied by lots of boxes with vinyls, CDs, and old electronics. Currently listening to the new Actress single.


Tell us a bit about this mix — what do you imagine people doing while listening to it?
TOMÁS URQUIETA: I'm with Charlie in his studio selecting a lot of new stuff and favorites and we decided to work while drinking beers and pisco. I imagine people listening to the mix maybe in a subway, or at home, or drinking before going to a party. Our mix works perfectly in those occasions.


WOLF: This mix is 80% of unreleased music from friends, forthcoming Infinite Machine material, and some of the stuff we've been feeling recently. This mix is perfect for when you go for a ride with friends and like Tomás said, before going to a party.

What's your earliest musical memory?
TOMÁS URQUIETA: I think [hearing] "Imagine" from John Lennon in my grandmother's house, in her living room, really young — I was 5-years-old.


WOLF: I remember a lot of music from my childhood but the one that stayed with me is "Personal Jesus" by Depeche Mode. I was 5-years-old, too.



Why did you start Infinite Machine, and who is involved in it today?


WOLF: I started Infinite Machine a year after I moved to Montreal in 2010 and after drifting away from the hardcore/punk scene I was involved in back then. The idea of Infinite Machine has always been about helping artists that we love to develop and contributing in the innovation of electronic music.
Nowadays, the core of Infinite Machine is comprised by Tomás Urquieta, Liar, Nicholas Concklin, and myself.
What do you look for in an artist's music to sign them?
TOMÁS URQUIETA: We look for artists that have attitude, are original, and have listened to the Circle Jerks, Black Flag or Bad Brains.


WOLF: Man, I could spend hours talking about this, but the label has always been about putting out good tracks, as simple as that. These days I would say it's important if an artist has at least a little bit of a hardcore/screamo/punk background. They support DIY culture and have a sense of unity. 



What projects do you have coming up in 2017?
TOMÁS URQUIETA: Go to N.Y.C. and Europe this summer, finish my first LP, and continue making music all the time.


WOLF: We are currently promoting the new EP by the Argentinian producer Bungalovv, and are also working on the new EP from Warsaw producer B.YHZZ which is out in late May. In addition, [there's] a collaborative limited edition jacket with the Japanese boutique Radd Lounge and [we're] working on ideas for tours this year in the U.S. and Europe.

What's the last book you read that had a big impact on you? And why?
TOMÁS URQUIETA: The Archeology of Knowledge is basically a practice of the analysis of contemporary discourses. I really love key words, for example like "policy of truth" or "discursive formation." It's almost like learning to read and understand modern philosophy with codes.


WOLF: I haven't read a book in a while. But I've been re-watching a lot of my favorite sci-fi films and animes. Films like Cloverfield, and the Alien movies now that Covenant is coming out soon, and animes like Parasyt and Tokyo Ghoul. Also, I've been spending sometime watching this YouTube channel called secureteam10.

What's your favorite dish to cook and how do you make it?
TOMÁS URQUIETA: Spinach and cheese lasagna. It's easy:
2 eggs
2 containers (15 ounces each) ricotta cheese
2 packages (10 ounces each) frozen chopped spinach, thawed, drained and squeezed dry
1 package (8 ounces) shredded mozzarella cheese, divided
1 tbsp parsley
1 tsp garlic powder
1/2 tsp salt
1/4 tsp black pepper
1 jar (26 ounces) spaghetti sauce
1/2 cup water
9 lasagna noodles, uncooked
1/4 cup grated Parmesan cheese


WOLF: Theres so many! My top three favorite foods are Mexican, Japanese, and Italian. In this case I'm gonna go with four cheese ravioli, they are somewhat easy to cook at home.
Tracklist
Troy Gunner - Pleading
WOLF & 111X - Wounded Alien (W3C Remix)
Only Now - Motor L R
???? - ????
Bungalovv - Healing Snakes
Siete Catorce - datbeat
Actress - X22RME
Overmono - Telephax 030
Joy Orbison - Off Season
Visions of Lizard - The Serpent (Tomás Urquieta Remix)
Superficie - Cerol
Tomás Urquieta - Untitled
Tomás Urquieta & Galtier - Untitled
Tomás Urquieta - Imaabs - Banbra
Tomás Urquieta - Untitled