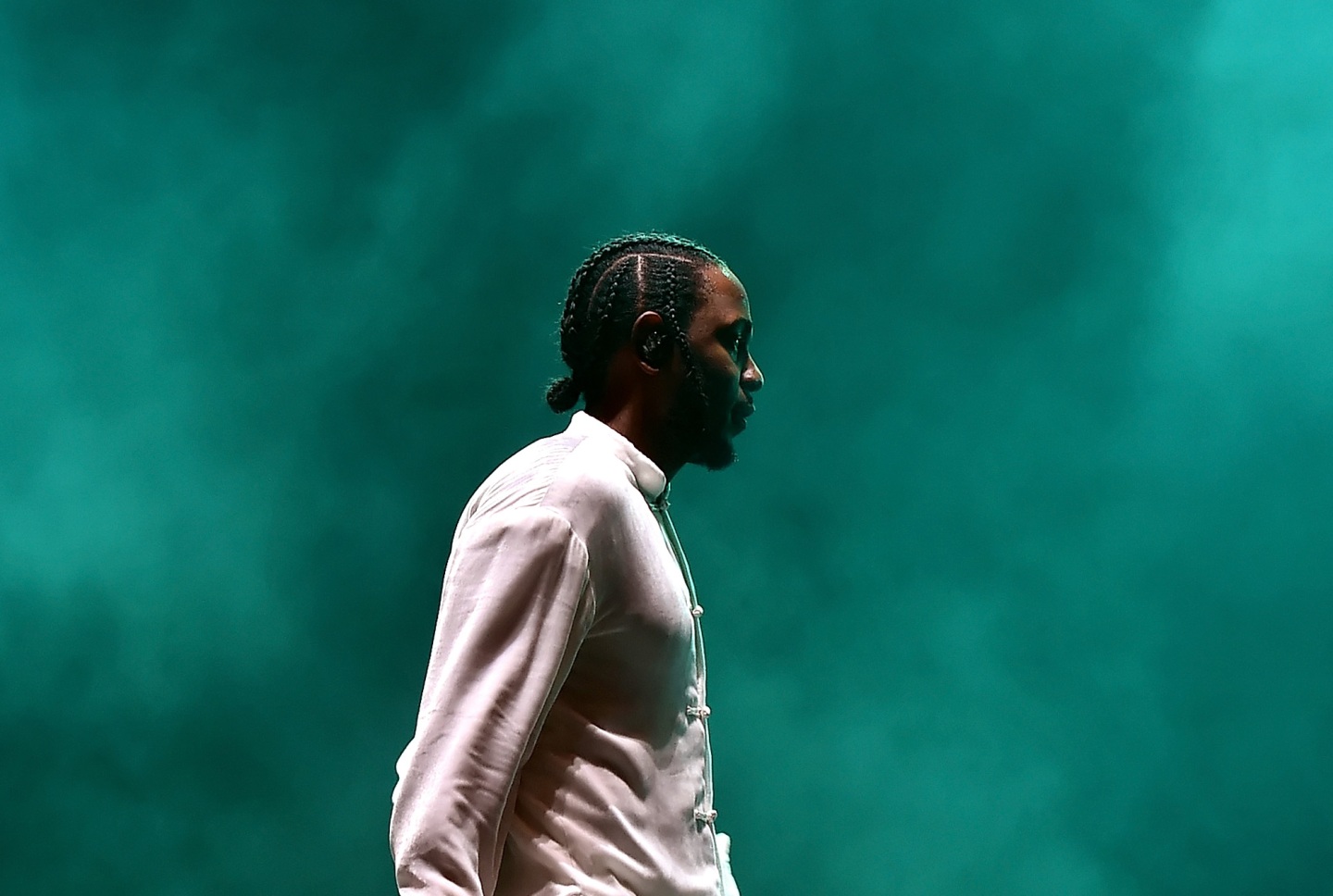 With his new album DAMN., Kendrick Lamar gets specific about what it's like to be a young black man who has a relationship with God. It's thematic territory that roots back to his 2011 mixtape, Section.80. In the past, he's used his platform as a rapper to speak to and for the black community. With DAMN. he's still running the pulpit, but brings God deeper into the conversation in a quest for answers to pain and conflict. Unlike 2015's To Pimp A Butterfly, Kendrick's flow is slowed down, slightly somber, and oozes with more grit, reflecting an internal dialogue that unpacks his disposition as an icon exhausted by a spiritual and psychological tug-of-war.
Kendrick is stunned by his own clout, but he also knows his power. DAMN.'s 14 tracks toy with this dynamic, referencing and even parading his reverence within rap while also reeling back because the God he serves loves humility. On the contemplative and slow-paced "GOD.," he lets out a taunting laugh on the way to the bank. "It's so hard to be humble," Rihanna sings on the slinky collab, "Loyalty," echoing DAMN.'s central tension. And in the music video for the album's first single "HUMBLE.," Kendrick sits at the head of the table in a scene inspired by Leonardo da Vinci's famous mural depicting the Last Supper. Surrounded by street disciples, he's kingly. In another frame he's at the center of a sea of men compulsively nodding their heads to the track's rousing Mike WiLL Made-It instrumental, mimicking Kendrick's instructions for his competition: "(Hol' up bitch), sit down"
Kendrick's transparency is, in part, why he's reigned as hip-hop's moral compass. The TPAB track "i," an affirming song that speaks to people behind physical and mental bars, became a black self-love anthem for Americans who feel imprisoned by racism and police brutality. Another single from that album, "Alright," galvanized streets across the nation as the definitive protest anthem for the Black Lives Matter movement. In an interview with The FADER after the release of TPAB, he spoke about feeling the weight of responsibility and being in the position to inspire: "The type of concepts that I had in the album are actually real, and one of the biggest ones is the fear of having this sort of power, or knowing your place as a role model. That's real life for me."
Two years later, that weight hasn't lifted. Kendrick projects a God complex, but the psychological pressure of consistently upholding a moral stance is difficult. For K. Dot, it's gratifying to be revered, but frightening to be followed. And it's not just fans, but family and friends that also look to him for guidance. On the religious and politically charged two-part track "XXX.," a homie is in need of prayer after his son is killed and calls on Kendrick, the "anointed" one. But in the pre-album single "The Heart Part Four," Kendrick confesses that he'd choose revenge over mercy: "I ain't sanctified enough to say that I won't shoot ya." It's a recurring conflict for post-TPAB Kendrick, who is led by the same righteousness that's defined his career but still persuaded by the laws of the Compton streets etched into his psyche.
"Black folks have a God spirit — it's what has carried us through eons of pain and is the divine reason we're still here, but I still wonder if God hears our cries."
DAMN. expands on the systems and life experiences that have built Kendrick's beliefs and skepticisms. His was a life of dodging the odds. And though he's outlived a handful of peers past the age of 17, he's still paranoid. It's a lingering anxiety that was first expressed on 2011's "Chapter Six," and at 29-years-old, Kendrick wonders if it's wickedness or weakness that could lead to his end. "Ain't nobody praying for me," he declares on "FEEL.," right after a series of gripping verses about his voids and doubts. DAMN. is seeped with the presence of a higher power, but Kendrick isn't always sure that the spirit world is completely on his side. My father always said that black folks have a God spirit — it's what has carried us through eons of pain and is the divine reason we're still here. I believe it, but I still wonder if God hears our cries.
Weary but unbowed, Kendrick continues to celebrate the greatness of his lineage. "I got loyalty, got royalty inside my DNA.," he champions on DAMN.'s second track. He's bigging himself up not only to his rap adversaries, but also America, which is most infamous for depreciating black men. Multiple genetic references appear throughout the album, showing the pride in being cut from a supreme cloth. Still, Kendrick also believes his biological makeup is what binds him to doom. "But you have to understand this man, that we are a cursed people," we hear his cousin Carl Duckworth explain in a sampled voicemail. "'Deuteronomy 28:28 says, 'The Lord shall smite thee with madness, and blindness, and astonishment of heart.'"
Carl is a black Israelite, and on "YAH." we find out that Kendrick is too. Black Israelites believe themselves to be the original descendants of Israel who neglected the laws and commandments. As a result of that disobedience, Carl explains, black people are being lovingly chastised by God and condemned to hardship and pain. This revelation is perhaps the most damning part of DAMN., which doesn't assign a specific faith to God, but links Kendrick's identity to a holy spirit. He knows he's blessed to be alive and thriving, despite his shortcomings, but he can't evade the hex of his blackness. Later on the same song he raps, "I'm a Israelite, don't call me black no more, That word is only a color, it ain't facts no more." This isn't Kendrick escaping his black reality, but redefining his own relationship to it and, ultimately, still identifying as supreme. On "FEAR." he's resolute: "Cause' my DNA won't let me involve in the light of God."
These theories might be controversial to some, but they aren't outlandish. I've tried to understand why God chose black people to suffer so much. Were we created to bear the scathing scars of shackles and trauma? DAMN. is Kendrick putting his vulnerability on full display, by divulging his spiritual and carnal conflicts, reflecting the layers of a human experience. Flawed and not completely freed from his old ways, Kendrick is earnestly trying to be a dutiful mortal man while he's here. And by the album's end, on "DUCKWORTH.," a resounding phrase by DJ Kid Capri feels like the foundation for a sermon on the worldly limits of the pious: "Remember what happens on earth, stays on earth."