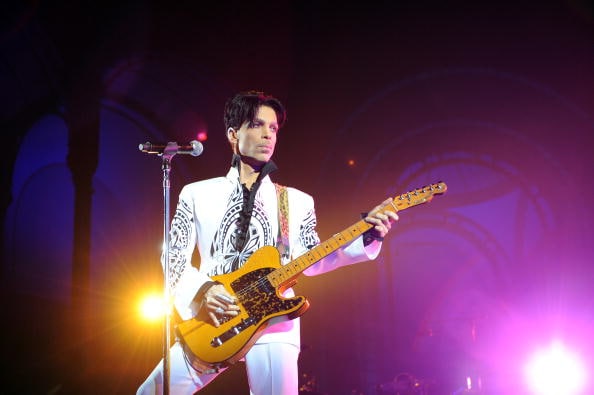 Almost exactly a year after Prince's death, investigators now have a clearer picture of the singer's struggle with opioid addiction. On Monday, The New York Times published a report based on newly released court documents related to Prince's death.
According to the report, Prince kept prescription pills in bottles of Aleve or Bayer and, on at least one occasion, obtained an opiate prescription in the name of Kirk Johnson, a friend and employee.
The investigators do not yet know how Prince procured fentanyl, the opioid that caused the singer's overdose on April 21 of last year. However, his death is being investigated as a homicide, and investigators are currently trying to figure out who obtained the drug for the singer.
Prince's doctor, Dr. Michael T. Schulenberg, told investigators that he had prescribed the singer oxycodone a week before his overdose, "but put the prescription in Kirk Johnson's name for Prince's privacy," according to a search warrant.
Schulenberg had been treating Prince for his chronic hip pain in the weeks leading up to his death.
Schulenberg's lawyer, Amy S. Conners, denied the assertion that her client acknowledged prescribing oxycodone to Johnson knowing that it would be taken by Prince. In a statement, she wrote, "Dr. Schulenberg never directly prescribed opioids to Prince, nor did he ever prescribe opioids to any other person with the intent that they would be given to Prince."
In a search of Prince's Paisley Park compound following his death, investigators found a suitcase with a luggage tag for "Peter Bravestrong," one of Prince's aliases. In the suitcase were several prescription bottles in Johnson's name. Pills were also found throughout the singers home.
Pills found in an Aleve bottle were labeled "Watson 853," and were a mix of acetaminophen and hydrocodone. It was later determined that those pills contained fentanyl, but investigators have not said if they have any connection to Prince's death.
Jason Kamerud, chief deputy for the Carver County Sheriff's Office, told The Times, "The investigation remains active at this point. We've gained a lot of progress over the last year, but there still is some more work to be done."