FADER Mix: Kiki Kudo
A subterranean club mix from the New York DJ that's both tough and tender.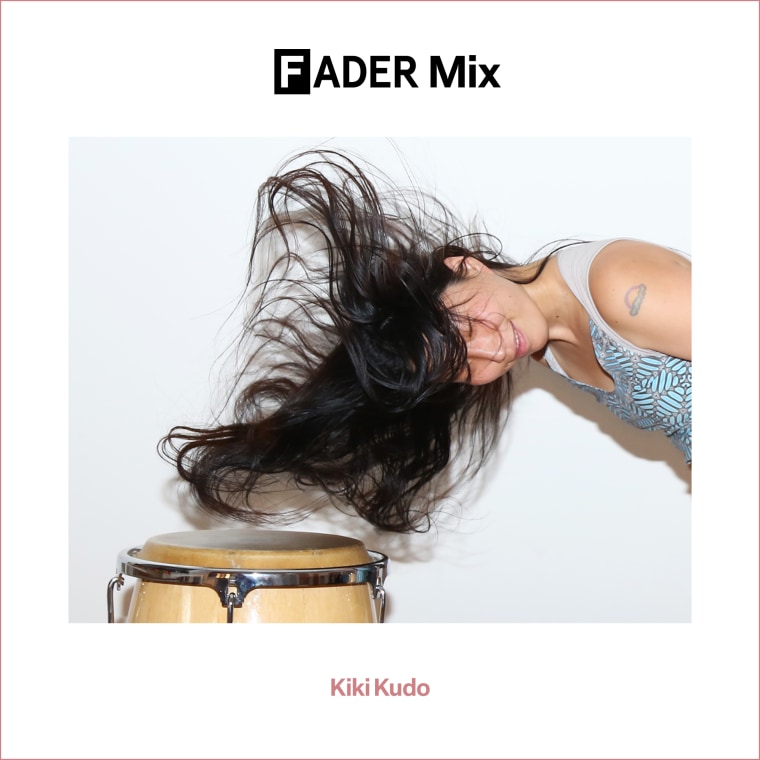 The most beguiling melody opens Kiki Kudo's FADER Mix: a colorful synth jig that, thanks to some playful manipulation, wobbles in and out of obscurity. It's by '80s Japanese new wave act Masumi Hara and serves as a nod to Kudo's first big musical love before she redirects the mix's focus to a subterranean club realm. By turn tough and tender, she grittily swirls through the more interesting corners of house, techno, drum and bass, acid, and electro.
Kudo grew up in Japan and moved to New York in 2011, where she's established herself as one of the city's finest DJs on the underground circuit. In her day job, she's the founder and chef of Chiso Bento, a vegan bento-style meal in a jar. This year she added the role of producer to her resume, and her FADER Mix also serves as a first-time airing of a handful of peak-time Kiki Kudo originals.
Listen below, and scroll down to read an interview with Kudo that includes one of her favorite recipes.
Where are you right now? Please describe your surroundings.
I'm at home in SoHo N.Y.C., I'm packing for an L.A. trip right now while trying to reply to these questions. Brian [Close of Georgia, Kudo's partner] is talking on the phone with his beautiful friend from Dubai who is in Florence in a handbag factory.
Tell us a bit about this mix — what do you imagine people doing while listening to it?
Well, I'd imagine people would play it if they don't have an official DJ for their trance party :)
What's your earliest musical memory?
Going to a rental records shop to get music and then dubbing it to cassette tape, then making a cassette label for it when I was in junior high school. At the time I was into Japanese punk/new wave music.
How did you get into DJ-ing and making music?
I started to DJ when I moved to N.Y.C. from Tokyo. That was a way I could explain myself without my new language, a.k.a. English. I just started making music this year. It was my new year's resolution that I wanted to DJ my own tracks and I wanted to whisper slyly, "That's my track!" to friends :)
When did you move to New York and what drew you to it?
Halloween 2011. My New Yorker friends cheered me before I came to N.Y.C., saying "No worries, KIKI!" Mostly New Yorkers are hanging and playing in their life...haha. New York life is hard but should be enjoying :)
You lead a rich and diverse creative life — what does a typical day look like for you?
Haha, you think so? Thank u ;) I kinda like routine lifestyle: I wake up at 7:30 a.m., making Chiso Bentos and deliver them to Dimes around 10:30 a.m. mostly every weekday. I'm always cooking, eating, writing, and making music :)
What projects do you have coming up in 2017?
I'm working on my first cook book :)
What's the last book you read that had a big impact on you? And why?
Well, The Keys by DJ Khaled and ID SNIPER by Jakob S. Boeskov. Those are a Major Key :)
What's your favorite dish to cook and how do you make it?
Nappa cabbage with shiitake "bacon" :)
Ingredients for 2
Half a nappa cabbage, cut into bite-size chunks
3 tbsp sesame oil
½ tbsp salt
3.5 oz. shiitake mushroom, thinly sliced
1½ tbsp butter
2 tbsp tamari soy sauce
1. In a bowl, gentry toss/massage the nappa cabbage and salt by hand.
2. Preheat oven to 370F.
3. Warm a skillet over high heat and add the butter. When the butter starts to melt, add the shiitake mushrooms and sauté until they slightly get brown.
4. Add the tamari soy sauce, then stir them in the skillet for 3 minutes.
5. Put skillet in the oven. Bake for 15 minutes. Keep an eye on them to prevent burning :)
6. Right before serving sprinkle the nappa cabbage with the shiitake "bacon," and toss to coat by chopstick.
ENJOY :)
Tracklist
Masumi Hara - Kimi-no-yume
Alien Rain - Alienated2B
Kiki Kudo - G-intaractive
DMX Krew - Ram Expansion
R-Zone - Red Rave 1
Lucretio - Zmey
Aroy Dee - Flames
Kiki Kudo - Ouchtube
Pangaea - New Shapes in The Air
Mono Junk - Electric Chair
Ancient Methods - Guided By The Force Of Compassion
Kiki Kudo - Haladub
Blunt Instruments - Losing Control
Kiki Kudo - Kururiba
Container - Cauterize
Kiki Kudo - Gadget And Co
INSYNC - Jam Tape 1991Cut2
Black Sites - N313P
Kiki Kudo - Bock
Abe Dupue - What is Music
Kink-Mieka-DuFranx - Throwdown
Brainstorm - TZ9-B
The Orb - Little Fluffy Clouds