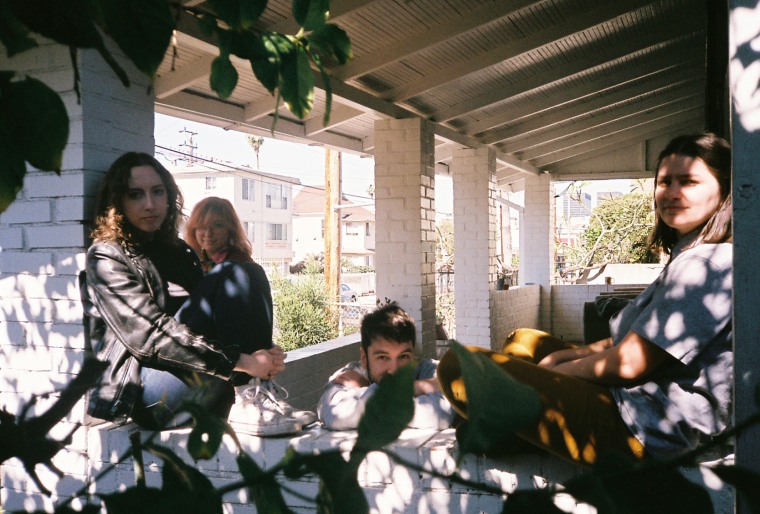 Anne Burtner, Dan Colanduno, Ivy Gray-Klein, Madeline Meyer are Littler, a Philly punk group that make music about the frustration and anxiety of growing up. The sequel to their first project, Of Wandering, is a new EP called Bad Hand, on which Littler transition from questions about doubt and existential fears into a recognition of the self as forever in flux.
The record starts with "Running Hot," an uptempo tune that urges us to embrace the traits we were born with instead of trying to escape them. Next is the meditative jam "Lousy," which preaches "I don't care where I'm at, as long as it's free." "Out Your Rib" is an incredibly immovable assertion of your own personhood, your existence in the moment.
"If Of Wandering was about wondering what comes next and who I am, Bad Hand is a record of resignation, of acceptance," Meyer told The FADER via email. "I am this person. I have to come terms with these things. I am moving. I am sick. I am sensitive. I am angry. Part of growing up is about acknowledging these things and figuring out how to move forward instead of getting so bogged by these truths that you're pushed into an existential no man's land without any tools of getting out."
In "Overstepped," the record's culminating track, there is not only the continued assertion of the importance of individual existence, but an acknowledgement of needs and wants as an integral part of a human —it's OK to be uncomfortable, and you have the autonomy to change whatever situation you're in. It's a message that's crucial for young people to hear in times when things seem monumentally difficult (namely: your twenties); at the end of the day, we will always have ourselves. Listen to Bad Hand below.
Bad Hand is out April 28 on a 7" by Disposable America/Yellow K and via cassette on Disposable America/Anxiety Pop. Preorder it here.
Tour dates
5/6 - Pomona, CA - VLHS*
5/7 - Los Angeles, CA - Top Space*
5/8 - San Francisco, CA - Hemlock Tavern
5/9 - Portland, OR - The Fixin' To
5/10 - Olympia, WA - Gallery Boom*
5/11 - Seattle, WA - Lucky Liquor*
5/12 - Vancouver, BC - 333*
*= all ages