FADER Mix: Harrison
Traverse a universe of funk with the Toronto producer's cheerful selection.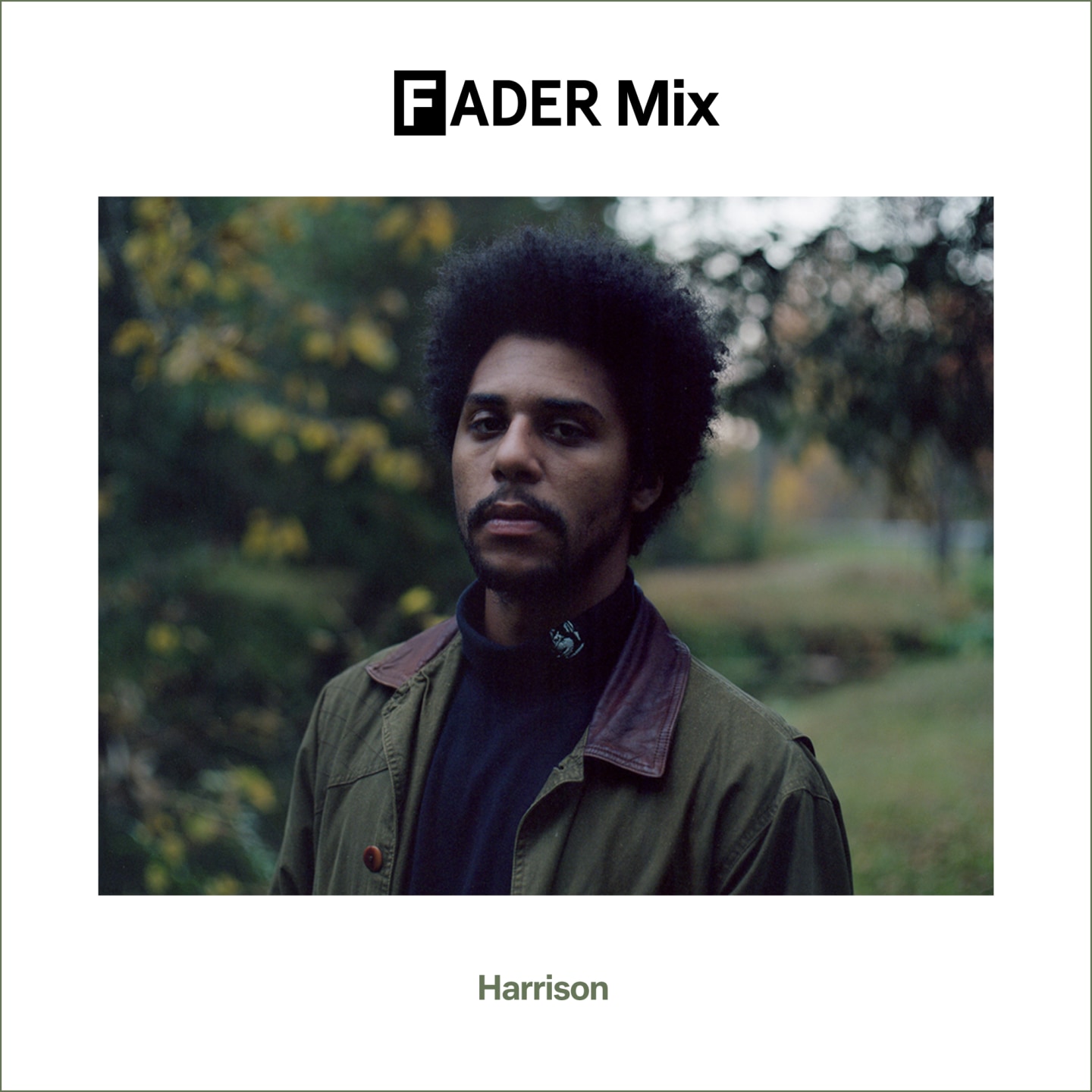 Harrison's FADER Mix kicks off with a starburst of glittering notes, like what you'd imagine the Star Trek crew might hear when their bodies are teleported to some distant world. Running with that analogy: if this week's mix were a celestial body, it'd surely be called Planet Funk. The Toronto producer, who shared his album Checkpoint Titanium last year, has gifted us with nearly 40 glorious minutes of ceaselessly sunny dancefloor vibes that trace the genre's influence across SoundCloud, blogs, dusty record store bins, and beyond. With its mix of classic and contemporary, Harrison's mix is a descendent of Daft Punk's legendary BBC Essential mix.
Where are you right now? Describe your surroundings.
I am in my home studio. I just smoked some giggle bush and now I'm watering my plants. One has died so I need to go to the flower shop. My dog is by my feet playing with a new stuff toy I got her. I think she really likes this one.
Tell us a bit about this mix — what do you imagine people doing while listening to it?
Well, the mix is split into the parts of the day I experienced when i made it the first half was cloudy and rainy. I'm a really big fan of the grey days and the rain myself. Makes me feel a certain typa way. Then the sun cleared up and I wanted to go hang out with my friends. I got super stoked and also wanted to go dance and stuff so the second half of the mix is more up beat and hopefully people just chill and water their plants to the mix.
What would you say is the one thing young artists in Toronto need right now to build sustainable careers?
I think it really comes down to just having a good work ethic as well as being open to the idea of collaborations. When I say collaborations, I mean work with people you enjoy and seriously think something good can come out of, not find someone to make a song with to get SoundCloud clicks. Make it interesting!
You also collaborate with a lot of local peers. What makes a good collaborator to you?
Ya I do! I goes back to what I was saying in the other question. Work with people you enjoy to be around as well. It's always more enjoyable to work with people you like, of course. People who really understand what you're trying to do is also a plus.
What's the last book you read that had a big impact on you? And why?
Last book I read — almost done — is a book called Art as Therapy by Alain de Botton. It's a wonderful short book on how to look at art in a therapeutic way. It's quite beautfiul.
And finally, what's your favorite dish to cook and how do you make it?
I like spaghetti and pesto sauce! Damn I could go for some right now. I make that shit like twice a week. I just get store bought sauce and noodles and cook 'em up. Nothing too fancy or anything. I'll have salad with it too sometimes haha.
Tracklist
Iwptch - tonya/monika
Lapti - Story
Toro y Moi - Talamak (Harrison Edit)
Onra - Send Me Your Love
oDDling - Lucid Drream
Kristine - The Deepest Blue (Miami Nights Remix)
DZA - Shifty (Harrison Edit)
Harrison - (Ureleased)
Samashi - Mellowave
Flamingosis - All Natural (feat. Tom Ribbons)
Chromeo - Come Alive feat Toro y Moi (Onra Remix)
CAPYAC - Creature of Desire
HNNY - Caypio
Crackazat - Eye Light
Harrison - (Unreleased)
II - Banca
Knight One - Hearts of Oak
Harvey Sutherland - Priestess
Two Tall - Hello Everyone