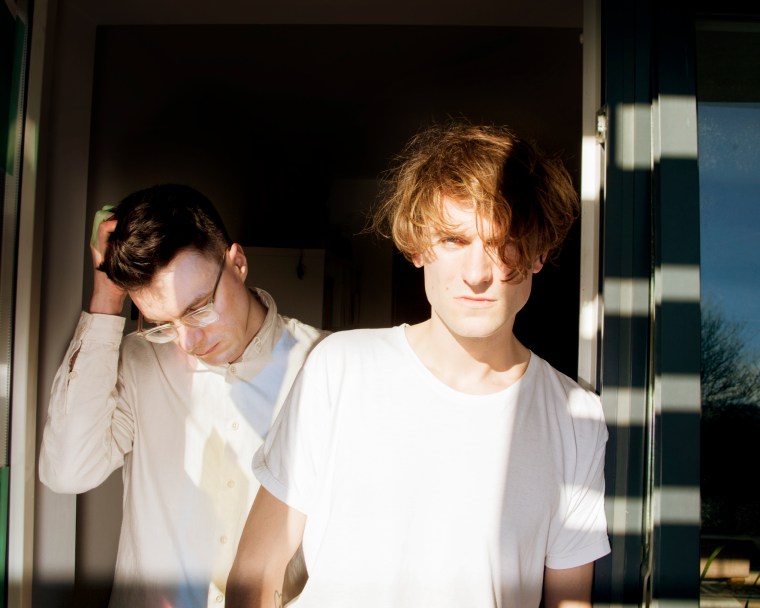 When I last checked in on London's CYMBALS in early 2015, the pop-leaning post-punk outfit was waxing lyrical about the failure of language. Yet for all the erring, sonically they sounded as bright and twitchy as ever. Today is a different story. Along with the announce of a new album, Light In Your Mind, due out August 25 on Tough Love Records, the band is sharing the first single: a decidedly more subdued song called "Decay." Where their older material jittered with uncontainable energy, this new direction suggests a hard-earned maturity. Curling strings add gravitas to an indecipherable vocal sample that loops in-between a spring-warmed piano line and singer Jack Cleverly's gentle observations about the human spirit. Vocally, he sounds different too: less jaunty, more sure of his unsureness.
"At the time I wrote this, everything was changing in my life," Cleverly told The FADER over email. "I was changing inside, and I started to look at the slow process of decay that is part of life."
He went on to provide context for the band's evolution:
"2014 was a really intense year," he wrote. "We released The Age of Fracture and pushed ourselves as far as we could go physically, playing several times in the U.S. on a shoestring, just about breaking even, trying to keep jobs to pay rent at home. I threw as much as I could into the music, but at the same time I felt like I was crashing into people and things at every turn. One by one the other guys in the band couldn't face it anymore, so we widened the family, met new people and worked with them, until they had to move on and then we worked with others. It was hard on a personal level, but as a band, it also felt like a kind of chrysalis. I could feel myself relaxing into the performance, finding some kind of identity in it, changing the way I sang, stopping trying to be something else. I could see Dan [Simons, CYMBALS's co-founder] doing something similar."
"But, I didn't deal with well," he continued. "I became delusional and almost completely self-centered. I started to treat the people around me, including those I loved, really badly, and I basically began to break down inside. I ended up separating from my wife and getting divorced the year after. I developed addiction issues which I hadn't accepted or even acknowledged."
"Cutting a long story short, I ended up getting some help last year and making changes to my life, and we started writing music again, but that short break has ended up lasting two years — our last show was spring 2015."
That's set to change this month, with a new U.K. tour. Listen to "Decay" below and scroll down for upcoming dates.
Tough Love Records will release CYMBALS's new album Light In Your Mind on August 25. Preorder it here.
May tour dates
3rd - Leeds, UK @ Headrow House*
4th - Manchester, UK @ Soup Kitchen*
7th - Birmingham, UK @ Hare & Hounds*
8th - Bristol, UK @ The Louisiana*
9th - Brighton, UK @ The Green Door Store*
10th - London, UK @ The Lexington*
* w/ Hoops