Meet Mura Masa, The British Producer Bringing The Internet's Oddities To Boundless Pop Songs
The 21-year-old is preparing to step out from behind the scenes with his star-studded, self-titled debut album.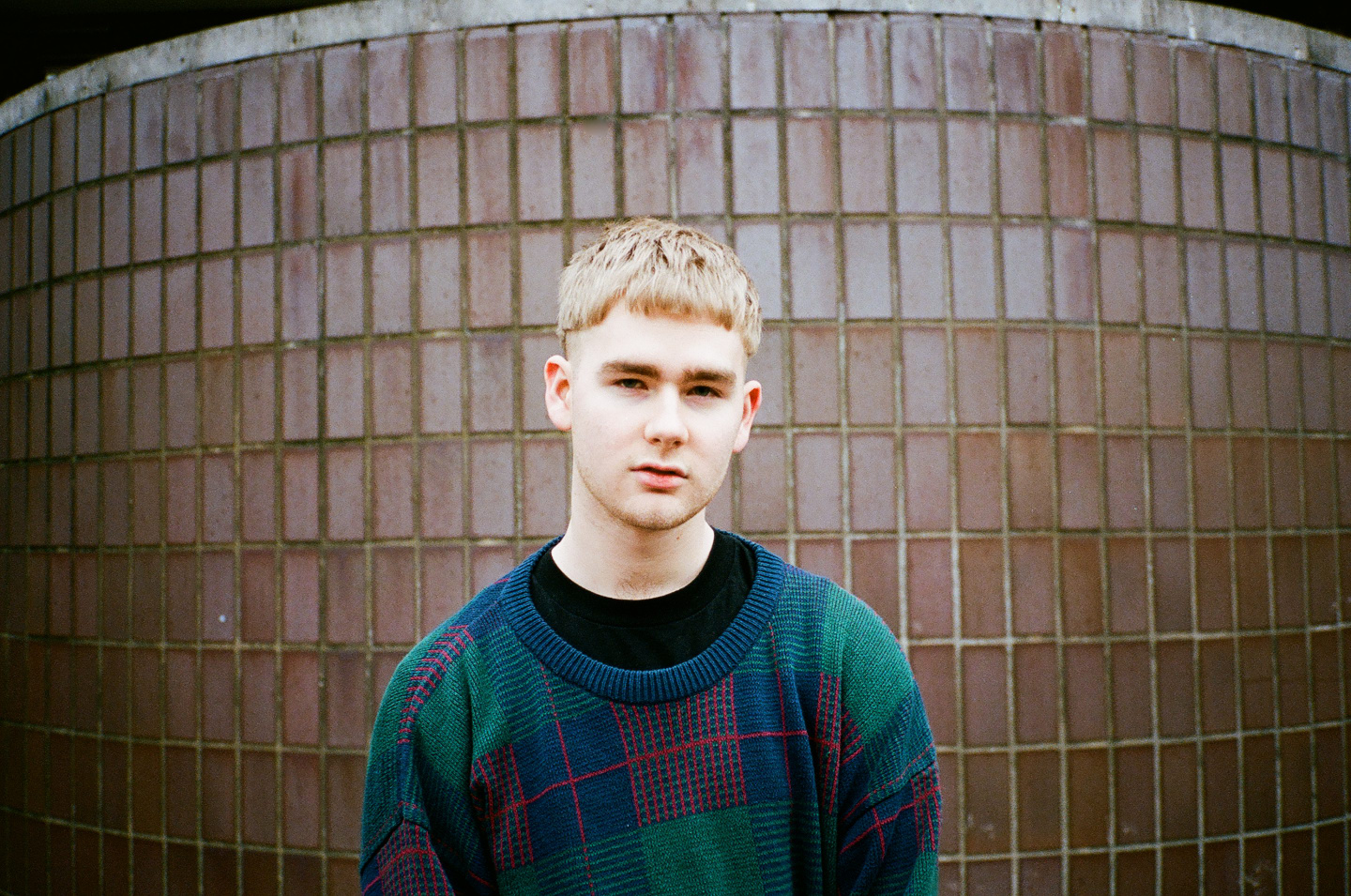 Like most producers of his generation, Alex Crossan became a student of music through diving headfirst into a tiny corner of the internet. Growing up in Guernsey, a small British island in the English Channel, the 21-year-old was forced to watch the thriving electronic scene in the U.K. from afar, spending many hours teaching himself to play instruments and master production software. Crossan, who makes forward-thinking, irresistible tracks as Mura Masa, found a community of like-minded artists and a legion of loyal fans on SoundCloud, and gained traction when his self-released 2014 track "Lotus Eater" began to get spins on BBC Radio 1.
In the past year, Mura Masa has gone from making beats in his bedroom to collaborating with some of the biggest names in the U.K. and abroad. In July, he will release his self-titled debut album, which boasts features from A$AP Rocky, Charli XCX, Damon Albarn, and more.
During his recent conversation with The FADER, Mura Masa explained why there seems to be a stigma against SoundCloud artists, the ethics involved in using sounds out of context, and the how his upcoming album reflects the current cultural climate in the U.K.

Tell me a little bit about growing up in Guernsey. I don't think too many people are familiar with that part of the world.
It's a super small, remote place off the coast of France but it's an English territory — the Queen is on the money. It's very much English but it's far-removed from the culture of mainland England. There's not a lot of U.K. influence there really. It's kind of its own little microcosm. It's a really beautiful place with not too much going on. It was quite quiet growing up there. There wasn't much to do but drink and go on the internet.
There was a pretty good heavy metal scene when I was growing up, and I was in a few harcore bands and punk bands. Other than that it's just kind of folk music and acoustic gigs in bars. There aren't really any clubs or venues, so it was pretty quiet musically.
What music was important to you growing up?
I used to listen to a lot of Joni Mitchell because my mom was super into her when she was growing up so she kind of gave me that. I got into James Blake quite early, like when I was early teen, and that was really important for me. I wasn't really sure what electronic music was. I just thought house music and club music. I wasn't sure about what it meant to be artfully using electronic music. A lot of hip-hop as well. I used to love all the old Young Money stuff.
I think I can pinpoint the moment that I realized that I enjoyed hip-hop music and it was the video game called Need For Speed Underground. The soundtrack had Lil Jon's "Get Low," and that was the first rap I probably heard. I was like, This is sick. The energy was amazing; I'd never heard anything like it.
I also listened to a lot of Lucky Me records, like Hudson Mohawke and Lunice. That's what got me interested in wanting to learn how to produce. Before that, I'd say the second Gorillaz album, Demon Days, was important to me because it was just boundaryless and genre-less. It was a cultural moment and there were so many different types of featured artists and genres on that thing. I think hearing that made me want to experiment. It made me realize how good pop music could be at the heart of it. I think that was the first record I ever bought.
How did you go about actually learning to produce your own music?
I pirated a copy of Sony Acid — this really shitty production program. Then somebody recommended that I move over to Ableton. So again, I just pirated a copy of that and just every day would just come home from school and just open it up and kind of fuck around and watch YouTube tutorials. I didn't really grow up around other people who were trying to do that sort of thing. That's why the Internet was so important to me because being so far removed from any real cultural influence, it was important to do my own work online.
"Popular culture is Black culture and the sooner people understand that and accept that, the better off they're going to be in trying to understand why things are popular."
When did you get to a point where you made your own SoundCloud and felt comfortable sharing your music?
I think I would've been like 16 or 17. I wasn't putting it on the internet to be heard or trying to get a huge following. I was just putting it on there so that I could send a link to my friends for them to check it out. Then I got better at production, and I would send demos to blogs and tapes to a couple of smaller labels in the early days. SoundCloud was my first break I guess. I got a little bit of a following.That whole bedroom producer genre was kind of kicking itself into gear, and SoundCloud was becoming more of a hub for producers at the time. I think now that's kind of dwindling a little bit — people are looking to grow and get away from that.
Do you think that there's a stigma against artists who are based on SoundCloud? It seems like there can be a negative connotation now, especially for rappers.
There definitely is a stigma, and I think a lot of it is related to how they promote themselves. There's this view that they're self-aggrandizing or always trying to push their music onto people, which isn't totally untrue. But when you're independent in that kind of true way, that's almost the only way of garnering any attention. I think a lot of SoundCloud artists get a bad rap but it's also hard for people to break away from that kind of culture and crossover in a real way.
You're not really taken seriously when you're on SoundCloud because anybody can upload. It's the same as standing on a street corner and trying to push your mixtape. If you're on iTunes, you're more official or something. It's kind of bullshit — if the music is good, people will gravitate to it.
You left Guernsey when you were 18 to attend school in Brighton. How did that change your view of British culture?
There was a left-wing attitude in Brighton, and Guernsey is quite conservative, so it was sort of this awakening to a more liberal way of thinking. Also, in the context of race, there's only really white people in Guernsey. Being thrust into a multicultural setting was super important for me and for my growth as a person. Then, obviously, being exposed club culture and a true underground scene that wasn't taking place on the internet but was there in real life.
You often use sounds that are present in dancehall or afrobeats. How do you approach that in a way that still respects the context of where it comes from?
More than anything, it's important not to pretend that there's some sort of authenticity in using instruments like that. It has to be a tribute almost to the sound itself. The reason I started using steel drums and kalimbas was because I loved the sound of the instruments. I think it's more important to allude to that then to try to pretend that you're putting on for Jamaica by using a steel drum or trying to tap into some trend, which is why I get really fucking pissed off when people use the word "tropical" to describe some electronic music.
The truth is, at the end of the day, popular culture is Black culture and the sooner people understand that and accept that, the better off they're going to be in trying to understand why things are popular.
You ended up with a placement on the Stormzy record— how did that come about and what does it mean to you to contribute to such a culturally significant album?
Well, I can't really speak much to what the collaboration process was like because, one day, Stormzy just DM'ed me on Twitter and the message said, "Oh man. This intro is gonna sound crazy." I was like, "What are you talking about?" It turned out that he had gotten hold of one of my beats from someone and cut the intro for his album over it, so I was super happy about that. I had been saving that beat for something special, and I'm glad that he managed to get a hold of it.
This is the next iteration of grime music spilling into the mainstream and it'll be interesting to see the reaction. I imagine they'll be several records this year from similar grime artists trying to emulate [Stormzy's] success, and I think a lot of them will fail because it's his charisma and his character that people love. And he's got bars as well.
Your self-titled debut album has a long list of big name features. Has it been a big transition to go from producing songs in your bedroom to collaborating with artists in person?
I always go into it looking to learn. It's just been super humbling to be able to work with some of the people I have now, especially on the album. I'm glad that I waited until I was at that point to finish the album and put it together because some of the collaborations wouldn't have been in question even six months ago. I just always go in with the same approach which is to kind of take on board what they bring and not tread on that. I think that's why a lot of my music is quite unsimilar sounding a lot of the time — because it depends heavily on collaborators.
We talked about the influence of Demon Days on your notion of pop music and you were able to work with Damon Albarn on your debut album. Were you looking to that album as a model?
I think the DNA of this album is centered in that kind of Demon Days attitude, where it doesn't really matter what you throw in the pot as long as the result is really excellent, culturally relevant music. I think that's the attitude that I'm taking from Demon Days and trying to apply it to a modern look at London culture. That's reflected in the album artwork, the tracklisting, and the collaborations I chose to have on there. It's kind of a mess of an album in a really intentional way. It's purposefully not narrative.
But there are street noises and ambient sounds throughout the album. Why was it important to include those?
In a very obvious way, I was trying to reflect my surroundings at the time of making the music. There's noises in there that people from London will recognize; there's a Japanese weather report in one of the songs. I guess that is the only conceptual part of the album because it starts from New Park Road in Brixton and the geographical locations of the sounds follow a bus journey around different parts of London. Then there's also some stuff thrown in there to reflect the nationalities and homes of the guests.
You're singing is also present on the album. Is that something that's always been part of your repertoire?
If you wanna call it singing. Basically, I love Prince. I just love who he was — his general creative attitude, and the fact that he exuded pop music. I think when he died, I felt obliged to kind of take on some of his attitude and try and learn from what he taught people, which is that one man can do everything. That's an attitude I took into a couple of songs on the album. I still wouldn't consider myself a singer, but I just wanted a little bit of that in the album to give me more of a personal voice in the music. I'm kind of putting myself at the center of it a bit more now. I'm using photographs of me on the album sleeve. I'm creating more of a focus on myself as an artist, which I was kind of avoiding, but I think it's time to show a little more of myself in that way.