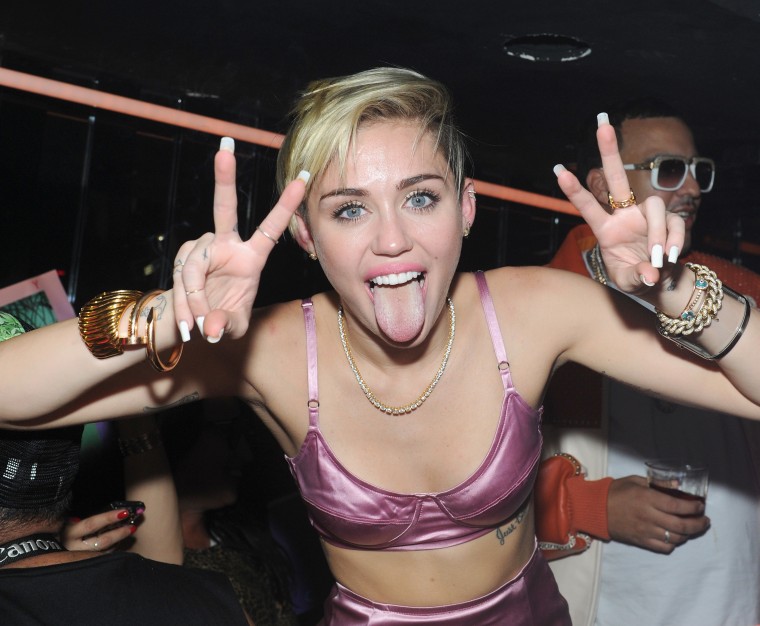 Miley Cyrus discussed her upcoming, country-influenced record in a new interview with Billboard, and made an effort to distance her new "political" music from the hip-hop stylings of 2013's Bangerz.
Cyrus, who once insisted that "Lil Kim is who I am on the inside," said that she now feels alienated by hip-hop's materialism and graphic sexual descriptions. "That's what pushed me out of the hip-hop scene a little. It was too much 'Lamborghini, got my Rolex, got a girl on my cock' — I am so not that." She identified Kendrick Lamar's song "HUMBLE." as an example of a rap song she enjoys. "'Show me somethin' natural like ass with some stretch marks.' I love that because it's not 'Come sit on my dick, suck on my cock.' I can't listen to that anymore."
Throughout the interview, Cyrus makes an effort to broadcast her country music credentials. "I've got a tattoo of Johnny Cash's autograph that he gave me when I was a ­little girl that says, 'I'm in your corner.' Dolly Parton is my ­fucking ­godmother. The fact that ­country music fans are scared of me, that hurts me."
Part of her rebranding involves reconciling her political beliefs with those of a significant portion of country music fans: Trump voters (Cyrus was a supporter of Bernie Sanders in the Democratic primary, and founded Happy Hippie, an LGBTQ advocacy nonprofit) "I like the way I think right now. But don't Trump supporters like the way they think? So I've also got to be open with the way I approach people with my opinions."
However, she indicated in an earlier answer about hip-hop that she was reluctant to work with certain producers who didn't share her beliefs. "I feel if we're not on the same page ­politically," she said, leaving the answer apparently unfinished.
Cyrus was frequently criticized for cultural appropriation in the Bangerz era. Specifically, attaching herself to black culture to distinguish herself and sell records. In Billboard, she described the controversy as "mind-boggling." "Those were the dancers I liked," she said, referring to her performance at the 2013 MTV VMAs.
Her sexually liberated image — what she refers to as "the ­nipple pastie shit" — represented an aspect of Cyrus's "political movement," she claimed. But rather than a shift in marketing, Miley frames her new image and sound as a natural change. "I'm evolving, and I surround myself with smart people that are evolved."