Charli XCX Gets Extremely Real About Her Mixtape And New Music
The pop artist on the raw emotion in her latest songs, why CupcakKe is "totally legendary," and her new album — likely due next year.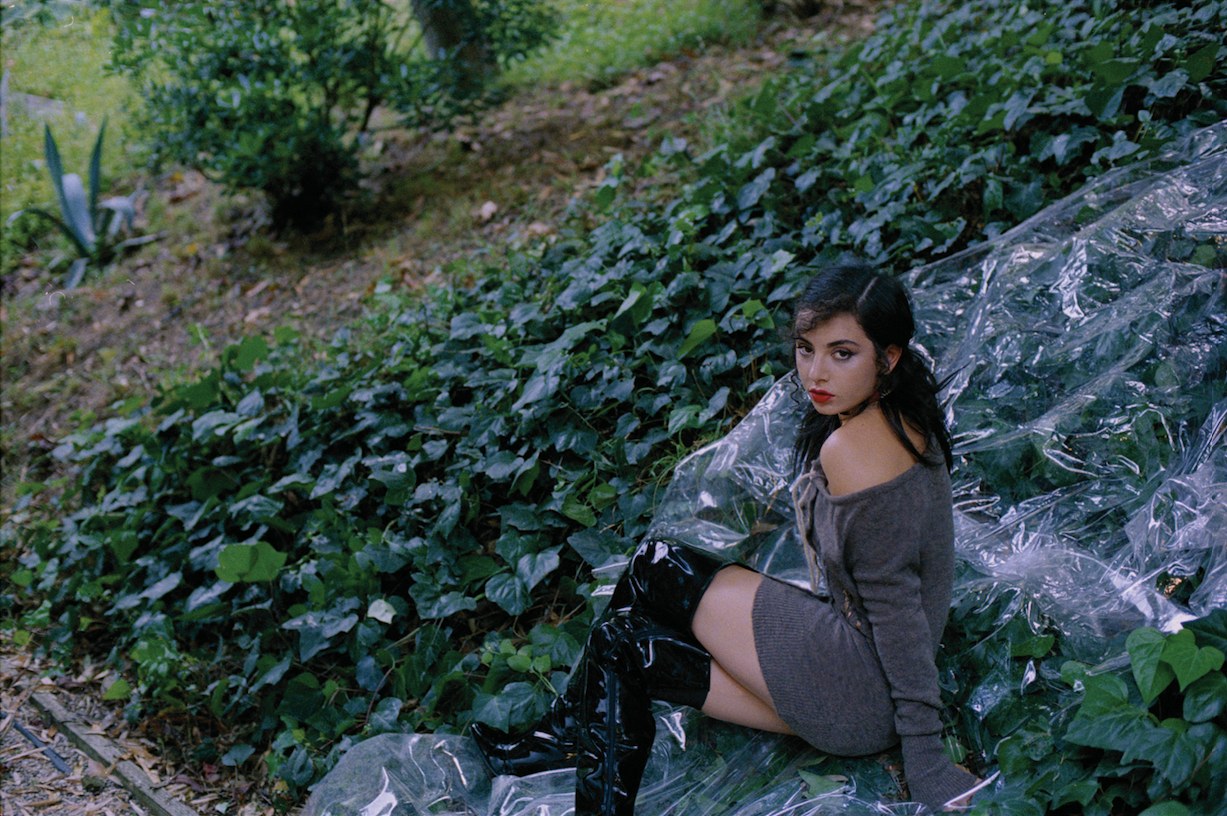 Last year, Charli XCX let loose. With her third album repeatedly delayed, the British artist began to find musical connections between her signature shouty Top 40 choruses and rubbery club music, with a wild new aesthetic that won new fans but divided others. She put out a directional EP, Vroom Vroom, with A. G. Cook and SOPHIE, revamped her look with stylist Lisa TV — known for Miley Cyrus's Bangerz-era makeover — and channeled her love for nightlife into a Lil Yachty collab, "After The Afterparty." But hectic living began to take a real toll. "I was so obsessed with writing a party album that I kind of got caught up in it," she reflected in a May phone call from London. "Partying is sometimes a really important and cathartic moment for people, but sometimes it can be really lonely."
While her third album is yet to appear, XCX found confident focus for her conflicted feelings on a fantastic recent mixtape Number 1 Angel, released this March. With music which tempers the serrated edges of the PC Music sound, it boasts some of her most free and joyful pop songs, like the forthright cunnilingus invitation "Lipgloss" featuring gloriously potty-mouthed rapper CupcakKe, and the infectiously effervescent "3AM" with Danish punk-turned-pop star MØ. But, running counter to the bratty, carefree image that XCX cultivated on hits like "Fancy" and "Boom Clap," there are a clutch of moments on the mixtape that lay her emotions bare. The tender club-ballad "White Roses" admits "All I need is you and me alone," while on "ILY2" she ponders the anxiety of opening yourself up to a partner. A creeping Abra collab "Drugs," meanwhile, feels more comedown than high. It's an intriguing hint at a more introspective side to XCX's songwriting, previously hinted at with her Spector-ish 2014 Rostam Batmanglij collab "Need Ur Luv."
In an open conversation with The FADER, XCX explained how her mixtape made her rethink both her creative and release process, and dropped hints about a TV series she's working on.
---
Your mixtape Number 1 Angel shows a more emotional side to your songwriting than we've heard before. Did you draw on your personal life for those introspective moments?
I had a lot of time to reflect on myself as a person and as an artist while I was writing those songs. I was asking myself huge questions like, What do I even want in life? Who am I? I was definitely feeling distraught, emotional, and really self-destructive prior to writing those songs for the mixtape, and kind of during [the recording process] as well. I think that that rawness and sadness comes out through it.
You've said that Number 1 Angel was made in two weeks, but did some songs already exist as sketches from previous sessions?
I think the only songs that were sketches before were..."Drugs" with Abra — I wrote the demo for that in Singapore last year and sent it to her. And then "Emotional" was a song that I wrote a while ago with Patrik Berger, and I just took the a cappella and gave it to A. G. [Cook]. "3AM" was another one made further in advance. It was really hectic getting all of the features together, it was a lot. I was harassing people every day, and then getting it all cleared was crazy because [the artists were on] different labels. But it was kind of fun doing it like that.
Had you A&R'ed one of your albums before?
Yeah. Sucker was something that I A&R'ed myself. The only record I didn't A&R myself was True Romance, actually. It's something I really enjoy and I think it's something I'm good at — recognizing who could work together and which producers can enhance someone in the best way.
In February, you tweeted "you have no idea how fucking hard it is to just release a free fucking mixtape in 2017," because of the red tape that comes with being signed to a major label. Do you still feel frustrated with those complications?
I'm kind of over it. I can be a little bitch sometimes, and I was definitely bitching at my label a lot during that period. I've learned that it's better to work with them. Like, if we're all working together we can move things along. I'm sure in the future I will bitch about them again. It's like a weird brother-sister relationship, because I've known them for so long. When you're working with people in that kind of close environment there's always going to be times when they piss you off, and it's business as well. There are always things that are frustrating, but right now our relationship is in a really good place.
It has sometimes seemed like you'd rather be an independent artist. Is that the case?
No, definitely not right now, and I don't think ever. The issue with me is I've got a constant flow of ideas that need financing basically, and if I was independent I would have to spend just as much time creating those finances and thinking of new ideas. I know that really works for some people...I'm sure I could handle it as an independent artist. But right now I'm happy being a team with my label.
"I don't think albums are the end goal anymore for musicians. Continuously releasing music really suits the way that I work as a songwriter and as an artist."
How did you link up with CupcakKe for the mixtape?
I was tweeting about being in the studio, and one of my fans DM'd me like, "Do you know CupcakKe? You guys should do something together." I checked out her stuff and was just like, "This girl is totally legendary." I was trying to find out if we had mutual friends, and Shamir gave me her email. She hit me back, and we just started talking. I recorded the demo for "Lipgloss" when I was in Atlanta, I sent it to her, and she came back with the verse straight away. I played it to SOPHIE and A. G. and they were like, "This is amazing." It became our favorite song from the mixtape. When we played it live together in New York it was so euphoric. The whole experience was maybe a live highlight.
At your recent London show, you seemed so comfortable performing the mixtape songs. Has working on the project changed the focus for your forthcoming album?

Yeah, it has. I've learned that I'm so collaborative and I'm also really fast. I finished my album in the middle of last year and I'm probably not even going to release it until next year now, because I want to release a lot of other music before, that isn't totally linked to the album. For me personally, I don't think albums are the end goal anymore for musicians. Continuously releasing music really suits the way that I work as a songwriter and as an artist.
I'm not going to touch the album until two months before it's going to come out, because if I started working on it again I would probably write another four albums. Maybe more. I just write so much that it becomes confusing. Of course, some of the stuff I write isn't good — some of it is terrible and will never see the light of day — and some of it is good, you know. I might do another mixtape before the album though.
There are six or seven songs that are 100% going on the album, and the four or five other songs could be on a mixtape or on an album. I could take them off or change them. To be honest, I'm not really thinking about it until I have a release date, and then I'll just do it last minute. I prefer working in a stressful rush rather than doing one song a week. That's my nightmare.
So the album will be coming in spring next year?

Um, I guess. I don't really want to say because then everyone will jump on the date and if it's not then, they'll go crazy.
Last year, you hosted a BBC documentary, The F-Word and Me. Do you have any more TV projects in the pipeline?
Yeah. I had a day off in Shanghai last week, and I came up with a really cool TV show idea that I'm now trying to write a treatment and shoot a reel for. I don't want to say what it's about, but it's very music orientated.
Would you act in it?
No, I would just be a writer. I got asked to audition for that show Girlboss that's on Netflix now, and it would have been really cool to do but I can't act. I had to say no. I haven't watched it yet, but I'm going to watch it now and I'm probably going to be like, Oh fuck, I should have just manned up and done it.
Later this year, you're touring with Halsey. Do you hope that this is going to expand your audience?

Yeah. I guess that's why you do big tours like this, really. Being brutally honest, that's kind of the point of them. I think her fanbase are very open minded and forward thinking when it comes to pop music, because she definitely experiments with different sounds, and styles in her videos. I feel her fans definitely relate to mine, in a sense that they are intelligent when it comes to pop music.
In your recent FADER cover story, you spoke of wanting to place 20 songs with other artists last year, but it seemed like you ended up focusing on different projects. Is songwriting still a priority for you?
Yeah, more so than ever. I've been taking time out to write for other people and that's been really fun. I've been working a lot with Camila Cabello and that's been great, and I've just had two songs come out on the new Blondie album, which is really crazy. I saw them live in London the other week and they played one of the songs I wrote. That freaked me out, and my mum was crying. It was a very emotional situation.
I heard that you wrote that song for Blondie, "Gravity," when you were 15.
Yeah, I actually used to play it when I was doing shows in London pubs and clubs. It was really strange seeing them sing the song that I used to sing. But songwriting for other people is definitely going on. I'm doing a lot of sessions with producers who maybe I wouldn't necessarily work with for my own record, and it's fun to do that. Like, I think I might do something with Baauer in the upcoming months.
Later today, I'm going to go to the studio with Tommy Cash. He's an Estonian rapper and his videos are really incredible. We're going to work together tonight, and that could be a cool thing that happens. Or maybe nothing will happen, who knows?
---
Charli XCX plays Reading & Leeds festival, U.K., August 25-27. Tickets here.