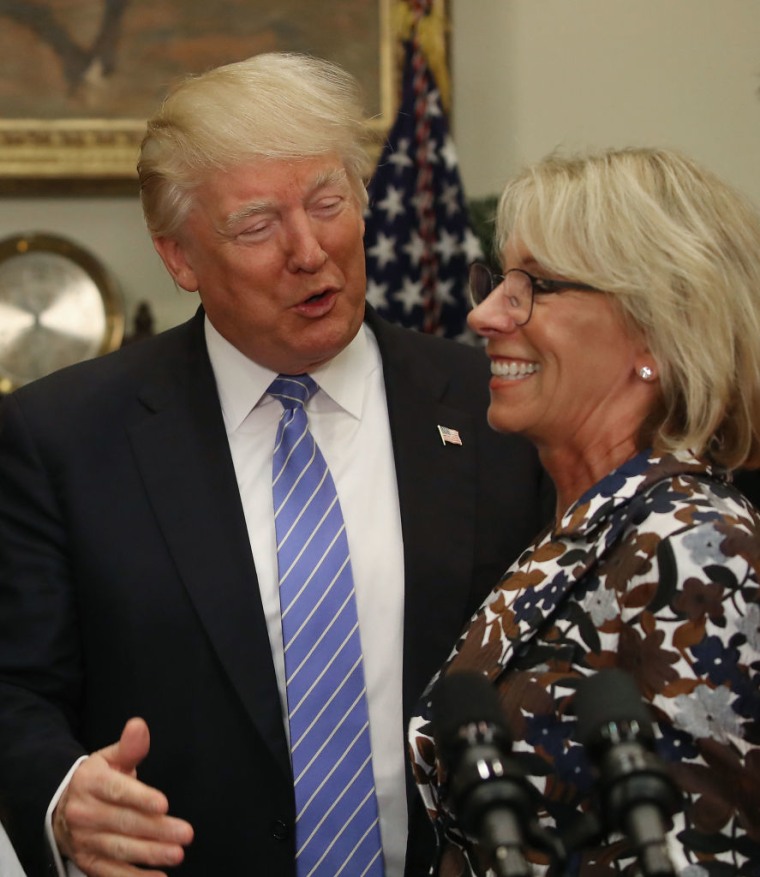 President Donald Trump's upcoming education budget will propose steep cuts to federal education programs – around $10.6 billion — and move some of the savings to charter schools and their related programs, according to a draft of the budget obtained by The Washington Post.
Under Trump's proposal, 22 federal education programs would be eliminated. $1.2 billion for after school programs serving 1.6 million mostly poor children would vanish. Perkins loans benefitting disabled students would be cut by $700 million. $2.1 billion for teacher training and class size reduction also faces the axe. Public schools would lose "hundreds of millions" of dollars in funding for mental health and advanced coursework programs. The budget also proposes ending the Public Service Loan Forgiveness Program, affecting 400,000 students.
Betsy DeVos, billionaire Republican donor and Trump's Secretary of Education, is an advocate of charter schools. These institutions would receive $500 million in new funding, an increase of 50%. The administration also wants to dedicate $250 million on "Education Innovation and Research Grants, which would pay for expanding and studying the impacts of vouchers for private and religious schools." According to a study last year by the Department of Education, students at voucher schools performed worse than non-voucher students on standardized tests.
Notably, Trump is requesting "an additional $158 million for salaries and expenses in the Education Department." A portion of this money will go for increased security for DeVos, who has contracted the U.S. Marshals Service instead of the DoE's security team.
Historically black colleges and universities (HBCUs) will not see an increase in funding, despite intense lobbying of the Trump administration. This included Bethune-Cookman University's decision to invite Betsy DeVos to deliver the school's commencement address. She was loudly booed.
An Education Department spokesperson called the leaked budget "preliminary."