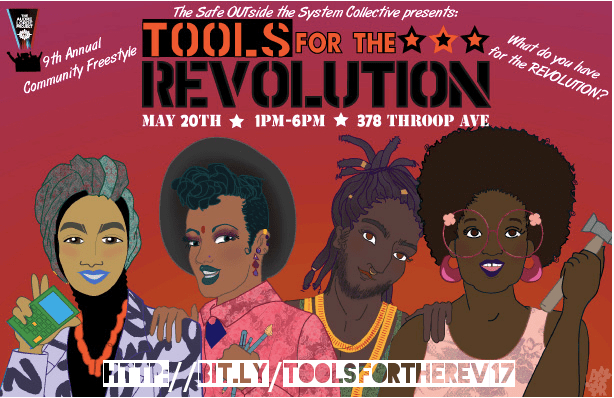 In light of decreasing governmental protections, it's becoming ever more important to learn how to take care for each other. And in Central Brooklyn, Lesbian, Gay, Bisexual, Two Spirit, Trans and Gender Non Conforming People of Color (LGBTSTGNC POC) communities have been building a rich history of what that looks like. This weekend, the Audre Lorde Project's "Tools For The Revolution" community freestyle summit hosts an opportunity to come together and share that knowledge.
In part with the Safe OUTside the System (SOS) Collective, "Tools For The Revolution" will host a day of panels, workshops, and more to empower Central Brooklyn's communities. Notably leading with the "We Feelin' AAIT?! (Abolitionist, Ancestral, Interdependent, & Transformative Strategies for Home)" workshop, attendees will leave the summit with several new strategies on how to be a safe space in their neighborhoods.
As the great Audre Lorde once said, "Revolution is not a one time event." Coming into its 9th annual installment, "Tools For The Revolution" is rooted in more than a decade of activism in New York City. Leading up to the event, coordinator Tasha Amezcua spoke with The FADER over the phone about its history, the importance of community alternatives to state systems, and how neighborhood allies can join the fight.
This is the ninth year of "Tools For The Revolution." How did this program start?
There are so many stories behind how the SOS collective came about, and how the SNC came about. I was actually one of the earliest members of the SOS collective when it was founded 11 years ago, before it became staffed. I was a part of the crew who put on the first Community Freestyle, which was then called the Safe Neighborhoods Summit. The intention was to bring together intergenerational, LGBTSTGNC POC, our people of color neighbors, and allies, so we can showcase our work and our campaign and share the tools. We want to have people learn the tools we use and ground them into the political framework, and to go out into the street to do deescalation and interventional work themselves. But in a family friendly way — there's childcare, it's accessible, we're really trying to change the face of what it means to have an accessible abolitionist movement in the city.
This sounds like it's always been needed, but what was the specific climate in terms of safety and violence in Central Brooklyn nine years ago?
One of the reasons we founded SOS was the murder of Rashawn Brazell. He was a young black gay man who was murdered — his head and body parts were found in different parts of Bed Stuy in the subway station, and people weren't responding. The police weren't responding or investigating it as a hate crime. The police weren't responding to his family. So we realized, We need to do something, we need to take care of ourselves, this stuff is happening all around us, and no one is helping us, so we have to help ourselves and each other. It came out of a group that was originally called The Working Group On Police Violence in Central Brooklyn. Murder and violence have changed in Central Brooklyn, but it's still happening. We're talking about displacement and policing, and how they connect to transphobia and homophobia towards QTPOC. There have been at least 6 incidents ranging from murder to assault in the last month and a half in Central Brooklyn and New York City.
"With the election of Trump and with the federal rollback of protection, we know we weren't protected in the first place. We can't count on the state to take care of us so that we can thrive, live in our truths — we have to do it ourselves."
How has the collective's response work evolved over the years?
The way it started back in the day, year one we had a step team perform, we made a pitch for the Safe Neighborhood Campaign (SNC), and we were recruiting safe spaces that were small businesses. We're launching a new curriculum this year, the first workshop is "Are You Feeling AAIT" — we thought the acronym encompassed what we do. It's not just tips, not just steps A-Z, but rather it's a political framework. If you ground in this framework you can move ethically and principally with integrity, and hopefully change the story of violence in Central Brooklyn from an accessible space.
I think so many people think doing self determined safety or security takes someone who's big, a bouncer, a martial artist, a healer, things that we don't think we have. And we want to up the access to all of this and say, Actually, you already know and do these things, but so many people have made you believe that you're wrong, so lets get together and reground in these things together. We know these strategies work — our members are experiencing violence all the time. They're being policed, there are ICE raids, police are coming to their doors without warrants. Especially our New York born and raised members — they are being displaced at the highest rate of all of our members. Folks know this violence, and they've also been employing these strategies together.
We've been doing these sanctuary spaces for a long time, and if you take this year's workshop, you'll leave as a safe space in our SNC, and it's specifically for households, instead of small businesses, which was the first iteration. We saw that every black owned small business that was apart of the campaign had closed within 2 years, so, How can we count on these spaces to sustain safety for our community? We can't, but we want to support these Central Brooklyn small businesses, so we incorporated cultural workers and households. We found that if you have the frame, you don't need the location, just the skills.
How would you define a Community Freestyle?
We use the words "freestyle," and "cypher," because they're rooted in New York's historically black communities, and in ways of responding to violence that are outside of state systems, and that are ancestral for us. When folks cyph, they're bouncing ideas off each other, riffing off each other. We invited a bunch of cultural workers this year, and asked, What are your tools for the revolution? and Can we make it so that guests can leave with the same tools?They're all going to freestyle in their own ways, make a five minute pitch on what they do, and break out with community members, so they can learn the strategies and skills the folks bring. We're going to have folks talking about making medicine, digital security, visual arts, throwing gay parties, things like that. You can deescalate violence through these mediums […] and we want to do this in ways where the language doesn't get away from us or mainstream.
For folks who aren't LGBTSTGNC POC, how can they step up and be supportive of this collective, this initiative, and these communities in their neighborhoods?
Definitely, become a member of the SOS collective if you live in Central Brooklyn if you identify as LGBTSTGNC POC. All 11 years of this freestyle has been made by our members — it's not an individual, but the members, who are building off a long, deep, and rooted legacy of deescalation and anti-state work. If you don't identify as QTPOC in the neighborhood, become a safe space. If you're a POC who lives in Central Brooklyn, come to the first training of the day. You'll leave as a safe space, as it teaches deescalation and intervention strategies grounded in the AAIT framework. Folks who identify as white, I invite them to come to a security workshop, since we're always looking for folks who are willing to put their bodies on the line, as a buffer between QTPOC and state forces. When we do "Trans Day of Action" for example, and there are thousand queers are in the streets, and there are a bunch of police thinking we're the enemy, we really need security who will hold those lines for us.
Why is it important now, more than ever, to have community generated alternatives to state structures?
Right up until the moment that Trump was elected, we saw a new police chief in New York City, and a reframing of policing as a community based initiative. Their desire is to make community trust them, when they're killing us, policing us, and displacing us. Having strategies so you don't have to call the police, or alternatives to calling the police, or strategies when they're causing you harm, are so essential. More trans women have been murdered than ever before, and we are on record for this to only increase every year. People of color — black and indigenous folks — are being killed more than ever by the police. Now with the election of Trump and with the federal rollback of protection, we know we weren't protected in the first place. We can't count on the state to take care of us so that we can thrive, live in our truths — we have to do it ourselves. We know this shit works, we've done it for 11 years, we just need folks to join us.
RSVP and learn more about the May 20 Summit here.