How Ikonika Channeled The Pain Of A Car Crash Into An R&B Sci-Fi Vision
The Hyperdub pioneer on her decade-long career, and her retro-futuristic new album Distractions.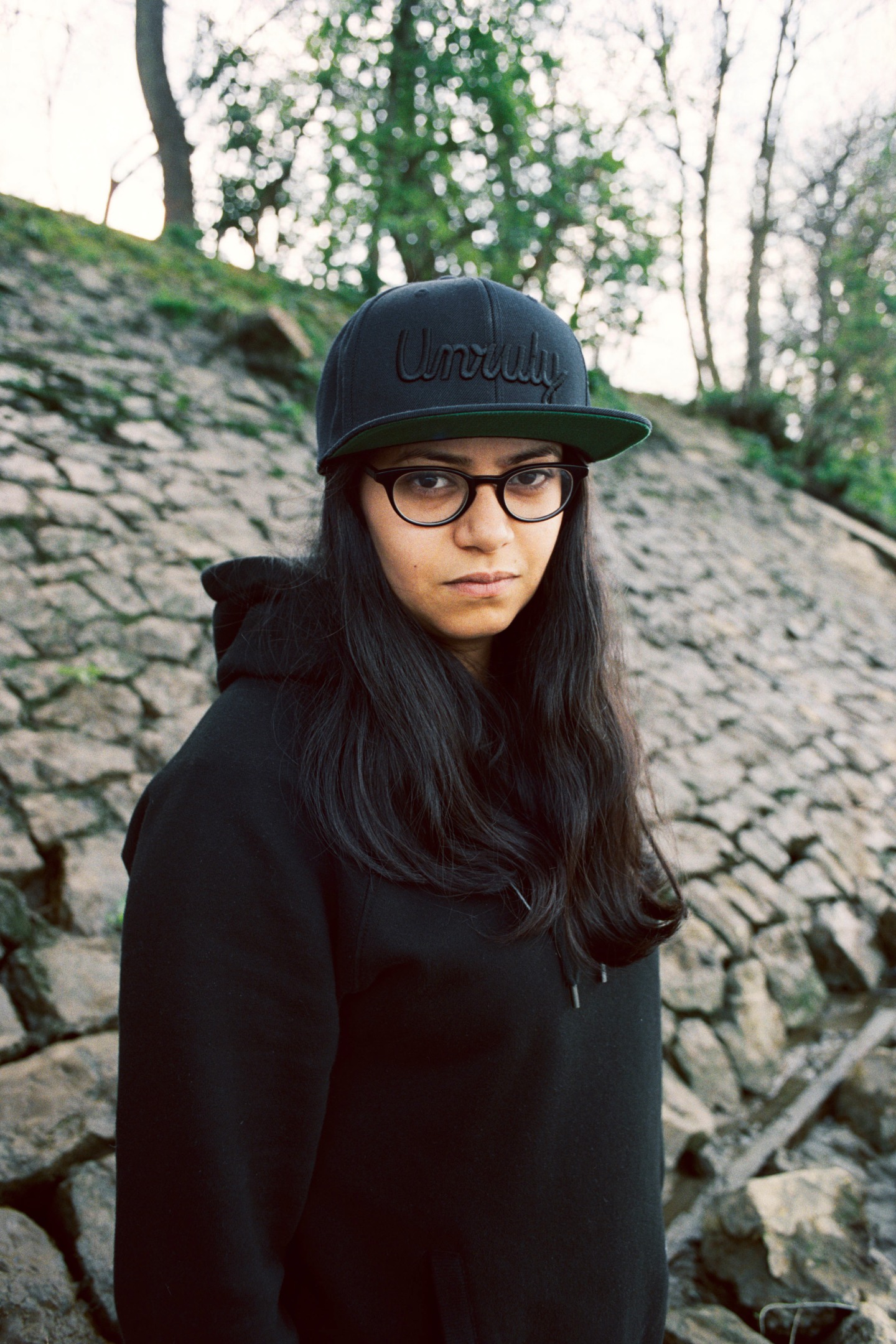 It's a long, flat walk from the train station to Ikonika's house, a couple of miles from London's Heathrow airport. The daily roar of the busiest airport in Europe hangs over this low-rise suburb, a maze of miniature roundabouts and curving cul-de-sacs that's home to hundreds of staff that work at the hectic travel hub (including Ikonika's mom, who works in the British Airways lounge). Ikonika, real name Sara Chen, has always lived here. It's a handy location for a DJ who spends her weekends in clubs from Stockholm to Seoul, but a long way from London's nightlife hotspots. Despite the frequent trains into the city, there's a sense of isolation under the vibrating sky.

When Chen was a teenager, a tight-knit crew of producers from Croydon, another of London's fringe territories, was cooking up a brooding, halftime mutation of 2-step. The sound eventually became known as dubstep. Chen's introduction to the scene came at a night run by Bristol dubstep label Skull Disco, in south London in 2006. "It was really dark, really grungy," she remembers as we chat in the studio in her garden, "but the system…!" She immediately started producing and DJing, becoming a regular face at key dubstep parties FWD>> and DMZ. Alongside contemporaries Joker and Rustie, Ikonika and the second generation of dubstep producers added a splash of color and wonky humor to their bass-worship. The stumbling 8-bit melody of her debut single "Please," released on Kode9's label Hyperdub in 2008, captured all the juvenile joy of a stoned afternoon on the Mega Drive.

Almost 10 years on, Ikonika remains a core member of the Hyperdub family, pushing the label's evolution away from its dubstep roots and towards a more eclectic, globally connected sound. After the technicolor bleepage of her debut album, 2010's Contact, Love, Want, Have, she constructed an '80s dancefloor fantasia on 2013's air travel-themed Aerotropolis. Her new album, Distractions, is the sound of Ikonika coming back down to ground level. Its retro-futuristic landscape was partly inspired by a car crash she endured halfway through the writing process. Confined to the house by her injuries, she transferred her frustration and physical pain into an album of "R&B sci-fi." It's a spacious, sensual record starring the voices of Jessy Lanza, grime MC Jammz, and rising U.K. singer Andrea Galaxy.

In her compact studio, Chen is surrounded by Lego airplanes and vintage synths, including a Korg Poly-800 which she tells me came to define the sound of Distractions. We talk about her decade-long journey through clubland, her evolution as a producer, and the power and responsibility that comes with being a woman pioneer.
What music were you into as a teenager?

I was into punk and hardcore and metal. I played drums in school. My favourite band was Glassjaw. But I grew up listening to R&B, hip-hop — mainly American stuff — and obviously garage. It was massive. My sisters were big ravers, they were in the Moschino kind of crew. I was watching them sneak out of the house, bring back tapes and listen to pirate radio stations.

What was your first proper rave experience?

At uni, going out to The Works in Kingston [west London]. That venue was quite popular for garage…and stabbings. I didn't like it because everyone got dressed up and they weren't there for tunes. Four of us would buy a bottle of champagne and hold it empty for the whole night. It was really expensive — you would just blow your whole student loan on booze and go to places like that.

Your early tracks were so bright and melodic compared to the deeper, darker stuff coming from other dubstep producers like Mala and Coki. How did you find your own style?

I got a sample pack of bleepy, 8-bit stuff and I was like, Cute, this reminds me of back in the days playing Nintendo. I really felt attracted to melodies that were a little bit cheeky, a little bit pop. I was making squiggly, Arabic-sounding melodies. I like feeling some sort of obvious emotion in a song.

Did you think much about the fact there were barely any women in the scene?

No, not at all. I remember after we got "Please" mastered, Kode9 was like, "Do you want your real name in the PR?" I wanted to go the Burial route and be anonymous, but he talked me into it. [He said], "It's good that a woman is making dubstep and [you] should put [your] name on it." Then I was like, "Sure." But although dubstep got very bro-y afterwards, back then it wasn't; it was community-spirited, everyone shared ideas and tunes and came to nights, everyone was very active and involved.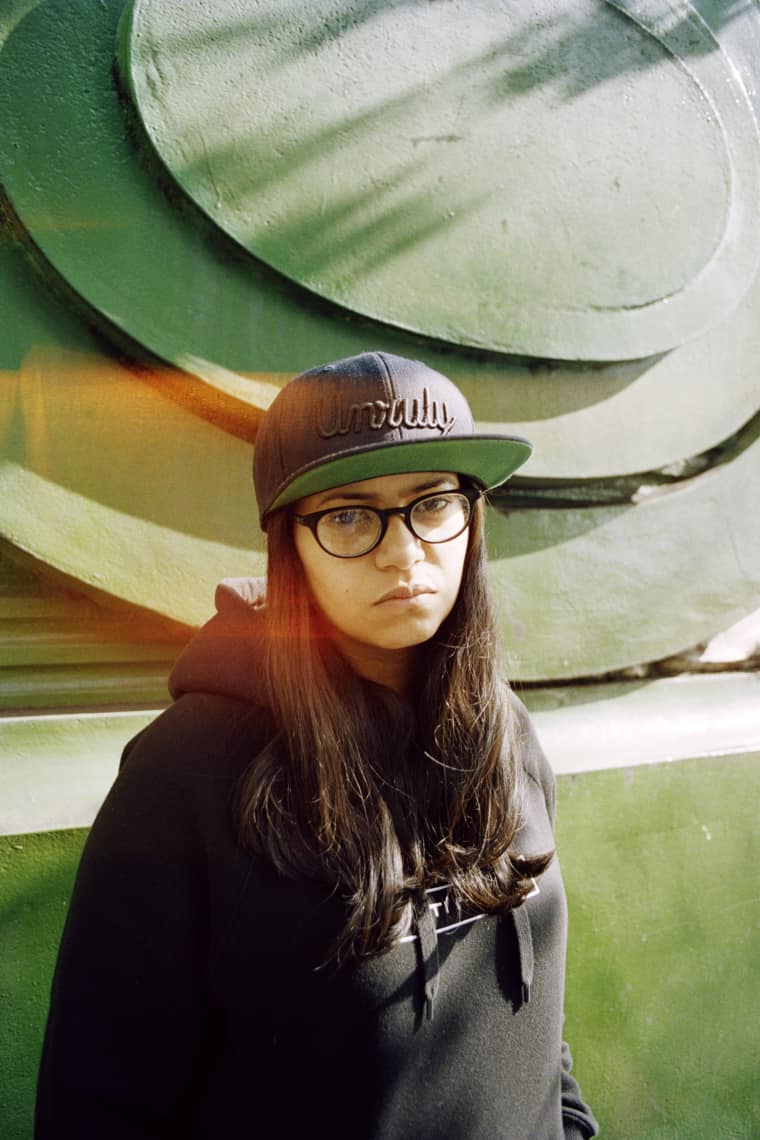 "I'm in my own little zoned-out island. I kind of like that, being alone."
Your albums have their own distinct identities: Contact, Love, Want, Have was full of 8-bit melodies, while Aerotropolis was sleek and shiny, with themes of air travel and escapism. What's the big idea behind Distractions?

I thought of the name Distractions [because] the music was my distraction from life. I wanted to be 24/7 involved in that world. The visuals [show] an empty world — there are no humans any more. It's a city we built — there's [Kode9's] Nøtel building and [Scratcha DVA's] Hi:Emotions building in there.

I was driving to east London a lot, around this bit of the M4 [motorway] where these car dealerships started rising. [Telecommunications company] Sky had built this massive, awful USB-shaped building and every time I'd be driving through there was a change. I remember seeing a crashed Lamborghini on the flyover. The tyres came off, [the driver's] gym kit was scattered across the road. It reminded me of J. G. Ballard's Concrete Island and Crash. Then about two years ago I was in a car crash. I was coming out of my road and there were loads of parked cars and some boy racer put his foot down and hit me at 60 mph. The car was a write-off.

Were you okay?

I had some badly bruised ribs and hip problems. I still have spinal problems. I haven't been able to drive since. It was around that time that the demos were turning into an album. Distractions was initially going to be an ambient project, but I scrapped it after that. It felt better to have this kind of passive-aggressive feel to it after being in physical pain for two months.

If you haven't been able to drive since then, do you feel a bit isolated out here in the suburbs?

I've got a bike, but yeah, I feel a bit isolated. I'm in my own little zoned-out island. I kind of like that, being alone.
You've got several guest vocalists on this record. How did you come to collaborate with them?

[Night Slugs producer] Sweyn J and me made that track ["Hazefield"] and we were so high — it was 1 a.m., this whole room was smoked out. Sweyn was like [adopts a super-stoned voice] "Babes… we've got a banger." I brought in Jessy because I thought it would be right up her street: it's quite sensual and lonely and a bit melancholy. Jammz originally vocalled on a different track, "Lossy," but then I made a whole track around his vocal from scratch. I used to find it very difficult to collaborate with people. You don't want anyone over your shoulder. But I knew for this record I wanted to get out of that comfort zone.
You recently taught a production workshop for girls with E.M.M.A., P Jam, and Dexplicit. Why did you decide to do that?

I felt I had the experience to share my skills, but not just to anyone, to women that are really into it and want to know the basics. It's a beginner's class, so we show everything step by step, translate everything. The response to that was amazing. I know E.M.M.A. had 300 applicants come through. I'm at that time now where I don't know how long this music is going to last. What am I supposed to do if I don't sell any records or have any gigs? The least I can do is teach someone who's younger than me all the skills.
How do you think clubs have changed in the past 10 years?

I've been lucky to play really cool venues and club nights that are inclusive and fun for everyone. I play a lot of places where it's just dudes, but that's just because people still see me as a dubstep person. Then there'll be some gigs where it's just girls in the front row, and that's amazing to me. Before I'd be like, I'm going to play a really performance-based set and show all my technicality. But now I'm just doing it for the girls, because they deserve this space.