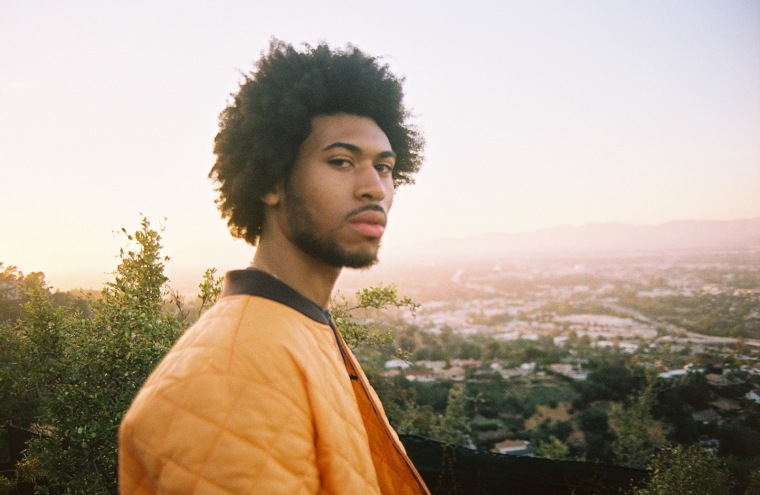 Embracing what he calls his "duality complex," Brooklyn rapper Jimi Tents isn't afraid of confronting the truth: "I'm somebody who wants to save the world but also acknowledge that the world is fucked up," he told The FADER over the phone recently. On his debut mixtape, 5 O'Clock Shadow, Tents showed himself as a storyteller, with East New York and its quickly gentrifying surroundings as his enthralling setting.
In the months following his initial success, he found himself grappling with harsh realities when his childhood home was slated for foreclosure. "I'm not the first or last person who's going to be in that position, and the bounce back gave me the momentum to say, 'I'll never put myself, family, or loved ones in this position,'" he said. "'So I have to grind and propel myself forward.'"
Its undeniable that through the ups and downs, Tents has always felt the importance of staying true to all parts of his story — and in I Can't Go Home, which premieres below, he cohesively threads together uptempo summer records ("Rick Rubin") with reflections on depression and loss ("Below The Surface"). During our conversation, he opened up about coming of age, his transition between the boroughs, and how he carries his ties to East New York through his music.
Tell me a bit about your beginnings — what was it like growing up in East New York, and how'd you break into music?
My parents are West Indian immigrants — I grew up in East New York the majority of my life. My dad is Jamaican and my mom's Guyanese. Getting into music wasn't hard, because while neither of my parents are musicians, their appreciation for music is extremely vast. I grew up listening to rap, R&B, soul, oldies, reggae, rock, you name it. Any and everything. Outkast's Stankonia, Andre 3000's The Love Below, 50 Cent's Get Rich Or Die Trying, and Pink Floyd's The Dark Side Of The Moon, are examples of some projects that have stuck with me throughout. There's a lot. I was just listening to Panic! At The Disco, actually, and they really influenced me a lot as a young kid who would watch TRL a lot. Jay-Z, Nas, and Lil Wayne, are big influences too. I love artists who carry a message.
I was exposed to a lot of different genres, with East New York being as diverse as it is — that middle ground between Ozone Park, Brownsville, and Highland Park is super diverse. I had friends blasting Daddy Yankee growing up, and then my family would be playing reggae. It was a huge melting pot and had a huge influence on my music.
"Rick Rubin" is one of the songs we got to hear off I Can't Go Home — can you tell me a bit about that and some of the other tracks that have been pre-released?
This album is for that person who has talent or something special about them, but is stuck in the daily routine of their life and feels unsure to take that leap in order to be successful. The overall goal is to go out and get it — it starts off somewhat aggressive, and moves through emotions like frustration, bliss, resentment, fear — all these different emotions — and "Rick Rubin" is like the focal point of the entire album. I wanted it to be the fun track, to represent the light at the end of the tunnel. I wanted to make the album something you could play from start to finish, and then from finish to start, and get two sides of a story about the character who made this music. "Rick Rubin" is my shit — that, "Domino Effect," and "Should've Called Pt. 2" are the ones we released first, and those ones were for the people. They were not so much about my story and more about relateability. "Rick Rubin" was a really fun summer record and pays homage to the great influencer in hip-hop that Rubin is.
As you mentioned, the project reflects on a lot of deeper themes — some I picked up on are growing up, and pursuing your dreams. And you show a lot of love for your neighborhood. What was the process of bringing all of those ideas into one cohesive work?
In a way the project recaps where I've been in the last year and a half, the perils I've experienced, what I've achieved since my first release, 5 O'Clock Shadow. I really wanted to touch on where I'm from, and highlight the fact that gentrification is fucking up a lot of peoples' lives. I guess there's some good coming from it, like safer neighborhoods and better quality of life for some, but for the people who are from there, born and raised there, it's really an uncomfortable space to be in. Especially as a New Yorker, and it's happening all over. Another theme was chasing my dreams, because I Can't Go Home is more a state of mind, it's like, Okay, I won't be coming back home — and I won't be trying to go back until I have something to offer. I can't just sit on my ass and watch this bullshit carry on, I want to be the kind of person who gets involved.
How did gentrification in East New York specifically impact you and your family?
In early 2015 when I debuted 5 O'Clock Shadow,, it had a great response, and really gave me the momentum I have now to put out a project like I Can't Go Home. On the heels of that release, I felt unstoppable, on top of the world, like my career was about to take off. And then a few months later, we found out our house was going under foreclosure, and that we were going to be losing everything. We had to grapple with what our lives were going to come to, where we were going to go, where we were going to stay. I come from very prideful people, hard working people who don't really ask for shit. We were really trying to fend for ourselves, and for me, as a young man transitioning into manhood, it made me feel fucked up, that I wasn't able to help my family through this the way I wanted to. I went from feeling on top of the world to having to leave the place you called home: the place you got into your first fight, you had your first girlfriend, smoked your first joint — all of these moments in a person's life being swept away. Being pushed out of my home. It was a hard transition but I'm not the first or last person who's going to be in that position, and the bounce back gave me the momentum to say, I'll never put myself, family, or loved ones in this position, so I have to grind and propel myself forward.
A standout track for me is "Below The Surface," which touches on grief and depression. Can you break down what went into that track?
Yeah, shoutout to Saba, who jumped on the record and spilled his piece. That record is one of the most vulnerable records on the album — at first I didn't even know if I wanted to include it. I wanted to tackle and touch on all the things that were bothering me. It was less about relating, and was more about venting — I recently broke down the record on camera, and it was a lot to realize how much it actually touches on. It touches on losing a loved one, tackling depression, not being in a state of mind where I felt the most confident in myself. Even suicidal thoughts. I'm not a sad boy rapper, and for the most part I like to be positive and forward thinking. But that particular song was written when I was at my lowest low. The message of the song is, These things can affect you, they can bother you, and inconvenience you, but there's a light at the tunnel. You can embrace these emotions and feel these feelings. You can pump fake and act like you're fine, but it's okay to admit you're not okay. You don't have to show it, but acknowledge it.
Does it feel empowering to be able to admit this, and speak on something taboo like mental health, and have it reach a large audience?
Most definitely — it's something that needs to be said. There are a lot of rappers that are one-sided. I have a duality complex as an artist. I'm somebody who wants to save the world but also acknowledge that the world is fucked up. I like fat asses, I like flashy cars, I like gold chains, but at the same time I understand substance and that I need to carry a message, and am in some ways a role model. I can't be one sided, and I can't lean towards being happy all the time. I need to speak and act on these feelings because someone may relate to what I'm saying, and it may help them. On my last project, I released a song called "Elmer Fudd," and had fans tell me the song changed their lives — I had someone tell me they were about to harm themselves, but the record did something for them. Or that they'd lost a loved one, and that the record did something for them. That's what I do it for, and that's who I do it for.