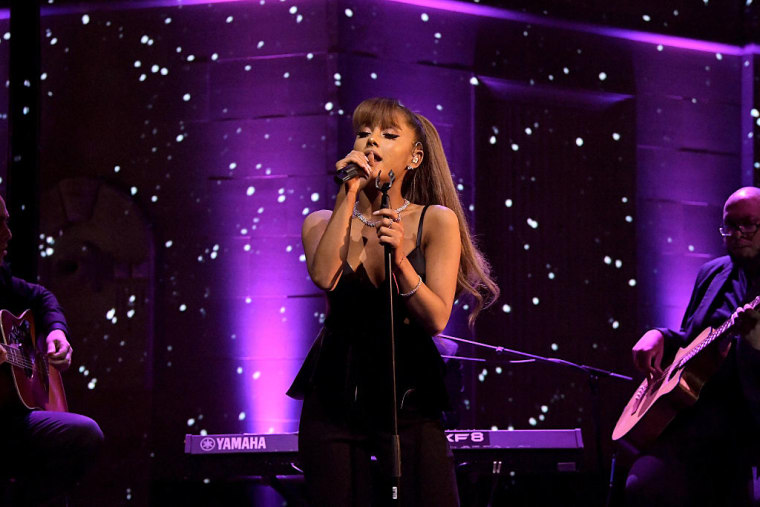 Update, 5/30/17, 11:16 a.m: A new press release has announced Ariana Grande's Manchester benefit concert "One Love Manchester" will take place Sunday June 4 at Emirates Old Trafford in Manchester. Supporting artists will include Justin Bieber, Coldplay, Miley Cyrus, Katy Perry, Pharrell, and Usher. The show's net ticket proceeds will benefit the "We Love Manchester Emergency Fund," established by Manchester City Council and the British Red Cross.
Tickets go on sale here Thursday June 1 at 10 a.m. BST. Fans who were at Grande's concert in Manchester on May 22 are being offered free entry if they register before Wednesday May 31 at 4:00 p.m. BST.
The event will also be livestreamed.
---
Earlier: Ariana Grande may return to Manchester on Sunday, June 4 to perform a benefit concert for the victims of the May 22 bombing, Buzzfeed reports.
Greater Manchester Police Chief Ian Hopkins told BBC Radio Manchester that the singer would return to the city "sooner rather than later," after an explosive device was detonated during her concert at the Manchester arena, killing 22 people.
"When the idea of the concert came up, the first reaction was we need to speak to the families of the victims and see what they feel," Hopkins said. "It is fair to say that the majority of them are very much in favour, [although] there are some that clearly aren't and that is absolutely understandable."
Details of the concert are still under wraps. Lancashire Cricket Ground at Old Trafford is in the running as a possible venue, with Grande headlining. A testimonial football match in honor of Manchester United vice captain Michael Carrick is scheduled near the grounds for the same day, but Hopkins said he believed the capacity and security issues can be worked out. "I am fairly confident that we will be able to do both on Sunday and the people of Manchester will yet again be able to show their support."
On May 26, four days after the bombing, Grande shared a statement. "We will not quit or operate in fear," she wrote. "We won't let this divide us. We won't let hate win." The singer's Dangerous Woman tour is scheduled to restart in June.