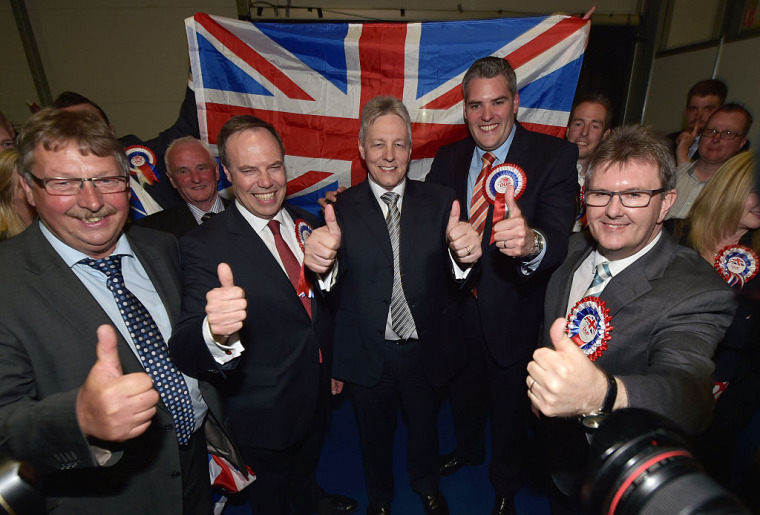 The results of the 2017 U.K. general election defied pollsters and conventional political wisdom to deliver Tory losses, Labour gains, and a hung parliament. Theresa May's Conservatives took 318, eight short of an outright majority, while Jeremy Corbyn lead a resurgent Labour Party to 261 seats.
On Friday morning, Theresa May announced that she would seek to form a coalition government with the Democratic Unionist Party (DUP), a far-right party in Northern Island with ten seats. DUP's leader Arlene Foster subsequently confirmed her party would "enter discussions" with the Tories. Literally overnight, DUP has risen from the margins to the centre of British politics.
Here are a few points you should know about the DUP's history and politics.
The DUP is skeptical of climate change
It vetoed same-sex marriage
In 2015, The DUP used a procedural maneuver to veto marriage equality legislation, and declared a "moral victory" as Northern Ireland became the only territory in the U.K. without same-sex marriage.
Abortion in Northern Island is inaccessible thanks to the party
It has historical links to terrorism
The Ulster Resistance was a paramilitary organization that formed in Northern Ireland in response to the Anglo-Irish Agreement, a treaty that sought to end the decades of civil war known as the Troubles.
In January 1988, the Ulster Resistance were caught smuggling dozens of rocket launchers, assault rifles, grenades and other armaments. Several of its members went on to become major figures in the DUP, including Peter Robinson, who led the party until last year.
But it's not all ancient history. DUP leader Arlene Foster was criticized last week for meeting with members of another paramilitary organization, the Ulster Defence Association, that stands accused of organizing the murder of a political rival.
The irony of a Conservative/DUP alliance is strong, after a campaign in which Theresa May accused Jeremy Corbyn of links to various terrorist groups.
The Conservative's Brexit plans could get complicated
The DUP have opposed the "hard Brexit" favored by many Conservatives and UKIPs. "What we want to see is a workable plan to leave the European Union," Arlene Foster has said. Her party is against a hard border in Ireland.