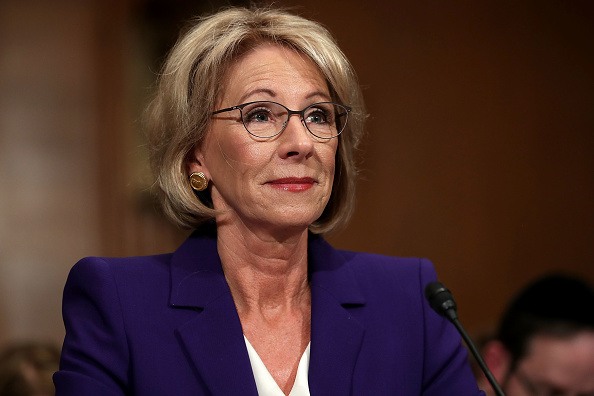 Education Secretary Betsy DeVos has announced her pick to run the $1.3 trillion federal student loan system, and he is the CEO of a private student loan company.
A. Wayne Johnson will be the chief operating officer of Federal Student Aid. Johnson is the founder and CEO of Reunion Financial Services, a company that originates and refinances private student loans.
Johnson's position at Reunion was not mentioned in the Education Department's press release announcing the decision. The statement describes Johnson as the "Founder, Chairman and former CEO of First Performance Corporation, a global payment card technology platform company."
"Wayne is the right person to modernize FSA for the 21st Century," DeVos said in the statement. "He actually wrote the book on student loan debt and will bring a unique combination of CEO-level operating skills and an in-depth understanding of the needs and issues associated with student loan borrowers and their families."
A representative from Reunion Financial Services told Buzzfeed News that Johnson "of course plans to resign" if he is confirmed.
The position of federal student aid chief opened up last month after James Runcie abruptly resigned after refusing to testify in front of an oversight committee. "I cannot in good conscience continue to be accountable as Chief Operating Officer given the risk associated with the current environment at the Department," he wrote in his resignation letter, obtained by Buzzfeed News.