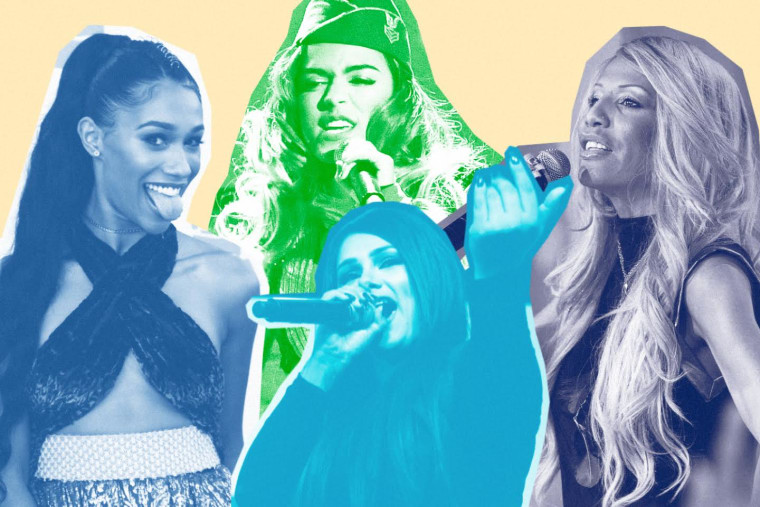 Reggaeton has always been male-dominated, and its recent springboard back into mainstream pop continues to be as gender-inclusive as a pre-pubescent boy's clubhouse. Right now, all eyes and ears are on Daddy Yankee and Luis Fonsi's "Despacito" remix featuring Justin Bieber, a song that has soared to the top of the Billboard Hot 100 and stayed there for the last six weeks. Before that, Colombian artists Maluma and J Balvin were putting in work as reggaeton's newest golden boys, making hits alongside the genre's heavyweights, like Wisin, Nicky Jam and Don Omar.

But women reggaeton artists have been virtually absent on the charts lately, despite the new generation of women deftly spinning dembow, perreo and urban sounds into gold in underground, independent spaces—and on their own terms. On the Latin Urban Queens playlist, curated by Spotify, we celebrate some of the acts, old and new, changing the urban and reggaeton game from the inside.
The last decade has democratized and broadened reggaeton to incorporate a range of new styles, from merengue to pop to trap. Women artists have seized the moment and put their individual spin on the signature beat: In Chile, the tough-as-nails tattoo artist Tomasa del Real has abandoned ink for insolence, churning out some of the raunchiest, dirtiest neo-perreo you'll hear. La Favi is drawing out breathy vocals over beats and infusing her music with bits and pieces of her Andalucian background in the Bay Area, while in Spain, visual artist Ms. Nina tinkers with laidback, lo-fi experiments that reflect her stoned Lisa Frank aesthetic. Colombia's Karol G has blended pop and reggaeton on collabs with Bad Bunny and De La Ghetto, and Chocolate Remix, a lesbian from Argentina, has been challenging and satirizing homophobic tropes in reggaeton with lyrics that speak directly to queer experiences.

Spitfire MCs and hip-hop artists have also been flirting with the genre without fully committing, melding traditional reggaeton and urban influences. Puerto Rican-Italian rapper BIA brightened J Balvin and Pharrell's addictive "Safari," and Cali's Snow Tha Product played with reggaeton for the first time on her tequila-drenched break-up song "Nuestra Cancion." Spain, the country that listens to reggaeton most, according to Spotify, helped usher Barcelona rebel Bad Gyal into viral stardom after her YouTube channel attracted serious attention.

But while you can find women powerhouses in nearly every corner of the globe, it's sadly not new—or much of a surprise—that the mainstream red carpet is being rolled out for the guys first. Women have had to shove their way into reggaeton since the genre's early days and usually, the positions that have been available to them are as hook and back-up singers or dancers in videos. Only a select few, like the legendary Ivy Queen, have ripped the mic from the men and reclaimed the genre for themselves, battling overtly misogynistic lyrics and blatant objectification head-on.

While reggaeton's origin story is debatable, most people acknowledge its initial roots as reggae en español, a style that developed in Panama after Jamaican laborers came to the country to build the Panama Canal. The sounds eventually moved to Puerto Rico, where underground DJs and rappers started doling out the mix of hip-hop and dancehall riddims that would morph into reggaeton as we know it today. Puerto Rico's hard-hitting underground is also where Queen first set out on her course to become the genre's official matriarch.

Born in the island's west coast region of Añasco, Queen began performing as a rapper in San Juan clubs when she was just 18. As a member of the rap/reggaeton group, The Noise, and later as a soloist, she was unafraid to growl on the mic and fire off lyrics that jostled between explicitly sexual and sharply perceptive. Songs like "Yo Quiero Bailar" doubled as party anthems and blistering gender critiques—on this track, Queen invites a guy to dance up on her, but vehemently declares "eso no quiere decir que pa la cama voy." ("That doesn't mean I'm going to bed.")

While Queen is the most recognizable of reggaeton divas, she's not the only female force in the genre's early history. The Dominican Republic's Demphra and Puerto Rico's Lisa M. pioneered rap en español before dipping into the burgeoning urban genre; San Juan's Glory featured on a Playero mixtape before lending vocals to Daddy Yankee's crossover smash "Gasolina." Panama's husky-voiced Lorna dropped "Papi Chulo" in 2003 and watched as the song exploded throughout the airwaves, and most people recognize Jenny La Sexy Voz's iconic "Papi, dame lo que quiero" on Wisin y Yandel's "Rakata," despite not knowing her solo hits, like "Acariciame." Singer and rapper Farina became one of the first women reggaeton/urban artists in Colombia after getting her start on the country's X Factor.

Queen, who recently made the Internet go nuts by posing with rapper and fellow provocateur Cardi B, has been recharging the scene with old-school perreo sounds, dropping the recent track "Amame o Matame" with Don Omar. Both emerging and established artists continue to take their cues from her empowering career: Twin sisters Gara and Loida Hernandez formed K-Narias in the Canary Islands back in the mid-2000s, and have released songs like "Mujeres" that tackle gender politics directly. La Favi has also called Queen an inspiration.

Still, it remains a struggle to keep women reggaeton and urban artists in the spotlight. Today's new generation offers hope (and the potential for mainstream airplay), thanks to the unbridled creativity and reinvention it has brought the table. These new artists have flourished in independent spaces they've created themselves, taking agency over their own sounds and undoubtedly moving the genre forward.