Here's Where You Can Celebrate Pride This Weekend In NYC
Parties, parades, and protests will give you plenty of ways to partake.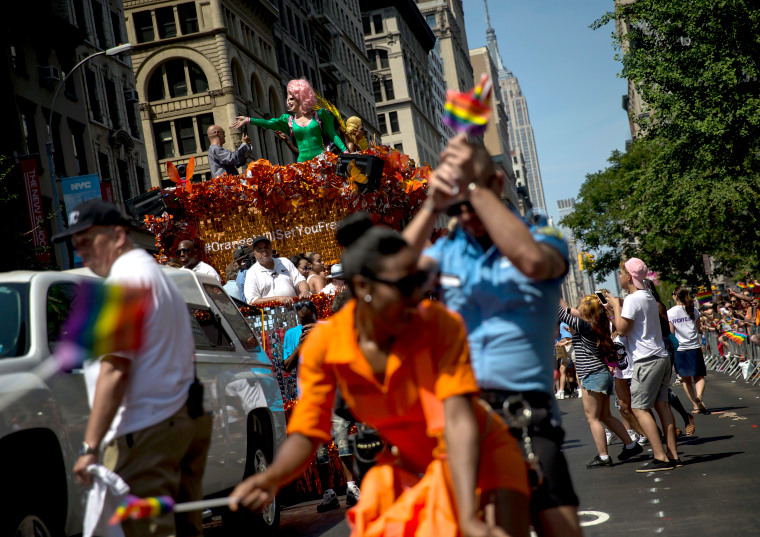 Pride Week in New York City is no small thing. Here's everything happening this city that you can participate in this weekend to celebrate Pride.
Saturday
Pride Island
Pride Island is a new event added to the New York City pride festivities. It is a three day festival at Hudson river park, featuring tk and tk. The event will also feature performances from Tegan and Sara and the Years & Years, as well as Roisin Murphy, Gallant, Dimitri From Paris, and Occupy The Disco. You can buy tickets here.
2 p.m. — 10 p.m.
Hudson River Park: Pier 26
Teaze
DJ Taryn Manning (From Netflix's Orange is the New Black), Tatiana, and M.O., will be playing their sets on a rooftop party. "Ladies unite for this world-rocking event," is the event's main goal, and you must be 21 ord older to enter. Buy tickets for the event here.
4 p.m. — 10 p.m.
The DL
95 Delancey St.
Queer/Art/Pride
The IFC Center partnered with Wythe Hotel to take their normal screening and use it inspire future LGBTQ artists. Films will be running all day.
80 Wythe Ave.
Set It Off
A hip hop night for the queer community, with DJs Adair, Roze-Royze, Mursi Layne, Lezwecan and Kev Lovr.
10:00 p.m.
20 W 29th St
New York City Dyke March
A protest, rather than parade, it is a march to push for trans and women's rights, and is open to all self identifying women.
40th to 42nd Sts between Fifth and Sixth Aves
4:30 p.m.
RAGGA & PAPI JUICE presents: Dancehall Queen
Sets by DJs Bebe, False Witness, Mobilegirl, br0nz3_g0dd3ss, Oscar Nñ and Adam R, and a performance by Trans Bronx rapper Quay Dash. For more information visit Baby's All Right's website.
10:30 p.m.
146 Broadway
Pride Pool Party
A pool party at Room Mate Grace Hotel, where Terra Hyman will be performing. Tickets are available here.
7:00 p.m.
125 West 45th St
bklyn boihood Pride Party
A community oriented event, featuring DJs Mursi Layne, Boston Cherry and UNK da Boss.
8:00 p.m.
622 DeGraw St
Bad Habit Pride: Official Dyke March Afterparty
DJs Horrorchata, Koslöv and Mary Mac will keep you dancing and drinks and food will be flowing. Buy tickets here.
10:00 p.m.
Lot 45 411 Troutman St
Masterbeat: Game Show
Billed as "the official Saturday night event of NYC Pride" Masterbeat: Game Show is hosted by Masterbeat and has the opportunities for winning prizes and participating in an all night production. Tickets are available here.
10 p.m. — 6 a.m.
Hammerstein Ballroom
311 West 34th Street
Sunday
The March
Started in 1970 and known around the world, the New York City Pride Parade will start at noon. A map of the parade can be viewed here.
Sunday, June 25th, 2017
Step Off: Noon
Begins at 36th Street and Fifth Avenue
Ends at Christopher and Greenwich streets
PrideFest
Going on it's 24th year, PrideFest is a street fair that will feature vendors, food and performances. LeAnn Rimes will be headlining the event.
11 a.m. — 6 p.m.
Hudson Street between Abingdon Square & W. 14th Street
Femme Fatale
A rooftop party catered to women, this event will feature an open bar from 4:00 p.m. until 5:00 p.m. Tickets are available here.
4 p.m. — 10 p.m.
Hudson Terrace
621 W. 46th St.