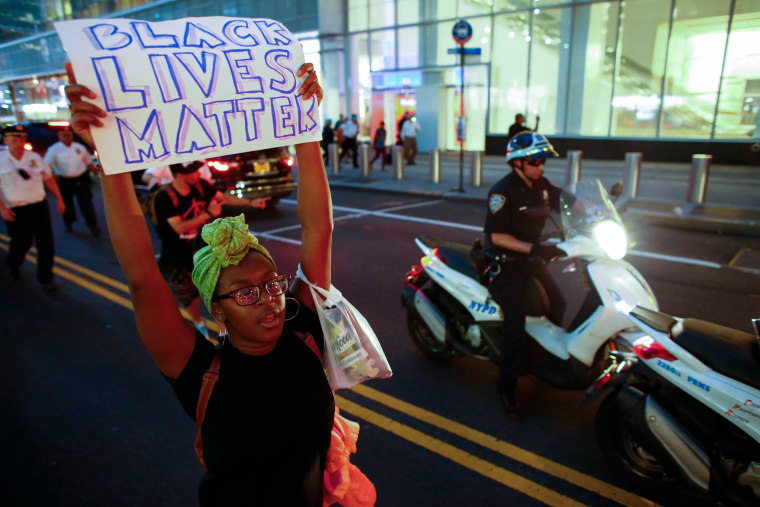 Black Lives Matter NYC published an open letter June 25 on Medium, criticizing NYC Pride for the high levels of police presence, and for the NYPD vehicles decorated with Pride decals.
"As many people in NYC fawn over the NYPD's participation in Pride events," states the letter. "We cannot forget the dangers that one of the biggest military forces poses to Black communities."
Other cities' police departments have come under similar criticism for Pride-themed decals on police vehicles, while simultaneously facing documented accounts of targeted brutality.
NYC Pride is not the only Pride event to face such criticism. Many cities have faced tensions between LGBTQ and racial justice activists, as conversations about access, and inclusiveness continue. The Black Lives Matter NYC open letter specifcally stands in solidarity with a similar movement in Toronto, where the Black Lives Matter local chapter chose not to attend Pride.
The letter goes on to present examples of recent police brutality towards black communities, specifically black LGBTQ communities. Cases of trans women facing targeted abuse by NYPD, and numerous other examples of violence.
Black Lives Matter NYC is calling for the end of predatory policing and a divestment from NYPD's $4.8 billion a year budget to be refocused into community building programs and social work services.
"The companies could support the local borough Prides that are led by Black & Brown organizers, often with little to no budget, in order to provide a safe-space for people of color."
The letter also addresses the issue of corporate sponsorship, which has been a developing dividing factor within the LGBTQ community.
"Our issue is that it's great if people are able to put out these messages of support," said Allen Frimpong, of Black Lives Matter NYC, about corporate sponsorship, in a comment to The FADER. "But that this support isn't backing these communities program."
NYC Pride's leading sponsors are T-Mobile and Walmart, and are followed by 54 more corporate sponsors, which have contributed a total of $1.7 million to NYC Pride.
"It's not enough to put out a van," Frimpong continued. "What are we saying when these issues go unaddressed? We're recognizing that we can put all this money into Pride, but people are still getting shot by the police."
Frimpong told The FADER that he wasn't sure what was next, but that he hoped a dialogue with NYC Pride organizers would begin "about the safety of black and brown folks," and spaces where these communities, communities like Bushwick and East New York, can have freedom of self determination and to fully express themselves.
"We can no longer support spaces where those who kill us with impunity, are allowed to march beside us," ends the statement, written by Kei Williams and outlined by Kleaver Cruz. "We can no longer support spaces where those who kill us with impunity, are allowed to patrol a day of celebration. We are here for Pride, but not like this."
You can read the full letter here.