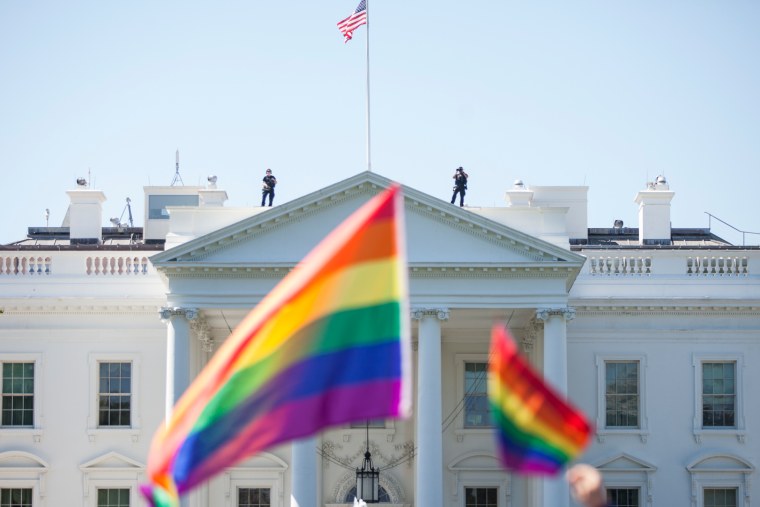 Even though June has officially come and gone, there's something cringeworthy that simply can't be overlooked—Donald Trump's choice to not-so-secretly ignore National LGBT Pride Month. As CNN and the Washington Post pointed out, Trump never recognized the celebration that was originally initiated in 1999 by President Bill Clinton as a testament to the historic Stonewall Riots. It wasn't until 2009 that the concept of Pride Month was reintroduced under President Barack Obama as an effort to "eliminate prejudice everywhere it exists, and to celebrate the great diversity of the American people."
In addition to omitting Pride Month, Trump has officially discontinued National Building Safety Month, National Teen Dating Violence Awareness and Prevention Month, and National Colorectal Cancer Month. Instead, he really made a mark on his legacy when he announced that June would be known as African-American Music Appreciation Month, National Ocean Month, Great Outdoors Month, National Caribbean-American Heritage Month, and National Homeownership Month.
Ivanka made an effort to tweet her support for all of her "LGBTQ friends and the LGBTQ Americans" earlier last month, as if that could make up for her father's negligence to the community. Given the amount of time that the Trump administration had to resolve this issue, it doesn't seem like it's at the top of their list of priorities. In other words, the damage that Trump has done to the LGBTQ community won't be repaired anytime soon. Not once did the White House light up in rainbow colors.