Trap's Latin American Takeover
Messiah, Fuego, and Anuel Aa are some of the artists pushing trap across borders.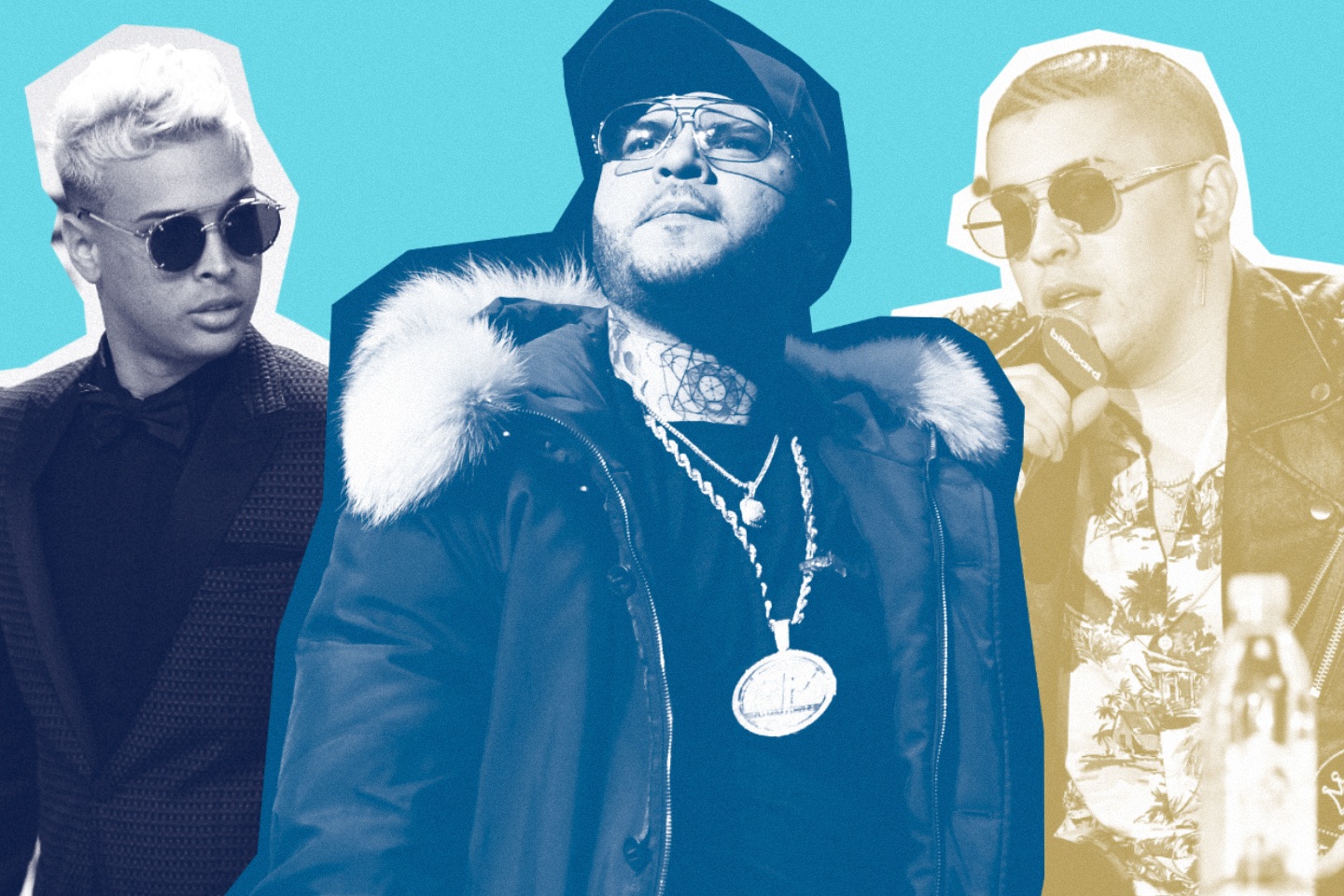 Ever since bubbling up on the streets of the South, the slippery, low-end sounds of trap have dripped not just across the country, but throughout entire world, eventually trickling into Latin America's urban genres. Rappers and reggaetoneros from Puerto Rico to Colombia have taken elements of trap — the lurching bass lines, jittering 808s and the eyes-half-closed vibe — and infused them into banger after banger, which you can listen to on Trap Land, a playlist curated by Spotify.

Farruko may be one of the most conspicuous reggaeton-artists-turned-trap-stars. He's built a strong following after collaborating with performers like Yandel (check out the 2016 Latin Grammy winner "Encantadora" to get a sense of how he's changed up his style). In interviews, he's explained that he felt limited in reggaeton, while Spanish-language trap allowed him to try his hand at more experimentation. In fact, he's embraced the genre so much that his upcoming record is rumored to include American trap artists like Fetty Wap.

He's joined on the scene by up-and-comers like Fuego, the D.C./Maryland-bred rapper who made Latin trap his calling card after establishing a new sound on his EPs Fireboy Forever 2 and Fireboy Forever 3. Fuego's parents come from the Dominican Republic, and he's always toyed with merengue and reggaeton, but he doubled-down on trap after signing to Pitbull's Mr. 305 Inc. These days, he's serving up laidback rhymes you can sleepwalk to, both in English and Spanish.

Dominican artist Messiah had been in a duo called Tali Messiah in New York that was primarily focusing on hip-hop and reggaeton, but as trap began its evolution, Messiah found himself continually drawn to the style. His own music began reflecting the influences around him. Once he started messing with trap en español, he drew attention from longtime artists, like Daddy Yankee and Nicky Jam. He became one of the pioneers of the style in the Spanish-speaking world, booking club shows and creating a trap-infused spark that traveled to Puerto Rico.
On the island, everything Bad Bunny touches turns to trap. The Puerto Rican triple threat (singer/producer/rapper) has a distinct baritone that is ubiquitous right now, thanks to his work with a seemingly endless roster of stars, like Karol G, J. Balvin, and Arcangel — he even hopped on a recent track with Tory Lanez. These collabs have helped make him one of the top 400 Spotify artists in the world, with approximately 4.9 million monthly listeners.
His fellow Boricuas Noriel and Bryant Myers are also showcasing trap's influence in Puerto Rico and beyond. With slow-roiling rhymes that appear under foggy synths, Noriel was one of the first artists to usher trap into major Latin American markets, like Mexico, Ecuador and Peru, proving that trap could extend far past the U.S. Myers, meanwhile, has made a name for himself with a deep, thick-tongued delivery that nods to trap's early beginnings.

And while Kap G isn't strictly a trap artist, the Atlanta rapper has become one of the most promising Latin acts in hip hop, landing on this year's XXL Freshman Class. Born to Mexican parents, Kap G reps his Chicano heritage in his songs (see "La Policia," "SupaJefe") and videos (he rocked a full charro outfit in "Freakin N Geekin.") He's not slowing down anytime soon; he's releasing a mixtape with Chris Brown, after teaming up with him for "I See You."

With a history linked to drug dealing, trap's history has often been embroiled in scandal. This hasn't changed much in Latin America, and artists like Anuel Aa come with their own hard-to-swallow controversies. The Puerto Rican artist has drawn admirers — and visceral haters — for rough lyrics that tick all the explicit content boxes: sex, violence, drugs. Most other Latin trap artists are in the same boat (Noriel is considered one of the most explicit) but Anuel Aa is also amassing a lengthy rap sheet. In 2016, he was arrested in Puerto Rico after police found three guns and 152 rounds of ammunition in his car. He's still releasing rhymes from prison and courting major labels, his popularity reinforced by about 6.6 million monthly Spotify listeners and fans who have launched a #FreeAnuel movement that has direct parallels to Gucci Mane, as a Remezcla article pointed out.

Whether or not the trap fire spreads to mainstream radio is still a question. As Messiah noted at the 2017 Billboard Latin Music Conference earlier this year, the themes associated with trap are a tough sell in Latin markets. "Latin radio is not ready for these lyrics. English radio was because of Eminem and hip-hop. They were used to controversy," he said.
Some artists have found a way to work around the genre's contentious reputation by wiping their music clean of expletives and hardcore lyrics; think PG-13 trap infused with plenty of pop. Chris Jeday worked out the formula with his hit "Ahora Dice," which has been swirling on Spotify's global top 100 chart. Even mega stars have made nods to the genre: Shakira released the appropriately titled single "Trap" with Maluma, the rising Colombian artist whose music strikes a balance between reggaeton, R&B and trap. Reggaetoneros like Nicky Jam and Wisin have also ackonolwegded the spread of trap through songs like "El Amante."

And away from the mainstream, trap thrives, on digital spaces and in more localized pockets, particularly in countries like Spain. PXXR GVNG/Los Santos and Yung Beef have spread the style there, and Madrid's C.Tangana is playing with a sweeter, poppier variations.

Many of these artists insist that the kind of trap they're doing isn't just for show; the music reflects their reality. "We are speaking the language of today's youth," Bad Bunny contended at the Billboard Latin Music Conference. How true this is remains to be seen, but the continual listeners and attention these artist are attracting show Latin trap is only going to keep growing.