Listen To A Thrilling New Lafawndah Song In Her Mix For Kenzo
"The music included here spans multiple times, places, milieus," she writes in a statement.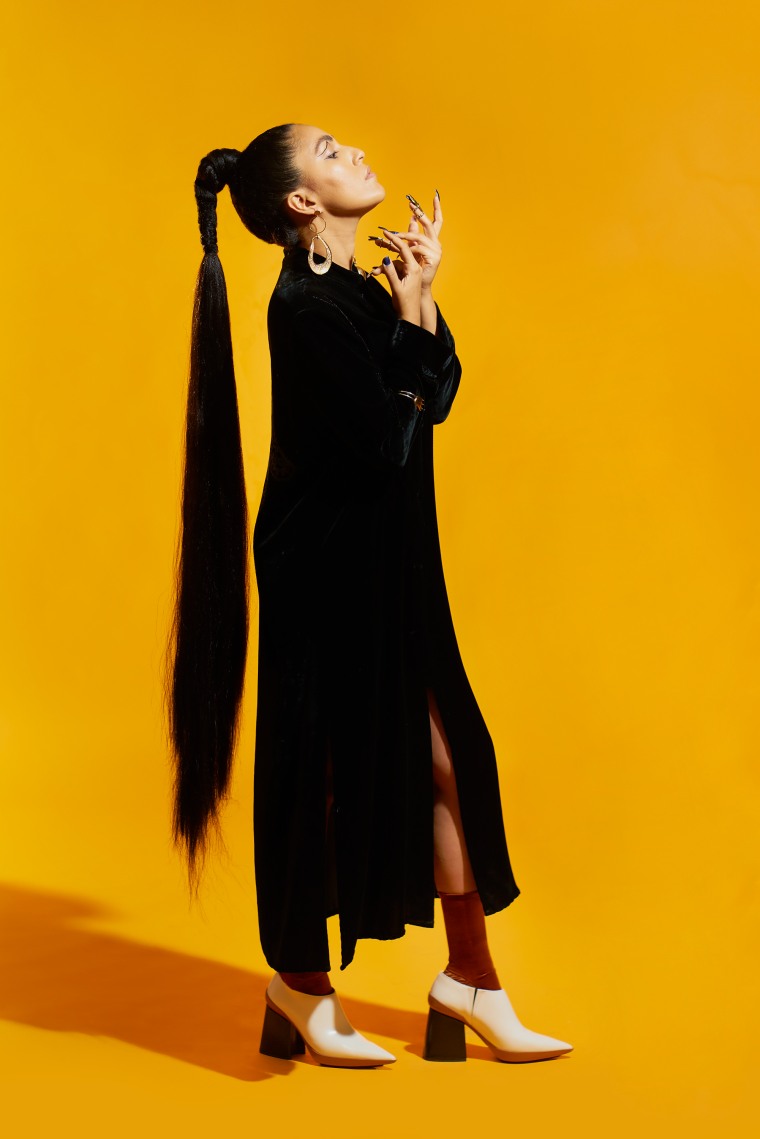 Last week, L.A.-based artist Lafawndah returned to her hometown of Paris to perform at Kenzo's SS18 show, which was an acrobatic affair held in the grounds — and up the walls — of a high school. She also provided the runway soundtrack: a mix of harsh, synthetic lines and organic percussion, alongside fire from Jlin and a Japanese nursery rhyme. There's also a handful of original tracks from Lafawndah herself, including a smoke curl of a brand new song called "Oasis."
Listen below, and scroll down for a statement from Lafawndah in which she weighs in on ongoing conversations about who really benefits from music usage online.
Why are DJs (artists in their own right, to be sure) rewarded with both financial compensation and cultural capital, while the artists whose labor they freely make use of see — if they are lucky — tiny crumbs of either?
This question becomes particularly troubling when you factor in the market for "global bass," which more often than not cashes out as a siphoning of the [Global] South's aesthetic innovations (be it baile funk, gqom, you name it) without compensating those artists in a way that reflects their influence.
These questions loomed over me as I prepared this mix for Kenzo's SS18 runway show. The music included here spans multiple times, places, milieus. There is no real widespread, enforceable infrastructure for compensating artists whose work is placed in live or radio mixes (no doubt one of the main calling cards for any young aspiring musician in 2017) — and while I have no answers (yet) for how this could be meaningfully addressed, I do want to be part of the conversation.
Listening back over these songs, I start to wonder what kind of methods we could develop for ensuring (for example) that the estate of a famed Shakuhachi player or a 16-year-old in Lisbon get what is fair. If I benefit from them, they should benefit from me. This mix, like a lot of the music I make or am inspired by, is utopian in sound. I hope we can start to make a new music culture that puts skin in the game and values in proportion to how we use and love these sounds.
Tracklist
Isis Scott - Highness
Jlin - Black Origami x Mark Isham - La flue des andes
Lou Harrison - Carefew x Lafawndah - Drapery
Swarm x Takeda Lullaby x Iko Podo - Waterfall x Laila Main Laila
Pachanga Boys - Black Naga
DJ Haram - Just a Gurl x Takeda Lullaby
Lafawndah - Oasis
DJ Nunex & DJ Famifox - Intro Ludhiana
Brrr_plays - Unknown x Aisha Devi - Komplete Sketches
Mariah - Shinzo No Tobira
Mutual - FKOFF x Henry Cowell - Ongaku x Yao - China x Faka - Ibutho Lamakhosazana
Ogaya Nengo and The Dodo Women's Group - Orutu Run (Lena Willikens remix) x Lafawndah - Tan
Mariah - Shinzo No Tobira